"If you think you are too small to make a difference, try sleeping with a mosquito"
– Dalai Lama
      Last week marked the 21st annual Take Back the Night Event in which hundreds of Dillard, Loyola, and Tulane University students gathered and marched down St. Charles to expose an issue so incredibly grim that it is all-too-frequently swept under the rug. Let's face it—the majority of college students are having sex. However, no college campus is exempt from the presence of gender-based sexual violence and rape, a vicious crime that leaves physical, emotional and psychological scars on its victims. Rape may be the last thing anyone wants to read, listen, or hear about but in order for change to ensue, it is crucial that students speak out and activate a zero-tolerance policy towards acts of sexual violence. This change starts with us, collegiates.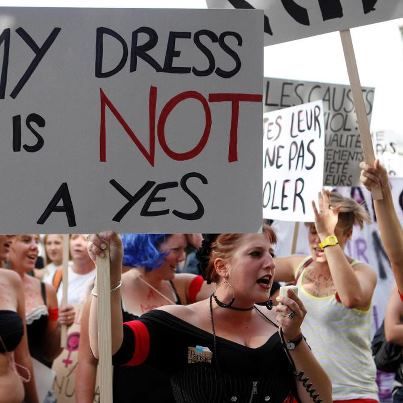 Perhaps there is some confusion circling around the definition of rape. Rape occurs when a person refuses to consent to sexual activity and it also occurs when one is unable to consent to sex when mentally incapacitated, such as from a night of partying, drug, and alcohol use. While the latter part of the definition is sometimes ridden off as the "drunken mistake from last night," the inability to make good judgments as a result of substance use equates to extreme vulnerability, and offenders looking for victims are very aware of that. I'm certainly not advocating that every drunken hook-up was a rape, but if you feel in your gut that something was wrong about the situation you were in and the person you were with, chances are that there was. Remember, consent is always sexy.

More and more women are keeping their rapes quiet due to feelings of shame, dirtiness, guilt, blame, fear of what others would think, and so on. However, no matter how short her skirt was that day or how ridiculously flirty she was being, rape is never the victim's fault. Take Back the Night culminated in a "speak-out" portion in which, with incredible strength, survivors tearfully recalled their experiences of how others had brutally taken advantage of them; in many cases, the abuse lasted for years on end. These survivors found the power to tell their stories in order to convey to the rest of us a very important message: never be bullied into silence by an offender. The survivors, who were often young girls when they were first molested, regretfully kept quiet due to feelings of shame and fear and, as a result, their offenders were kept out of prison. Almost always thereafter, their offenders would continue and spread the sexual molestation to others (one offender of a TBTN survivor later raped a seven-year-old girl). Never be afraid to speak up and turn in your offender; even though it may feel like it, you will never find yourself alone in this fight.
A few things to remember if you have been a victim of sexual assault:
1. Do not be ashamed; rape is NEVER your fault.
2. Tulane takes all complaints and accusations of sexual misconduct seriously. Check out Tulane's policies on sexual assault here. 
3. TUPD and TEMS are here to help you; always feel free to give them a call at (504) 865-5200. If you would rather submit a concern or complaint online, this link will take you to the form.
4. You are NOT alone. Emotional support is critical; call these completely CONFIDENTIAL hotlines for support and great resources to help with the coping process:
                          --SAPHE (Sexual Aggression Peer Hotline and Education), a 24/7 peer-run hotline that             provides a listening ear as well as reliable resources: (504) 654-9543
                          --Gender Violence Hotline: (504) 920-9900
                          --Tulane Counseling and Psychological Service: (504) 314-2277
5. Additional resources:
                    --Tulane Student Health Center: (504) 865-5255
                    --Tulane Safe Ride: (504) 314-7233
6.  Never be bullied into silence. Speak out!
As always, never hesitate to contact me at jjohns34@tulane.edu if you would like more information, have any questions, or are in need of some support from a friend.
It's time to no longer let sexual violence go unnoticed, Tulane.
HC Love,
JoEllen 
You Might Also Like...