It's the end of the semester and finals are creeping up on us. However, more importantly, Jazz Fest 2012 is here with an awesome lineup including Bruce Springsteen, Zac Brown Band, Florence + the Machine, and Jimmy Buffett, among others. So now that you've purchased your tickets, chosen the acts you're going to see, and sorted out transportation, all that is left to do is choose your outfit.
 
But what does one wear to music festivals? Well, it depends. Because Jazz Fest occurs in late April/early May, it's usually pretty hot and humid. This year is no different with temperatures set to be in the 80s with extremely low chances of rain (unlike my experience two years ago).
 
Here are some tips for looking cute (and staying sensible) while enjoying Jazz Fest:
 
1.    Don't Wear Your Sunday Best
I know you want to look cute in the zillions of pictures you will take, but remember that you're outside, in a huge crowd, surrounded by food and drinks. You will be stepping in God-knows-what and you will be dirty when you return home. Therefore, don't get all dolled up. Take it from someone who doesn't really understand the concept of 'dressing down'. Do not wear heels – I've seen it happen and it's not pretty. Do not wear expensive jewelry. Do not wear your cutest, most expensive clothes. It's not worth it.
 
2.    Shorts and Pants FTW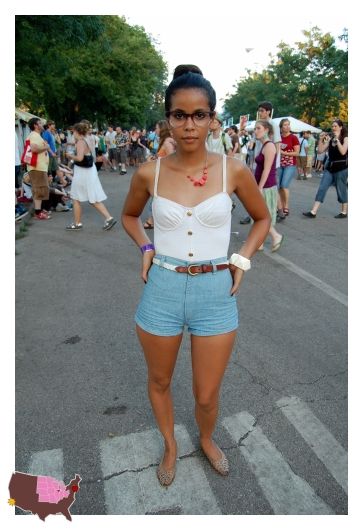 I am the biggest proponent of sundresses. They're breezy, comfortable, and oh-so-adorable. However, they might not be the best option for a music festival. If you plan on crowd surfing, you + dress = giving the audience a whole other show to watch. Even if you're not the crowd surfing type, more than likely, you will be jumping around as your favorite band plays your jam or sitting on a blanket while waiting for the next act. If you want to be comfortable without flashing people every so often, shorts and pants are the way to go. I am iffy on rompers because of the whole 'port-a-potty situation' – what a struggle that could be. There are so many cute options for jeans and shorts. Try colored or printed denim for a fun look. Pair it with a cropped top, tank, or your favorite band tee, and some accessories, and you look cute without the fear of flashing (always good, right?).
 
3.    Layer Lovin'
Layers will be your best friend if you are planning on staying all day at the festival. While it may be sunny and gorgeous at noon, the temperature will drop at night. Bring a cute sweater or a hoodie that you can throw on if you get chilly. You'll be thankful you have it while other not-so-fortunate audience members are shivering.
 
4.    Sun Protection
I love the sun, and I love that your ability to bronze is heightened at a music festival where you are outside all day in minimal clothing. However, you are also able to burn. Therefore, definitely bring sunscreen, a hat, sunglasses, etc. to protect yourself. Besides all the health risks, peeling, wrinkly skin is just not cute.
 
5.    Be a Bag Lady
Yes, I advise bringing a bag. Do not bring your favorite Chanel purse you received for your birthday. When I say 'bag' I mean a crossover purse, a backpack (as much as I hate them they can be useful), a shoulder bag, etc. It is for your sunscreen, money, IDs, a blanket, water, sweater, and whatever else it is that girls carry in their bags. You don't have to bring the biggest, most obnoxious purse, but one that fits your essential items.
You Might Also Like...