Every girl has that dream of having a fairytale relationship—one with a beautiful Prince Charming who will come and rescue her from the attic, or the Prince who will awaken her from a slumber with one kiss. But the truth is, that won't happen, ladies. And while I did once have these desires, I have come to notice that I have a greater fear of a relationship than I do a want or a desire for one. From the time I was a young girl, I had read books about love and how everything fell together perfectly. But growing up in the real world quickly shatters your thoughts on fairytale relationships. People always say girls who are close to their fathers will have great relationships because their father shows them the love a man is supposed to show her. But what happens when a girl is too afraid to open up to let a man love her? How does one overcome this problem? I wish I knew the answer, because that's my problem; fear.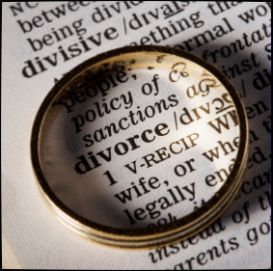 Divorce is a seven letter word that can destroy many people's lives.
Coming from a broken home, I feel as though I will have the same curse my parents had. From before the time I was born until I was twelve, my parents were together. They were together for ten years unmarried, but full of ups and downs, break-ups, make ups, and more. Growing up around this unstable relationship makes it hard to believe that there is that fairytale love story. Now trust me, I know nothing happens perfectly in the real world like they do in the books or movies, but I would like to see at least one relationship work out for good. My parents were my relationship role models. They had been together for ten years and were finally making it to the big step: marriage. As a young kid there is nothing you want more than to see your family together and happy, and that happened—but it only lasted for a couple of months. A little before their two year anniversary my parents had filed for divorce. This news was appalling. After being together for twelve years in all, how could they just throw away what they had, what we had? And this is where my fear began.
Pushing a guy is my best way to protect myself.
 
After my parents separated and divorced, I remained close to both of them, but when my mother stepped back on the dating scene, my walls started to build up. I remember when I spoke with her about dating, she told me one thing that has stuck with me since that conversation. I was sitting in her room on her queen-size bed and she looked me in my eyes and nonchalantly said, "I leave men before they have the chance to leave me. I leave them before they get the chance to hurt me." And if being nervous for your first relationship wasn't bad enough, this advice wouldn't make it any better. I sat there and thought about what she had told me: you have to protect yourself from getting hurt. But I took that one step further, I stayed away from relationships altogether. If I never got close to a man, he couldn't hurt me. So from that day forward when I talked to guys, I kept it simple. I would text and occasionally talk on the phone, but nothing past that. When the friendship started to feel like anything more than that, I backed away, and by backed away I mean I made a 180 degree turn and ran for cover. I ran as far as I could, and when asked what happened, I would think of any excuse in the book. These excuses ranged from "I'm talking to someone else" to the usual "it's not you, it's me; I'm just not ready for this". 
Hopefully one day I will have to courage to step out of my comfort zone

I have taken the advice my mother gave me and ran with it. I took it further than she probably expected me to, but after seeing so many "good relationships" perish I sat and pondered; what will make mine any different? How do I know I won't get hurt? And even though I know this isn't the right attitude to have, that doesn't mean I know how to turn it off and give a relationship a chance. Most people are shocked when I tell them I haven't been in a relationship, and have never even been on a date. But I see a date as a start to a relationship and a relationship scares me more than a tornado. And if I can, I will stay far, far away from a tornado. Don't get me wrong; I want to get married and I want to have a family, but I don't see how this can happen if I don't want a relationship. Hopefully I will learn one day soon that relationships are not meant to be avoided, but to be tried and tried again until you get them right. But until that day comes my fear of relationships will keep me out of the speed dating chair across from that hot guy with the gorgeous smile in my Psychology class. Hopefully one day I will have to courage to step out of my comfort zone
You Might Also Like...