Last year, I completed my first 10k race in Washington, DC. A 10k race is about 6.4 miles long. This kind of distance was not too much of a challenge for me; it's a distance I had to run many times in cross country training through high school. When I crossed that finish line, I felt great to have accomplished my longest race yet. As two girls crossed the finish behind me, I heard them say they were now ready to do a half marathon. I thought that was crazy…it seemed really cool but really agonizing at the same time. Who would want to race 13.1 miles? But only 9 months later, all of the pain and effort gone into my 10k was forgotten, and I was signed up and ready to train for my first half marathon; Towson's Lead Strong Half Marathon.
What made it easy
Unseasonably warm weather?
Here it was, the month of February, and the weather was more like spring time than winter. This was a trend that continued through most of the winter. These warm sunny days made me itch to get out and run. On colder days I would stick to a treadmill or take a break. So, if you get lucky enough to be able to train in nice temperatures, do it!
This is me running during the race! (Image courtesy of  Kaitlyn Martinaitis)
 
The training program?
I expected a training program for a race like this to be brutal, but truthfully it is one that anyone could accomplish. The program that was given out by Towson incorporated 4 days of running per week, starting off at only three miles every Tuesday, and increasing by 1 mile every Tuesday until you reached 10. Going past 10 is no problem, but on race day your adrenalin can carry you past 10! Being a more experienced runner, I did something a little different. I started at 6 miles and increased by 1 mile every other week. On my last day of training I ran 11 miles and was able to accomplish all 13.1 on race day! That was one out of the 4 running days in the week, and on the other 3 I just did some easy 2 -4 mile runs. Any beginner could do this if he or she wanted to!
Running the race (Image courtesy of Kaitlyn Martinaitis) 
A small scale race?
Towson's Lead Strong half marathon is open to the public, but most people that run in it are students and staff. This year, 189 people were registered. Most big half marathons can have hundreds to thousands of runners which can be intimidating, especially to anyone who is running their first. The race is located at the Torrey C. Brown train in Freeland, Maryland. The hill grade (how steep the hills are) is less than 1% and it goes through a trail with plenty of shade. So if this is your first time, I suggest finding a race like this!
What made it hard
School
It is no doubt that school can be very stressful. Some days I was so stressed that I did not want to get out and run because I just did not think that I had time. The more stressed I was over school, the harder it was to have a good run. The best way to get over this, I found, was to just try and make running a fun break from doing school work. I listened to a lot of fun dance music when I was running. Exercise can also help decrease overall stress and anxiety so I always felt better after the run was over! Then I could hit the books.
Running in the city?
When it came to having to do the longer runs in Towson, there became a problem. Where do I run?! Running around campus 5 or 6 times was too boring. I had to get creative. I found neighborhoods off of York Road that had beautiful houses and scenery to see while running. Using tracks to eat up a few miles was easy because our football stadium has one and so does the nearby high school. A few times I was able to make it home where I could run at really nice parks like Centennial Park or the trail that is in Old Town Ellicott City. My best advice for city runners is to find places nearby like neighborhoods and parks that you are capable of getting to.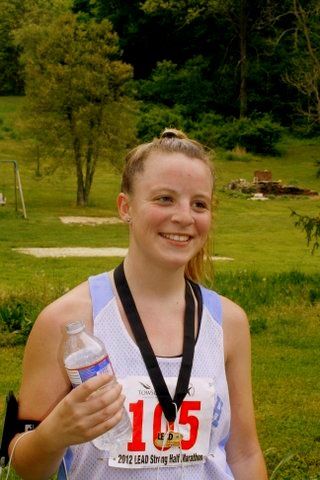 After the race! (Image courtesy of Kaitlyn Martinaitis)
With all of the good, and all of the bad, I was able to complete my first half marathon in 1 hour and fifty three minutes, beating my goal time of two hours and fifteen minutes! Of course the race itself did not come without struggle, It rained during some of it and I threw up during the middle of it because I drank water too fast and too soon. But as I finally approached the finish line, there was my mom, two best friends, a cold bottle of water and a shiny medal waiting for me. Whether you are thinking of running a shorter race like a 5k, or a longer race like a marathon, I hope you can take some of my experiences and advice as you train to complete yours! If you really want to do something, you can!
 
You Might Also Like...