I recently bought my fifth shade of this awesome lipstick. I used to not wear lipstick because it tends to feel heavy and cakey on my lips, but when I first applied this lipstick I realized it was truly different. It goes on so smooth, doesn't smell or taste like bad (like crayons, which I've found some lipsticks to smell like…), and you can build the color. You can also swipe it on, blot your lips, and repeat to create a nice stain on your lips. When I tried out my first shade of this CoverGirl lipstick in the color temptress (400), I was hooked. I thought I'd just share the shades I've accumulated with you lovely ladies.
The colors look exactly like the bottom of the lipstick tube. So when you see them in the store, this is very helpful because you know the exact shade you're getting.
My colors
I was going to post the color swatches from the CoverGirl website, but they are totally off and don't do the colors justice at all. So here are my swatches on my hand, and I will try to explain the colors the best that I can:
Swatches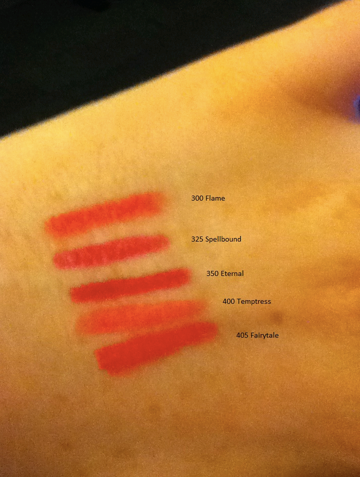 300 Flame: I just bought this color this weekend at Target. I bought it for about 5 dollars, it was about 6 and I had a dollar off coupon. It's almost a red, but not quite there. It seems to have a bit of an orange undertone. It lives up to its name, flame.
325 Spellbound: This color looks pinkish purple on the tube. When I put it on, it's more of a bright pink than purple. It's a great stand-out color, it definitely pops.
350 Eternal: This color is a pure fuchsia. It's not too deep/dark though, but definitely more of an evening look lipstick.
400 Temptress: The lipstick that I first fell in love with! It's a pretty and girly pink, and absolutely lovely.
405 Fairytale:This one always makes me think of Taylor Swift's song Fairytale (she is a CoverGirl model for this brand of lipstick after all…). The name describes it perfectly. The only way I can really describe it is pinky peachy red. It's a pretty even mixture of these three. It's a very flirty, but not over the top color.
With lipstick you can apply as much as you want to get the color you want! If you find that when you apply a color directly that it is too dark, simply rub your finger over the lipstick and tap t over your lips. Always remember to apply some lip balm/chapstick before putting on lipstick. It's not absolutely necessary with this lipstick because it's so moisturizing, but it's still a good idea.
You Might Also Like...