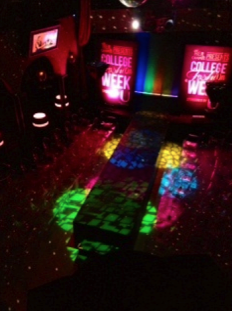 Lights, Camera, Fashion! For all you fashionistas out there, the place to be this last Saturday, September 29, 2012, was at the Her Campus Fashion Week event at the Estate Night Club in downtown Boston. This event was one of many other shows that took place during Boston Fashion Week. The herCampus teams at Boston College, Boston University, and Northeastern helped to put on this amazing event.
Doors opened around 6 PM, where guests were greeted and led to the main room, which held the catwalk in the center, encircled by tons of chairs for the pre-registered guests. After entering the main room, guests were able to go upstairs to receive their free "College Survival Kit" that contained the following items: a free burrito/burrito-bowl/taco gift card from Chipotle, Unreal candy bars, Svelte Protein Shakes, Luna bars, a Stevia In The Raw sugar box, NYX eye-shadow and lipstick, a HerCampus cup, special codes for discounts off of hair styling tools and extensions, a pack of tampons, pads from U by Kotex (a sponsor at the event), and a fabulous HerCampus bag!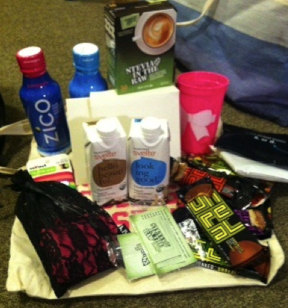 After receiving the bags, guests were allowed to pose for the camera with the Her Campus background. Smiles could be seen everywhere, due to the variety of free items going around. Right around the corner, girls lined up, where Chipotle was handing out free chip bags along with salsa or guacamole. People were allowed to take as many as they wanted! And no one can turn down Chipotle chips! After this, the most talked about area was the Pinkberry table! Who doesn't love free Pinkberry from one of the best places to get frozen yogurt ever! Girls had the option to choose from plain, strawberry, or chocolate yogurt, along with strawberries, granola, or chocolate chips for toppings. Although the cups were quite small, the yogurt still tasted delicious! That's not even it, girls! Going back downstairs was a candy bar, where people could choose from all sorts of candy—gumballs, crystal candy, and many more!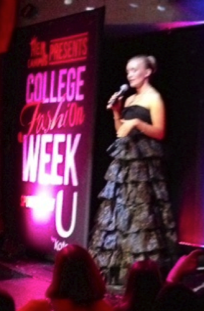 Pages
You Might Also Like...