Relay for Life at Stonehill was this past Saturday, and it was the biggest Relay yet! Over 350 participants raised over $30,000! 
As someone who attended as a team captain, I have to say it was the best event of my life! My mom, a very recent cancer survivor, was able to come, which made it all the more moving and special. There were survivors from the
Stonehill community as well, current students who have overcome cancer and are inspirations to us all. 
The movies, speeches, and events such as the Luminaria ceremony, and silent lap, were so moving, it would be hard pressed to find a dry eye in the house. The amount of students to come out and support the fight to find a cure for this deadly disease on a Saturday night was truly inspiring.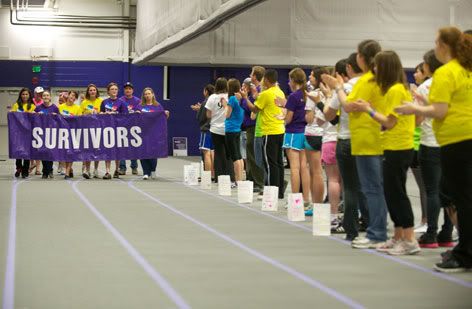 Events throughout the night were less moving, and more exciting and fun! Such as the egg toss, which, after being whittled down from 25 teams of 2 people to just two pairs of participants, resulted in many dives, lunges, and amazing catches. 
Some teams had the intention to walk a marathon in the 12 hours of Relay. This was a daunting task, and when 3am rolled around and the teams were looking quite exhausted, you could tell they had just enough drive to finish. 
At the start, teams were easily identified by their matching t-shirts, taking lap after lap around the track in the Sally Blair Ames Sports Complex; however later in the night, the teams were completely intermingled, a pink team walking with tie-dyed shirts, all walking as one in the fight. I know I can speak for many when I say, I can't wait for Relay next year!!
Photo Source: http://www.stonehill.edu/x25630.xml
You Might Also Like...