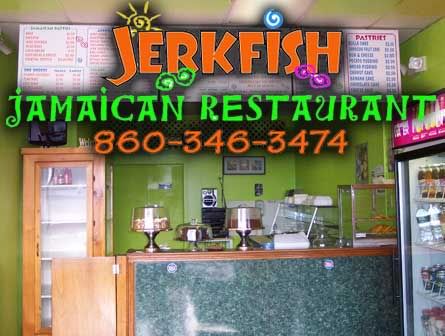 So lately I've just been trying all these new foods and I've been very curious about the JerkFish Jamaican restaurant that recently opened in Hamden. I LOVE plantains so I had to stop in. When I walked in I looked up at the board of choices and had absolutely no idea what to order. I know some food can be pretty spicy and I wasn't sure if I wanted a bonfire in my mouth. The woman at the counter saw my puzzled look and ran right back to the kitchen and came out with a sample of each kind of chicken. Now, there's good customer service but not many places you go are that unbelievably nice. I tried all the flavors and everything I tasted was absolutely delicious, it was so hard to decide. I decided to have the stewed chicken and try their coco bread and plantains. Everything was so good and I even ended up taking home some Jamaican beef patties and chicken patties for lunch the next day.
    Now I've been back a few times and I'm always greeted with the nicest person when I walk in. You can eat in or take out. Everything is so clean and anything you try I'm sure you'll like. The prices are very reasonable too, which is awesome on a college budget. Now I know trying new foods is a little scary to some of us but fear not, this place is awesome. You can look at the menu here http://www.jerkfishjamaicanrestaurant.com/index.php and they're open til 10 which is also a plus if you're looking for a different kind of late night snack. 
You Might Also Like...