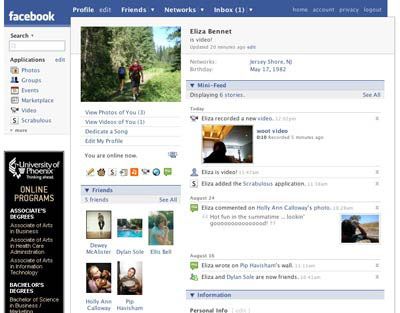 You may seem like the perfect candidate for the job or internship you are applying to-You dressed the part, came prepared and well versed about the company resulting in a great interview and acted how the company would want to be represented- but does your Facebook do the same?
 
With more than 845 million active Facebook users, companies are beginning to investigate their candidates more and more through Facebook. The companies are looking for both flaws in peoples image that they do not want to reflect on their company and also positive attributes the person may have.
 
In order to present yourself in the absolute best light, in addition to having a killer resume and interview, clean up your Facebook.
 
It is important to keep your profile professional and simple. Get rid of all the clutter of "Pages" you "Liked." It could also help by deleting all the friends you've listed as your sister, cousins, aunts and uncles. Do leave Pages and Groups that show your personality and interests. By doing this your future employee can get a sense of who you are on a social level, but also see that you and your interests will not be a negative contribution to the company.
 
Privacy settings can be your best friend. With that said privacy settings help block and hide unwanted photos from the public, but by deleting any photos you would not want your parents to see all together, might be the best. Especially since you probably joined Facebook at a young age and have grown up a lot since joining. It is important to delete anything that may be harmful or questionable to your image.
 
Companies like to you to be an active, social individual but there is a thin line to cross where these things, mainly photos, go from social and fun to shockingly inappropriate.
 
There is even talk that employers are beginning to ask for your Facebook password. If this is the case, a thorough cleaning of your entire Facebook may be in order.
 
Now that you're older use your Facebook to your advantage. Use it for networking. It is a social networking site, so build relationships and utilize them by staying in touch. Be aware of the constant changes that Facebook under goes and understand the ins and outs of Facebook- because companies are utilizing social media sites more and more. By doing these things it can help you stand out from the other candidates.
 
After all the hard work in school, and with extra curricular activities that built your resume, don't let your Facebook bring you down and be the reason you don't get your dream job or internship. 
You Might Also Like...