If you were at the Big Sean concert, you probably saw his opening act, Chyron, killing it on stage while the crowd literally went wild. A Pitt sophomore, Kobbie "Chyron" Turkson, is a Marketing major in the College of Business Administration with a minor in Music. Extremely passionate about music, which he refers to as "the only thing [he] sees [himself] doing for the rest of [his] life," Chyron is looking to make it big in the music industry. With smooth R&B vocals, a feel-good Hip-Hop sound, and natural performance talent on his side, I predict it won't be long before Chyron's dream of fame becomes a reality.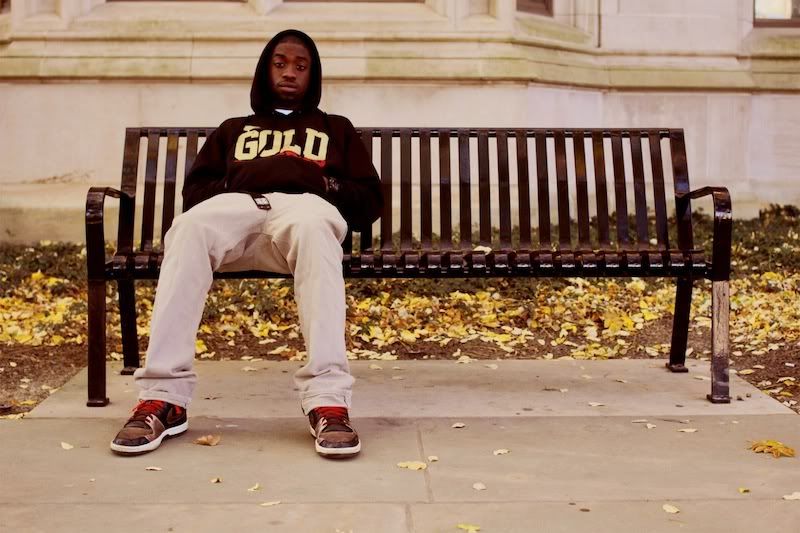 Her Campus (HC): First and foremost, where are you from?
Chyron: I'm from the DMV.
HC: How would you describe yourself in a few words?
Chyron: An enigma.
HC: What else do you like to do aside from making music?
Chyron: I like to play ball and kick it with my people. I also like to listen to other types of music.
HC: What is your favorite music genre?
Chyron: Hip-hop.
HC: Who's your favorite artist?
Chyron: Lupe Fiasco.
HC: How did you get into music?
Chyron: My dad had a studio in the basement, so I started to cover famous songs. Later I decided I wanted to write my own music and that's also when I got into Lupe Fiasco. So from there I just put my mind to it.
HC: Have you ever taken music lessons?
Chyron: When I was younger I took piano lessons. I took voice lessons for two years in middle school. But I truly like to teach myself things.
HC: What is your inspiration? Is there anyone you look up to in the music industry?
Chyron: My inspiration is life. There are lots of people I look up to in the industry, like Kanye West, Kendrick Lamar, J. Cole, and my favorite, Lupe Fiasco.
HC: What's the origin of your stage name?
Chyron: While I was chilling with some of my boys we were trying to come up with a name and I wanted something Greek, so we looked online for something. We found a name that meant "wise poet," made a few alterations, and it stuck.
HC: In a lot of your songs you say "Mr. Look up When I'm Gone." What do you mean by that?
Chyron: The goal I'm working towards is to be at the top somewhere doing what I love. With that in mind, I want people to know I'll be "up" there and that they should look up when I'm not around.
HC: Is your ultimate goal to be a performer or are you more interested in pursuing your major?
Chyron: My ultimate goal is to become a performer. Music is the only thing I see myself doing for the rest of my life.


HC: So, where do you see yourself in five years?
Chryon: Deeper in the music industry, doing what I love and hopefully making better music than I do now, with a lot more fame to my name
HC: What was it like to open for Big Sean?
Chyron: It was incredible. Energy from the crowd was amazing; it was one of my best performances. It was the first time I've ever done something that big, and, since it was at my school, it was even better. The fact that the crowd was receptive made the performance. I met Big Sean's mom after my performance and after the show she introduced me to Big Sean, which made the night.
HC: Finally, do you have any upcoming events you want our readers to know about?
Chyron: I have a show back home in a few weeks, but other than that I'm just working on getting things ready for the summer.
Thanks, Chyron!
Check out Chyron's music on SoundCloudand HotNewHipHop.
For contact, booking, and collaboration info: chyronGBM@gmail.com
Also, you can like Chyron on Facebookand follow him on Twitter.
You Might Also Like...