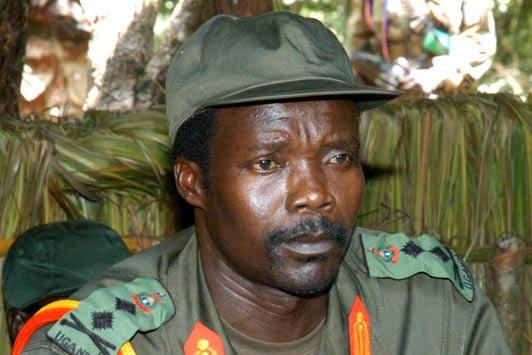 What if you were woken up in the middle of the night and taken away from your parents and loved ones? What if you were forced to kill your parents and other family members in the process? Sadly, these questions aren't hypothetical- in Northern Uganda young boys and girls are suffering every night. They live in fear, scared for when they dare close their eyes to sleep, and what might happen to them if they do. "Why are they constantly living in fear?", you may ask- it is all because of the horrific crimes that Joseph Kony has inflicted on these children and their loved ones. 
Joseph Kony is the head leader of a group in Uganda known as the Lord's Resistance Army (LRA). When the army was first created, it was known as the United Holy Salvation Army, which promoted peace and was considered non-threatening. But as the years went on, this so called Christian based group now known as the LRA is far from being considered "holy". For nearly 20 years, Kony has been abducting children from their families, forcing them to kill their parents, burning down huts, and hacking off lips. His army consists of young boys- but the young girls are not disregarded either. While forcing the boys to be in his rebel army, he also forces the young girls into prostitution. Unfortunately, Kony's followers see him as a saint, and as for the rest of the world, they either don't know of Kony's horrific crimes or know about Kony to a minimum. 99% of the world is completely ignorant of these crimes, the rest have started to take action and help spread the word about Kony. 
"This is the first time I heard of Kony, specifically, but I have known for years of similar acts and the tragedies and wars Africa has been suffering through." replied Berks freshman student, Chelsea Friedman. 
The purpose of the Kony 2012 campaign is to make Kony known from everywhere. A man by the name of Jason Russel and the Invisible Children group have published a video called "Kony 2012" that has been spreading like a virus throughout every social media imaginable.  The goal of "making Kony famous" is to subject him to the same type of publicity that every other pop star or politician is subjected to basically everyday. By accomplishing this, the activists who support Invisible Children have targeted 20 culture pop stars such as Mark Zuckerburg, Rihanna, Angelina Jolie, etc., and 12 politicians such as Hilary Clinton, John Kerry, Ted Kennedy, etc. By having these famous individuals in our society publicize and speak about Kony, they're helping to further expose him. However, this type of publicity isn't enough. 
On the night of April 20th, everyone who supports the Invisible Children will "Cover the Night". During this event everyone in the world who wants to stop Kony will run around their hometowns posting flyers of the slogan "Kony 2012". And when the world wakes up the next morning they will be forced to ask themselves, "Who is Joseph Kony?"
"I have heard many students on campus [saying] that Kony 2012 as a campaign was not a smart marketing strategy, because of the point that it sounds like a presidential candidate. I however, think it was a great idea because it grabs your attention," said Penn State Berks Senior and RA, Connor Hough. 
Hough is a Resident Assistant for fourth floor Ivy of the Woods. When Hough discovered the horrendous crimes that Joseph Kony subjected the children to of Northern Uganda and neighboring towns, he brought it upon himself to spread the word. 
And by doing so, Hough has planned an informative program to take place on first floor Ivy called "Kony 2012, So What?". During this program he will be discussing not only what is going on in Uganda but he will also talk about other problems in third world countries that children go through as well. The program will take place on Thursday, March 29th at 9 p.m.
"I am just spreading the word about Joseph Kony so that more people will be aware of him, but I'm not donating money to Invisible Children," Hough said.  
It is obvious that Joseph Kony is the true enemy. He is currently number one on the list of the World's Worst Criminals from the International Criminal Court, which clearly brings his atrocities to light. 
"I am so surprised people are just starting to find out who he is," replied Berks Sophomore, Julie Ta. "Someone needs to bring that man (Kony) into justice!" she added. Many of the students on campus feel adamant about fighting for this cause, and fighting for Kony's arrest. 
"I feel saddened and upset that people are so easily blinded, ignorant, and naïve. When they first saw the video, it was as if this information was new to them. Sad part is, for most [people], it was new to them. " said Friedman.
Even during the aftermath, there is an important message: there is much more to life than just sitting idly and being complacent. As individuals we have the freedom to fight certain battles- and fighting Kony is a battle worth fighting for. 
You Might Also Like...