There is really no definition of a Howard Girl. Discussion of this type of girl is so prevalent that the ladies of Howard University have been mentioned in songs such as "College Girl" by Travis Porter and "Make Me Proud" by Drake. The diverse interests, styles, cultural backgrounds, important values and belief systems of Howard girls are so unique that there is no possible way to categorize them into a standard description of a Howard girl.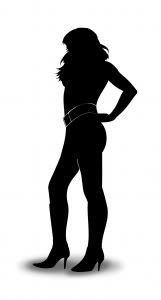 While "peepin' on the Yard" (translation: people-watching on the typical Howard hangout spot in the center of campus) on a nice day, it is quite possible to see a myriad of examples of the atypical 'Howard Girl'.One might spot the Swahili speaking, dashiki-wearing, mismatched-jewelry-sporting Afro-centric girl walking to the Caf to grab a bite to eat with the fake-Louis Vuitton-toting, stiletto-stomping girl.  If this people-watcher turns toward the steps of the Fine Arts building, he or she might see a chill, laid-back, go-with-the-flow 'Cali girl' donned with her standard comfortable get-up while strumming her guitar for her bohemian, flower child, Peace&Harmony friend.  On the steps of Douglass Hall (Home of the Social Sciences), one might see the artsy girls sporting their cameras, oversized glasses, nose rings, and natural hair chatting animatedly about the events of the day.  A few feet away, the Caribbean girls would be gathered around their tree underneath their various West Indian flags in their jeans, t-shirts, and ballet flats.  In a few minutes when the clock strikes the hour, the sly people-watcher might spy the athletic girls in their Howard [Insert Sport Here] sweats moseying their way to class, already exhausted from their busy schedules. 
Hercampus Howard University asked around to find the answer to the question "What is a Howard Girl?" The following quotes are real quotes from real Howard girls in an attempt to receive an answer to this query.
 "A Howard girl is:
…one with brains and beauty."
…ambitious."
…one who is not at school for a M.R.S. Degree.  Believe me."
… someone who is unafraid."
…one who embodies beauty, both inside and out, is true to herself, can balance her schedule and who is open to learning new things every day."
… trying to get ahead."
…one who knows how to party."
…that girl who was Ms. Perfect in high school."
…a truly educated black woman."
…a lady of distinction not duplication. A presence like no other, future filled with hard times yet sweet success. She wears honor and pride on her shoulders, yet is bathed in humility."
…one who actually values her education."
…serious about her hair."
…an intellectual, a woman who is ambitious, community oriented, business savvy, and constantly growing and being influenced by the other Howard women around her while still maintaining her individuality."
…a classy, well put together woman who works hard but also knows how to have fun."
…smart, usually attractive, good head on their shoulders"
… ambitious, proactive, proficient, and esteemed."
…indelible...a woman of true character, intelligence, motivation, drive, and self-respect.   She stands for what she believes in and refuses to allow 'no' to be the last step.  She fights for what she deserves and goes to the end to prove that she is more than just another person.   She cannot be eliminated.  She cannot be duplicated.  She is one of a kind."
…the most confident black girl out there."
…someone looking for a good time while still trying to find herself and please others
… elegant, classy, and down to earth.  She has faith, and is always ready to help someone."
…smart, ambitious, and beautiful."
...the girl who reminds the world that black girls are intelligent and powerful and relevant."
…secure in and proud of her blackness."
…bourgeoisie."
….strong, sophisticated, and intelligent.  She wants nothing less than the absolute best for herself, and that's why she chose Howard."
…an educated sister who knows how to handle her business."
….a woman who is not afraid to achieve her goals and go after her dreams with no hesitation or 2nd thought."
…a charismatic, intelligent, and fashionable go-getter."
…nosy and dramatic...in a good way." *Laughs*
…a fashionable, ambitious African-American  female that likes to have fun and get an education."
… a girl who highly concerned with appearance. She is often concerned with what other people think of her and has a tendency to be judgmental. A Howard girl is sometimes "uppity" because of her status as a Howard student. She often parties hard. She may lose her way in the beginning but by the end of the Howard experience she will have gained her identity. In the academic setting, a Howard girl is an intelligent young woman who has goals for herself and draws from motivation from others to reach them."
…bold, sexy, & intelligent."
…unpredictable."
…I-N-D-E-P-E-N-D-E-N-T."
…a woman with the gift of balance. strong enough to be independent, but eager enough to still be enlightened."
…FUN!"
…unique and special.  Not one is the same but each is a jewel."
…a very independent woman. Someone who is both ambitious and professional is her career goals. However, she also manages to keep show her feminine nature with power and poise. She is the talented tenth of her gender, and is radiant is both fashion, smile, words, and personality. To top it all off, she is a mentor those coming up after her, someone who inspires and her life a model to aspire after."
… not some stereotype you can describe in a single sentence."
…a smart, classy, sassy and yet unique 22nd century woman."
…a girl who has embarked on the journey of self-discovery; only to discover her universal beauty."
…Powerful. Confident. Beautiful."
 …the essence of a lady: a leader, an intellectual, a compassionate being, and above all a queen."
 …one who can go to class and learn as well as party and have fun."
 …very determined to get what she wants."
 …a person who takes her education seriously and uses her education as a tool to influence the world."
 …a proud, determined woman striving to complete her education in various fields."
 …first off, NOT a girl. She is a young woman on her way to becoming something great. She may not know who she is or exactly what she's going to be yet, but she has one of the best head starts a girl could get. A Howard girl is fierce, independent, classy, intelligent, and of course fashionable. She is a role model to young girls striving to defy the norm of a simple housewife.  And whether she is a bio major, or a dance major, you can bet she'll be more than just someone with another basic college education.
Howard Women = Indefinable.
 
 
 
You Might Also Like...