Reasons Why Jennifer Lawrence is our #WCW
At only 23, Jennifer Lawrence is one of the most successful actresses on the planet right now. With her charm and wit, she has captured the adoration of many fans, including us at Her Campus. Here are 11 reasons why Jennifer Lawrence is our Woman Crush Wednesday, as told through a few GIFs of the lady herself.
1. She's beautifulThis past year she was given the #5 spot on Maxim's Hot 100. Not only is Jennifer Lawrence beautiful on the outside, but she's even more beautiful on the inside. Lawrence is a strong advocate for body image stating in People Magazine, "Girls see enough of this body that we can't imitate, that we'll never be able to obtain, these unrealistic expectations...it's better to look strong and healthy."
2. She's super funnyReally though, have you ever watched one of her interviews? If you haven't, go on Youtube and watch them now. She's hilarious!
3. She loves junk foodActually she just loves food in general.
like really though...
4. She's so candidYou never know what she's gonna say next. That's what makes her so relatable and down to earth.
5. She's a great role modelI mean seriously, read this GIF. The girl isn't afraid to voice her opinion on matters that she strongly values.
6. She's a dorkEven though she's super successful and talented, she doesn't let it get to her head.
7. She's extremely talentedHello, can you say Oscar and Golden Globe winner?
8. She's kind of crazyBut in a totally good way of course.
9. She loves a good photobombShe's photobombed Taylor Swift and Sarah Jessica Parker, just to name a few.
10. She has her awkward momentsWe can't forget her infamous fall at the Oscars. But she played it off like only Jennifer Lawrence could. Seriously, it just made us love her even more.
11. She fangirls Just like us, Jennifer has her fangirl moments. On the Conan O'Brien show, Jennifer revealed that she once met her celebrity crush John Stamos at a party and got so flustered she started talking about mushrooms. Gotta love her right?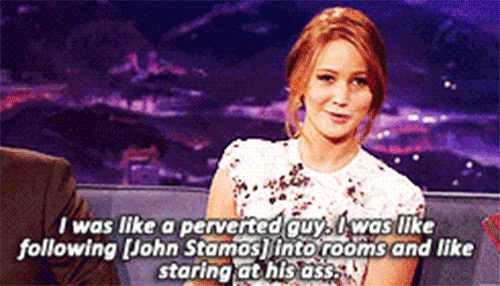 To sum it all up Jennifer Lawrence is our Woman Crush Wednesday because she's just...
...and we love you, too, Jennifer Lawrence.