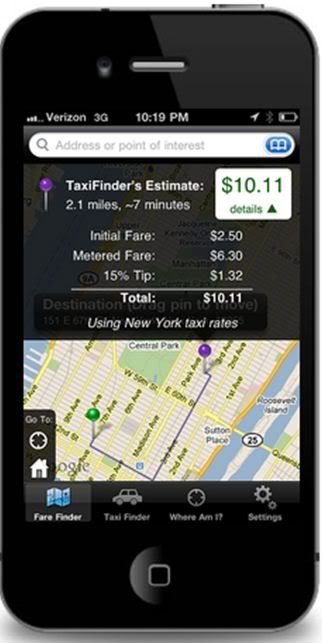 Whether you're stranded in Harvard Square (thank you shuttle), new to an area, on vacation or just trying to figure out whether or not the taxi driver you had after Skellig ripped you off the night before – you have to check out TaxiFareFinder.
TaxiFareFinder estimates the cost of your cab ride quickly and accurately by analyzing local taxi rates, driving habits of people in the area, traffic info and the extra costs that always seem to be tacked on at the end of your ride. It even takes into consideration a typical tip, so you know exactly what a cab ride will cost.
If you have an iPhone you can also download the free iPhone App, TaxiFinder, so that you can access this info whenever and wherever you need it. The App will track your current location and just requires you to select or type in where you're heading next. It will even bring up a list of local taxi companies you can call and the reviews of those companies from Yelp.
So here's the really cool part. Recently, the site launched college specific pages on its website and Bentley was one of the schools chosen to be a part of the launch. Thanks to student feedback, the Bentley Fare Calculator contains points of interest that you always seem to find Bentley people hanging around - Harvard Square, Glow, Lower Campus, Skell, wherever!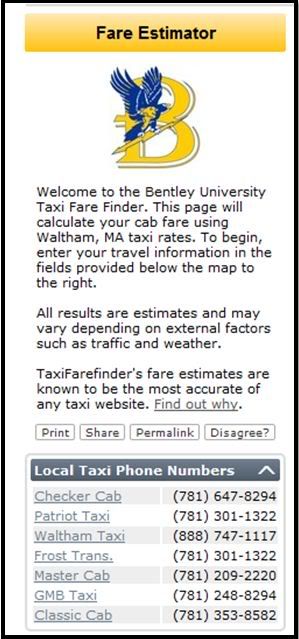 The same set up exists for Boston, so you can easily figure out how much it would cost to get to your favorite city spots from campus.
Whether you're using the site, or the iPhone App, you will receive a breakdown of the expenses for your ride as soon as you input or select your destination. I find this really helpful and especially reassuring when I'm out and unsure of the additional fees that I know are going to be added onto whatever the meter says.
If you're using TaxiFareFinder on your computer, you'll also be provided with directions, a list of taxi companies to call, information on how and a choice to alter the suggested route to be shorter in distance, cheapest in price or fastest in expected driving time.
So if you're taking a cab to the airport after your last final, trying to plan your next night out or want to tell Grandma how much she should expect to pay to get a taxi to campus for graduation – TaxiFareFinder is your new best friend.
Enjoy!
You Might Also Like...