David LeClair, Rules and Format Management Associate at athenahealth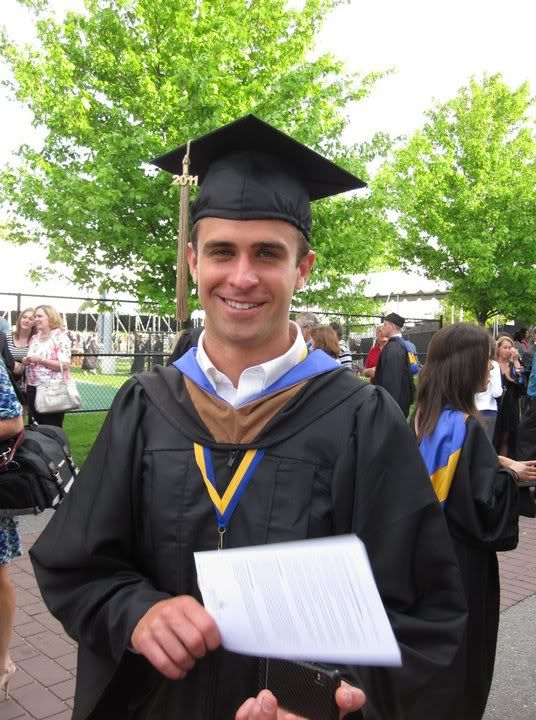 You might know him as a student leader, orientation leader, or FYS peer facilitator, but I know this week's campus celebrity, David LeClair, as my big brother. He and I shared one year at Bentley before he went off to take on the world, and I figured there was no interviewer more perfect for him than his baby sister.
Name: David LeClair
Major/Graduation Year: Management & LSM Earth, Environment, & Global Sustainability - 2011
Current Position/Company: Rules & Format Management Associate @ athenahealth
Hometown: Naples, FL
Bentley Involvement:E-Boards of PRIDE and Bentley Green Society, 2010-2011 Chair of Student Diversity Council, 2010 Director of Ambassadors, First Year Seminar Peer Facilitator, Honors Program Advisory Council, 2008 Orientation Leader
HC: How do you think your leadership positions on campus have helped to prepare you for the real world?
DLC: The classes I took gave me a broad base of knowledge to bring into the real world, but my leadership positions on campus gave me the opportunity to apply that knowledge while at Bentley. I was able to talk about what I learned from my leadership experiences in many interviews, before landing a job that I really wanted and bringing my experience into the workplace. My leadership positions also served as great proving ground for me to learn how to effectively contribute in teams. We're not as bold to experiment when grades are on the line, but in student organizations, you have nothing to lose when you speak up and let your voice be heard - it's critical to learn the best ways to approach others with your ideas. Similarly, while classes are a more controlled environment (with a syllabus, a start and end date, and a roster), student organizations are much more fluid, and having experience with leadership positions on campus prepared me to adapt quickly to the ever-changing environment of my current company, and the "real world" as a whole.
HC: What do you wish you had known as a freshman or a sophomore?
DLC: I regret not getting to know more of my professors during all four years at Bentley, because there was much more for me to learn from them outside of the classroom. Faculty and staff can be your friends, and you should never assume that they think less of you because you're an undergrad - they all started there. I think as Bentley students, we obsess over the concept of "networking" so much that we forget our professors (not all, but most) are people too, useful for much more than just lecturing and writing letters of recommendation. Professors tend to like it when students go to their office hours to talk and learn more about them. It's great to get involved on campus, to get the best internship with the Big-4, and to land an amazing job, but if you have no mentors to share your experiences with, who cares? The friendships I did make with faculty and staff are some of my most fulfilling takeaways after graduation.
HC:What Bentley experience stands out as the most significant to you?
DLC: It's impossible for me to pick one, but my proudest experience was working through my honors capstone project in my Senior year. My most rewarding experiences came from working on the e-boards of PRIDE and Bentley Green Society, and contributing to positive change on Bentley's campus through both organizations. My most memorable experience was the senior trip to the Bahamas... how has it been almost a year already?!