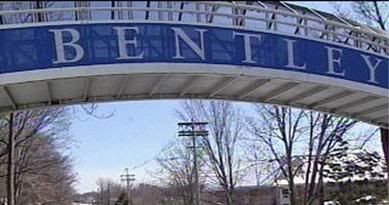 As a college freshman, there are a seemingly infinite number of things to learn and remember: your dorm room combo, the names of all your floormates, where your classes are, how to do laundry…the list goes on.  With all this to keep track of, how are you supposed to learn the campus' unique slang and actually understand what the upperclassmen are talking about? Don't worry incoming collegiettes—Her Campus Bentley is here to help with our very own guide to Bentley's vocabulary.
The Bubble
The Bubble is a space on the 3rd floor of the student center that houses offices for many campus organizations, along with a copy machine, poster-making room, and printers.  Additionally, there are meeting rooms and couches in the Bubble that are perfect for group study sessions.
The Bat Cave
Unfortunately, Bentley isn't home to a Superhero's hideout (at least as far as I know) but we do have our very own Bat Cave.  This title is given to the student parking lot behind the Miller dorm, even though it's on a hill and not at all cave-like.  Just go with it.
Discresh
This is one thing you will never have enough of at Bentley.  Discretionary dollars, referred to as discresh, can be used at dining options around campus like the LaCava Lower Café, Einstein's Bagels, Mad Falcon, and Mein Bowl.  Though Sodexo does provide discresh budget cards, if you're anything like this collegiette, you will undoubtedly burn through your points unreasonably quickly.
Flex
Our much-beloved mascot, Flex the Falcon is a must-know for any Bentley student.  Not only does he cheer on our teams at every game, Flex has also been known to send campus-wide emails promoting tailgates, fan giveaways, and trash-talking our rivals.
GB's
As a Bentley student, you will quickly become familiar with the GB's.  General Business core classes are an integral part of the Bentley curriculumand will expose you to all areas of business including accounting, finance, marketing, statistics, business systems & processing, management, global strategy, and strategic business functions.  The GB's are definitely some of the most challenging classes here but they also are essential to understanding the business world.
Greenspace/Gspace/The G
The greenspace goes by many names—and is the place to be on campus the second it's warm enough to trade in skinny jeans for shorts.  Located between Collins and the Falcones, the G is a fun place to hang out, tan, play Frisbee, or even have a cookout.
Koum
Bentley's main auditorium, located in Lindsay, is the Koumantzelis.  Named after generous alum Arthur G. Koumantzelis, it is home to many campus events such as the CAB Comedy Show and annual Festival of Colors.  Tricky to spell and pronounce, don't be surprised to hear students calling it "the Koum" (pronounced Koom).  
The Loop
Not to be confused with the Harvard Square shuttle, the Loop runs all the way from Lower campus to North, with stops in between at Rauch, Collins, Boylston, and LaCava.  The loop is a convenient way of getting around campus, especially during the winter.
Lower
Across the Bentley Bridge, you'll find the area of campus known as Lower.  Also known as south campus, Lower is home for many of Bentley's student athletes and gym rats, because of its close proximity to the gym.  Wellness and Global Living housing is also here.
Little G
Much like main campus' greenspace, the Little G is always full of students hanging out while it's warm and sunny.  The Little G is right in front of the Orchard North dorm and is a more convenient hangout for students who live on Lower.
Nightbomb
Formally known as evening class, a nightbomb is a class held from 6:30 to 9pm once a week, so it's twice as long as a normal day class (which are 75 minutes and held twice a week).  Though nightbombs can be a pain, your chances of getting out early are pretty good and taking one does free up time in your schedule during the week.
Skell
While you won't be able to experience one of Waltham's best known bars, The Skellig, until you're 21, you'll definitely hear upperclassmen talking about their nights at Skell.  This is especially likely on Friday mornings as Skell is a popular destination on Thursday nights.
Upper
Upper campus is where you'll find Bentley's administrative and academic buildings: Smith, Lindsay, Adamian, Morison, Jennison, LaCava, Rauch, and the library.  The buildings at Bentley are truly gorgeous and the picture-perfect landscaping and grounds-keeping at Bentley definitely makes the walk up to class much easier.
So there you go, pre-collegiettes and collegiettes—the essential vocab you need to know to make your transition to Bentley much easier.  Though some of our terms may seem silly, they all play a role in building the sense of community that makes Bentley feel like home.  Did we forget to mention some of your favorite slang? Let us know in the comments below!
You Might Also Like...