It's no secret that BC students are busy, and it goes without saying that in rare moments of downtime, we tend to seek diversions in many of the same places.  We check the same blogs for updates, Facebook stalk the same people, and visit many of the same shops and restaurants on weekend outings.  In the next weeks, instead of going to your familiar Newbury Street haunts, shake it up a little and explore some littler known but equally fabulous Boston spots.  Whether you're looking for a cozy brunch, a lively dinner, or new under-the-radar shops, our list of Boston's hidden gems should give you plenty of new places to discover!  
South End Buttery
Tucked away on Union Park Street and Shawmut Avenue in the South End, the Buttery serves everything from award-winning coffee and cupcakes to veggie burgers and slow roasted salmon.  With both takeout and sit-down customers, the bakery-cum-restaurant has a very neighborhood-y kind of vibe, and the staff is more than friendly, and very appreciative of a good joke early in the morning.  The atmosphere at breakfast time is energized but comfortable, only enhanced with one of their notorious pecan sticky buns, or – my personal favorite – organic oatmeal topped with flax, pumpkin, and sunflower seeds.  Their wide assortment of inventive sandwiches makes it a perfect place to grab a quick bite in the afternoon, and, being a mere ten-minute walk from the Boston Public Library, it's definitely worth checking out. 
www.southendbuttery.com
Ellsworth Kelly at the Moakley Courthouse
If you're in the mood for a little city-bound sleuthing, head over to the waterfront and pay a visit to the John Joseph Moakley Courthouse, which is of much more interest than any other federal building I've ever encountered.  The courthouse dedicates much of its space to public access and cultural exhibitions, but the building itself is an attraction enough.  Located right on the water, the entire back end of the building is built of a sloping glass plane, which gives the most dramatic view of the Boston Harbor anywhere in the city.  Feel free to venture inside, as access is free, and make your way up to the dining area, where not only will you get to see the sweeping view of the water, but also a series of Ellsworth Kelly paintings that hang in front of the glass.  As if the aesthetic experience weren't enough, you'll be able to take out-of-town visitors here and really impress them with your cultural underground knowledge!
www.moakleycourthouse.com
Coolidge Corner Theater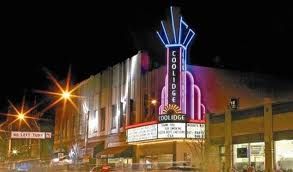 With a wide array of under-the-radar independent movies, midnight showings of retro films on the weekends, and a maximum of two previews before your movie starts, the Coolidge Corner Theater is a great place to see those Oscar-nominated movies that never made it to the AMC at Fenway.  The not-for-profit theater boasts cozy screening rooms, one of which is around the size of a Gabelli common room and packed to the brim with comfy leather lounge chairs, and is just a few stops down on the C line from Cleveland Circle.  A word of advice: after your movie, on the walk back to the T, pop into Paris Creperie down the street for a dessert crepe or a Nutella hot chocolate for a perfect end to your night – you won't be disappointed.
www.coolidge.org
Myers and Chang
Also located in the South End, a veritable Mecca for culinary enthusiasts, Myers and Chang is the best example of Asian Fusion that Boston has to offer.  Owned in part by Joanne Chang, baker extraordinaire responsible for the phenomenon that is Flour, the restaurant has a funky indie diner kind of setting and offers tapas-style small plates ideal for trying a number of things on the menu.  Their take on traditional Vietnamese, Thai, and Chinese specialties delivers delicious results like their Dandan noodles (for spicy food fanatics only!), edamame and celery slaw, and braised pork belly buns.  Also worth a try are the various kinds of dumplings and their sweet potato fritters. The piece de resistance, however, comes for dessert – chocolate mousse with spiced meringues.  It's a house secret, but ask your waiter what the main ingredient is – I assure you, you'll be pleasantly surprised.
www.myersandchang.com
Mint Julep

Also located in Coolidge Corner, with a secondary location in Cambridge, Mint Julep is the kind of independent boutique that is so lacking on main thoroughfares like Newbury Street.  The shop presents a carefully edited selection of clothing lines that range from Tibi and Alice and Olivia to Splendid and Anna Sui, and offers a number of unique jewelry collections that are sure to give a much-needed boost to your usual wardrobe choices.  Head over to any of their locations if you're in the market for a replacement for your tired-out winter staples.
www.shopmintjulep.com
Isabella Stewart Gardner Museum
At no more than a five-minute walk from the Museum of Fine Arts, the Isabella Stewart Gardner Museum might not be unfamiliar to art aficionados, but for the rest of you, it's one of Boston's most culturally intriguing destinations.  Constructed initially as the private home of Isabella Stewart Gardner, art collector extraordinaire and friend of artists like John Singer Sargent and Winslow Homer, the museum showcases Ms. Gardner's extensive collection of artworks in situ as she specified when dedicating her home to Boston as a private museum.  The house itself was modeled after a lavish Venetian palace, and the paintings inside, which include works from master artists such as Velasquez and Titian, are displayed precisely as they were when she still lived there, which provides a distinctly personal element to overall experience.  With a newly constructed wing geared toward education where visitors can become more involved with the museum, the Gardner is a great place to spend an afternoon and learn about Boston's cultural and artistic history.
http://www.gardnermuseum.org/home/
 
Know of any other well-kept Boston secrets?  Let us know! 
Photo Sources: 
10best.com
moakleycourthouse.com
blog.aac.org
gastronomyblog.com
thebostonfashionista.com
museums.findthebest.com
You Might Also Like...