With midterms right around the corner, BC students are looking for the best way to de-stress between study breaks.  Some like to hit the Plex, and others want to just veg in front of the TV.  Then there are those of us who just want to "stress bake", but find ourselves without a kitchen, let alone an oven.  Luckily, Her Campus BC has found some great recipes that you can make in any dorm with a mini fridge and a microwave!
Peanut Butter Bars
An excellent study break treat!   These bars taste just like Reese's and are sure to be a hit with everyone in your hall. 
What you'll need:
I cup of melted butter
2 cups of graham cracker crumbs
2 cups of confectioners' sugar
1 cup of peanut butter
½ cup of semisweet chocolate chips
4 table spoons of peanut butter
2 bowls (1 medium, 1 small)
1 pan
Directions:
In the medium bowl, mix the graham cracker crumbs, melted butter, 1 cup of peanut butter, and confections' sugar until smooth.  Press the mix into your pan and set aside.  (Disclaimer- if you do not have a pan and can not get one, a big bowl should work fine!).
In the smaller (microwaveable) bowl, melt the chocolate and 4 tablespoons of peanut butter until nice and creamy, mixing them together when necessary.   Spread the chocolate over your base in the pan, and then put it in your fridge for at least an hour before serving!
Chocolate Pudding

Served warm or cold, I think we can all agree that pudding is a splendid study snack!   Here's what you'll need for your dorm friendly pudding:
What you need:
1/3 cup of unsweetened cocoa powder
½ cup of white sugar
3 tablespoons of cornstarch
2 cups of milk
2 teaspoons of vanilla extract
1 Bowl
Plastic Wrap
Directions:
Stir together the cocoa, sugar, and cornstarch in your bowl.  Pour the cups of milk in a little bit at a time until the mixture is smooth.
Cook the mixture in the microwave for three minutes on high.  After the three minutes are up, cook the mixture for one-minute intervals for 2-4 minutes, stirring between each interval.   Stir in the vanilla extract.
Put the plastic wrap on the surface of the pudding, and then set in your mini fridge until cold.
Oreo Balls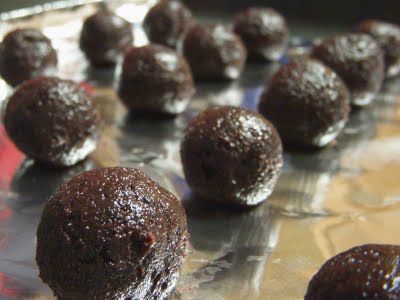 Oreo Balls are my personal favorite.   These rich, bite-sized chocolate balls will give you the sugary kick you need to focus on your studies.   You might need to make a little extra space in your mini fridge, but trust me, they are well worth it.
What you'll need:
1 16-ounce package or OREO Cookies, divided
1 8-ounce package of Cream Cheese, softened
2 8-ounce packages of Baker's Semi-Sweet Baking Chocolate OR 2 bags of Nestle Tollhouse semi-sweet chocolate chips, melted
1-2 Large Zip Lock Bags
I Spoon
3 bowls (one to mix the Oreos and cream cheese, two to melt the chocolate)
1 plate
Wax Paper or Aluminum Foil
Directions
Divide the cookies in half and place each half (cream filling included) into your zip lock bag.  Zip up the bag once it gets full.  You'll need to be a bit creative here, because you have to crush the Oreos into fine pieces.   Normally I would use a rolling pin, but if you don't have one handy, a big spoon (or perhaps that giant text book you are SO SICK of reading) will do the trick!   You may have to do this twice if all of the Oreos don't fit into the bag on the first try.
Once the Oreos are crushed, pour them into your bigger bowl.   Use your spoon to mix together the softened cream cheese and the Oreos.  Mix until smooth.   Roll the mixture into small balls, about 1 inch in diameter.
Place the balls on the wax paper and leave in the fridge for 30 minutes.   While the Oreo Balls are cooling, use your other bowls to melt the chocolate, mixing occasionally until smooth.
Once the balls have been in the fridge for 30 minutes, take them out and dip them into the melted chocolate, placing them back on the wax paper.  Put the plate back in the fridge for another 30 minutes until the Oreo Balls are cold.  Then enjoy!
Cherry Cobbler
Don't worry non-chocolate lovers, I haven't forgotten you! This recipe requires the least amount of ingredients and you only need the microwave!
Here's what you'll need:
1 can (14 ounces) of cherry pie filling
1 box (18 ounces) of yellow cake mix
¼ cup of margarine
½ cup of chopped pecans
Directions:
Place the ingredients in a 1-quart dish in the order they appear (cherry pie filling, yellow cake mix, margarine, and pecans.).
There's no need to stir, just place the dish into the microwave and cook on high for 10 minutes.   Add vanilla ice cream for an extra treat!
Whether you're super stressed with midterms and in need of an outlet, or you're just craving a non-dining hall dessert, these recipes are sure to please not just you, but your roommates and hall mates as well! Have fun and ENJOY!
Sources:
http://allrecipes.com/recipe/easy-oreo-truffles/
http://allrecipes.com/recipe/peanut-butter-bars-i/detail.aspx?event8=1&p...
http://allrecipes.com/Recipe/Hasty-Chocolate-Pudding/Detail.aspx
http://www.food.com/recipe/marvelous-microwave-cherry-cobbler-111965
http://1.bp.blogspot.com/_t3vAbfrMdBE/SvJIn-MJSeI/AAAAAAAAAKI/rdnI1nzsrg...
You Might Also Like...