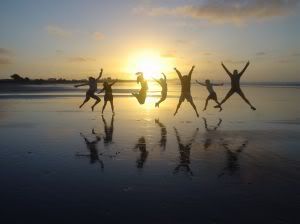 With the semester coming to an end, those books, group projects and final exam study guides seem daunting. But look on the bright side — summer's right around the corner! Whether you are interning, going abroad or taking several (much-needed) vacations, summer 2012 is sure to be the best one yet. Here's what we're looking forward to:
"Finally having a bike in the city and exploring new parts of DC." - Emily Pansa
"Laying out by the pool with an iced coffee and the latest edition of Cosmo. Heaven!" - Paula Tulis
"Home cooked meals, frozen yogurt and reading books I choose!" - Claire Shriver
"Random day trips to the beach, bare feet and being tan." - Abbey Weit
"Sitting, relaxing, beach time, reading, blogging, running a half marathon, sleeping more than 5 hours a night!" - Chloë Troia
Comment below and tell us: what are you looking forward to this summer?
You Might Also Like...