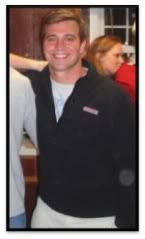 Name:
Alex Encarnacion
Year: 
Elon University '13
Major:
Strategic Communications, Business Minor
Hometown:
Knoxville, TN  
What's your favorite thing about Elon? 
The amount of fun everybody has on the weekends.  
What do you do in your free time? 
Club lacrosse, fishing when I can, Shane's Sporting Clays when I can afford it.  
What do you look for in a girl?
 Someone who' easygoing and has a good sense of humor, or at least pretends to enjoy mine.  
Single or taken?
 Single.  
How did you spend Valentine's Day? 
Unfortunately I didn't have a date, I just hung out with my friends and did a little bit of homework.  
What's your favorite pickup line? 
DDDAANGGG WUZ GOOD BABEE GURLLLL…  Just kidding, I'm not that good with pickup lines… I think they're fake and cheesy.  
What's your idea of a perfect first date? 
I like to keep it casual, a corn dog and slushie from the BP.  
Favorite quote? "
I am not bound to win, but I am bound to be true. I am not bound to succeed, but I am bound to live up to what light I have." - Abraham Lincoln  
Dream job? 
Be a senior account executive at an advertising agency.  
Any interesting act we should know about you?
I spent two summers on the Professional Bull Riding Tour and qualified for Nationals, only to break 3 ribs and tear an ACL two weeks before the event.
Pages
You Might Also Like...