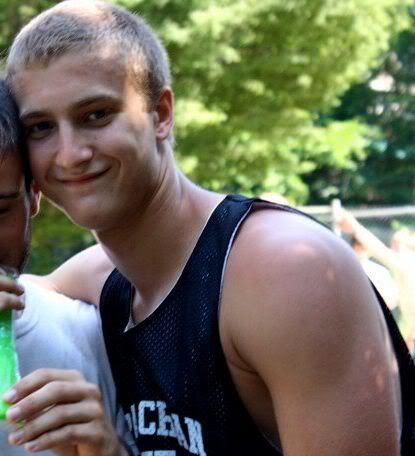 Name: Will Graebe
School/Year: Appalachian State University '14
Majors: Philosophy and Spanish
Class: Sophomore
Hometown: Raleigh, NC
Relationship status: Taken
 
Q: What is the craziest thing you have ever done for a girl?
A: Performing a poem in front of my entire English class professing my love for the girl I would soon date.
Q: What has been your most embarrassing moment here at App?
A: Annie Bartlett, if you happen to see this, then you know what the answer is. I hope you (and your outfit that I projectiled on) have fully recovered.
Q: If you had to put yourself in a stereotype what would it be?
A: Badass, but seriously, I would say that putting myself in a stereotype would be a little challenging.
Q: Do you consider yourself a romantic?
A: I'm afraid I would have to say yes, but most of the time I just end up looking stupid.
Q: How long was your longest relationship?
A: Two years.
Q: Where do you see yourself in ten years?
A: Hopefully working alongside my dad in Graebe, Hanna, Welborn, PLLC. Yes, that's a shout out.
Q: What is your dream job?
A: NOLS Instructor, and somehow getting paid six figures to do it.
Q: If you had to pick a motto to live by, what would it be?
A: Life is what you make it. I want my life to be an adventure, so I plan to keep on finding ways to challenge myself and push my limits.
Q: Who is your celeb crush?
A: Natalie Portman, without question. Natalie if you are reading this I love you and I can be reached at graebejw@appstate.edu.
Q: What is the worst thing a girl can do on a first date?
A: Be worried about doing a "worst thing." If a guy asks you on a date, then chances are they want to know you--the real you. Don't be afraid to embarrass yourself or "screw up." Be yourself and have fun with it.
Q: What are three things you look for in your ideal girl?
A: Patience, outgoing, willing to laugh at my jokes out of pity
Q: Name one thing you can't live without:
A: Meatball subs. I live by them and will most likely die because of them.
Q: Where can we find you on the weekends?
A: Hanging out with my boys at Laurelwood, or hiking anywhere and everywhere. There is always a good chance I'm waiting outside of Emily Bishop's basement door hoping that one day she'll hang out with me.
Pages
You Might Also Like...