Name: Tevin Wilson
School/Year: UMiami '14
Age: 20
Hometown: Kingston, Jamaica
Relationship Status: Single
Favorite Place on Campus: The Wellness Center
Grove or South Beach? South Beach
Favorite Class: Japanese


Name: Diego Francesco Marin School/Year: Towson University '14
Major: International Studies & Political Science
Hometown: Lima, Peru
Relationship Status: Single!  
Favorite Place to Eat on Campus: West Village, it's the best.
Favorite Things to Do on Campus: Play soccer, go to the gym, and meet new people.
 
Favorite Music: Reggae, Reggaeton, Salsa, Rock, and Dubstep.
 
Favorite Movie: Saving Private Ryan
 
Talents: I can cook, my empanadas are great if you know what I mean.
What I Look For in a Girl: Honesty, a good sense of humor, ambitions and goals we can share.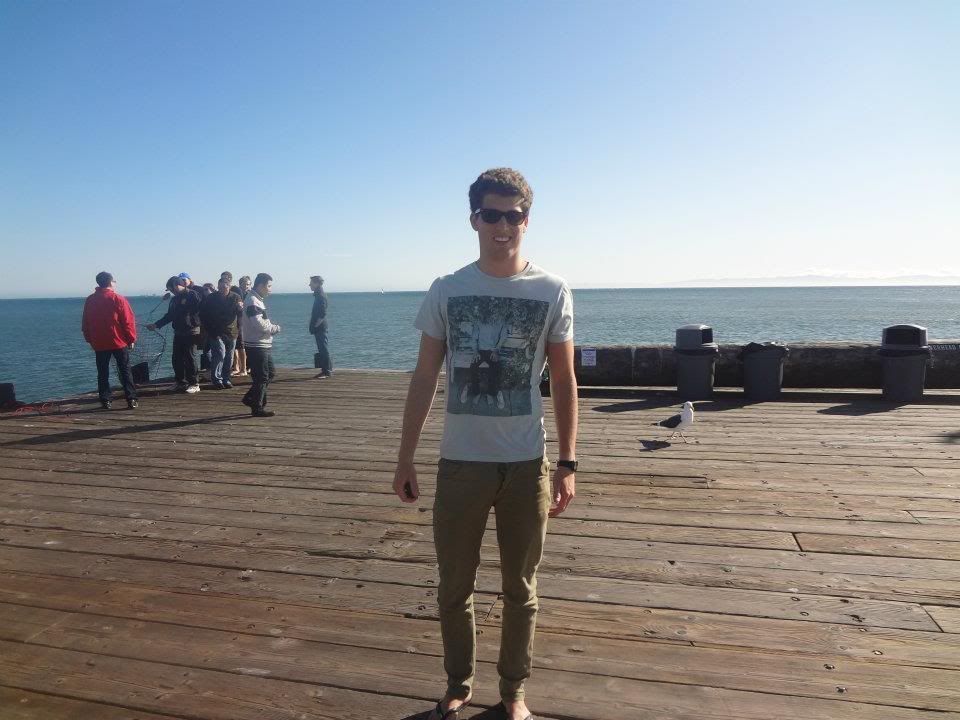 Name: Adam Hine
Year: UCSB '13
Major: English
From: Adelaide, Australia
Campus Involvement: Intramural Soccer
What is the biggest difference between Australia and America in your eyes? The social significance of wealth
 
What shocked you most about moving to Isla Vista? How casual it is in every way 
 
Do you prefer cali girls or Ausi girls? Love both for very different reasons. right now = Cali, long-term = Aussie.
 
What is your idea of a perfect date? Beach at night
 
What do you look for in a girl? Well-shaped earlobes
 
Describe yourself in 3 words: Sincere, shameless, friendly.


Name: Gian Marco Tamburi
School/Year: Appalachian State University '13
Major: History- Secondary Education
Age: 21
Hometown: Rione Stazione, Magione, Italy
Relationship Status: Single
When you're not in the classroom, where can we find you in Boone? In the Administration building (which is where I work), at the SRC working out, or on my couch watching sports.
What is your favorite thing about Appalachian State University? The feeling of being a part of a family. The slogan "Appalachian Family" is not just a selling pitch: in the last 3 years I have come to know that it is the reality. We are indeed a family here at App.  And I love it.
If you could date any celebrity, who would it be? Easy pick here: Erin Andrews. She's too good to be true.
What is your favorite thing to see a girl wear? Leggings, sneakers and a sweatshirt. But they have to be on the right body, you know…
You just figured out that you won 3 million dollars. What do you do now? 1) Finish paying for college; 2) Buy a house in Watauga County and one in Italy; 3) Make some good investments.
What is your idea of the perfect date? There is no better place for a date than the wonderful, rolling hills that I can see from my house in Italy. I promise American girls don't know what they're missing out on and they would be absolutely astonished. Italian is better. Always. Don't you ever forget that.
What is the most embarrassing thing that's ever happened to you? Three years ago I was pulled by a couple of cops in Italy for driving without a license (not that I had forgotten it: I just didn't have it). My granddad, who was in the car with me, tried to bribe the cops by offering them a big bird he had just hunted. They almost put both of us in jail. Scary more than embarrassing, but still…
Describe yourself in 3 words: Passionate, honest, overwhelming (let's face it, most people can't handle my heart and passion: I've got too much).
What's the number one most played song on your iPod? Heart of a Champion (Nelly)
If you could have one superpower, what would it be? I have always wanted to be able to fly. How awesome would it be to get into every football game without paying?
What is the one thing you want to do before you graduate?
I want to see Appalachian State win a National Championship in football and I want my family to come visit App (that would be their first time ever in the US). Okay, I know that's two things, but -come on- you can't limit me to one!


Name: Rodrigo Quan Miranda
School/Year: Amherst College/Sophomore
Major: Math
Hometown: San Salvador, El Salvador
Relationship Status: Taken
 
High School: Choate
 
Dorm: Mo Pratt
 
Favorite Class: Cervantes with Maraniss
 
Ideal Date: "There's this one restaurant I always used to go to with my girlfriend at Choate, so we love going back there."
 
Spirit Animal: Shark
 
If You Could Visit Any Country in the World, Where Would You Go: Brazil
 
If You Could Have One Super Power, What Would it Be: Time travel
 
Favorite TV Show: Mad men
 
Sport: Squash
 
Craziest Thing You've Ever Done: "This one day, my girlfriend was having a really bad week at Emory, so I decided that day to get on a plane and fly to Emory."
 
The Biggest Difference Between El Salvador and the US: The beaches in El Salvador are nicer


Name: Kristoffer Rönngard
School/Year: San Francisco '13
Major: Business Marketing
Hometown: Malmö, Sweden
Relationship Status: Single
 
What do you want to do with your major after school? Eventually start my own business, but probably something with event marketing or advertising –those are my two fields.
 
What do you like to do in your free time? I like to hike, play hockey, and I love to snowboard.
 
Where is your favorite spot to go in S.F.? I love North Beach and the bar scene on a nice Saturday afternoon.  I also love Hayes Valley, I'm a little bit biased, but my favorite place to go there is the Two Sisters Bar & Books.
 
What's the biggest difference between Europe/Sweden and the U.S.? Americans tend to be much more individualistic.  The food is different - and there's a lot more of it on your plate. It's a lot cheaper here, for example, gas.  And everything is bigger here! The climate is a lot better too; you're not experiencing four months of winter.
 
What's your ideal date? First of all you have to have a connection with a person.  Depends on the person, but I like taking walks because it's easy to make conversation.  An ideal date just flows by itself, you're not staring at you're watch the whole time –and the girl can keep up conversation.  An ideal date is a date you don't want to end.
 
What do you look for in a girl? IQ –intelligence. Good looks –but no specifications, without trying to sound superficial I think you need to be attracted to the other person.  Also, a good sense of humor, and good health meaning non-smoker, no weed, and good diet, it's attractive when a girl can take care of herself.
 

Name: Chris McMichael
School/Year: UC Berkeley/Senior
Major: Mechanical Engineering + Finance Double Major
Hometown: Adelaide, Australia
What has been your favorite thing about Berkley so far? Living in International House and Cal Basketball Games.
What's one thing they do in Australia you wished they did in the US? I wish the drinking age was 18 and I wish they made meat pies.
What's one thing they do in the US that you wish they did in Australia? I wish Australian colleges had as much school spirit as Cal and I love how easy it is to play pickup basketball here.
Favorite TV Show? Mythbusters and Topgear UK
What is your favorite quote to live by? I live by several quotes: "Make it Happen," "shit happens," and "you cant teach stupid"
If you could study abroad again, where would you go? Stuttgart, Germany


Name: Joseph Chapman
School/Year: University of Rochester '12
Major: Economics
Hometown: Tortola, British Virgin Islands
Relationship Status: Looking for the most interesting people in the world.
Interesting Fact: I'm moving to Europe after university to play professional squash. I'll be traveling to 12 countries per year playing tournaments as my job. I'm interested in constantly improving quality of life.
Campus Activities: Varsity squash, conversations that expand my mind.


Name: Mohamed Elghol
School/Year: Virginia Commonwealth University/Junior
Major: Criminal Justice
From: Sudan 
What is your sign? Sagittarius
 
What do you plan on doing with your degree in Criminal Justice? I plan on one day working for the FBI or CIA.
 
So you want to be a spy? No I want to be an investigator. If that doesn't work out then I plan on starting my own business. Not too sure what type of business but I know I want to be able to give back and also help others.
 
How would you describe your clothing style? City Boy!
 
Where do you like to shop? I like to shop at different places, but if I had to name a few it would be H&M, Polo, and Lacoste.
 
What is your best physical feature? I would have to say my face.
 
Lets say a girl wants to cook for you, what meal would she have to make that would impress you? Chicken Parmesan with some Hennessey.
 
Hennessey?
 Yes, that is my favorite alcoholic beverage. 
 
If you were to plan a romantic date for a girl you want to make your girlfriend, what would you do ? First I would pick her up from her house and take her to a nice restaurant, somewhere fancy. After dinner I would take her on a walk through the park (not a park in Richmond). I believe that long walks helps you get to know the other person on another level; you learn things about that individual you never knew till that day. After our walk I would take her home, but she does have the choice to come back to my place. But since I do like her I'll take her home.
 
Describe your future wife? My future wife has to be funny, trustworthy, honest, and outgoing. I love an independent woman, but independent to a certain extent. I also love a woman who has drive, a drive to succeed.
 

Where would you like to go on your honeymoon? Isn't that the womans decision? But if I had to choose it would probably be Spain. I've never been, heard so many good things the country.
 
Do you have any long term goals? Yeah! I actually want to one day start a family. I want to be able to provide for my children and give them all the things I was not able to have as a child growing up. Another long term goal I have is to be wealthy. Everyone always talks about how rich they want to be, I just want to be wealthy. Wealth comes with a lot, it is not just money. It also consist of land, stocks, and other types of property.
 
What is your biggest fear? My biggest fear is losing my mother; I do not know what I would do without her.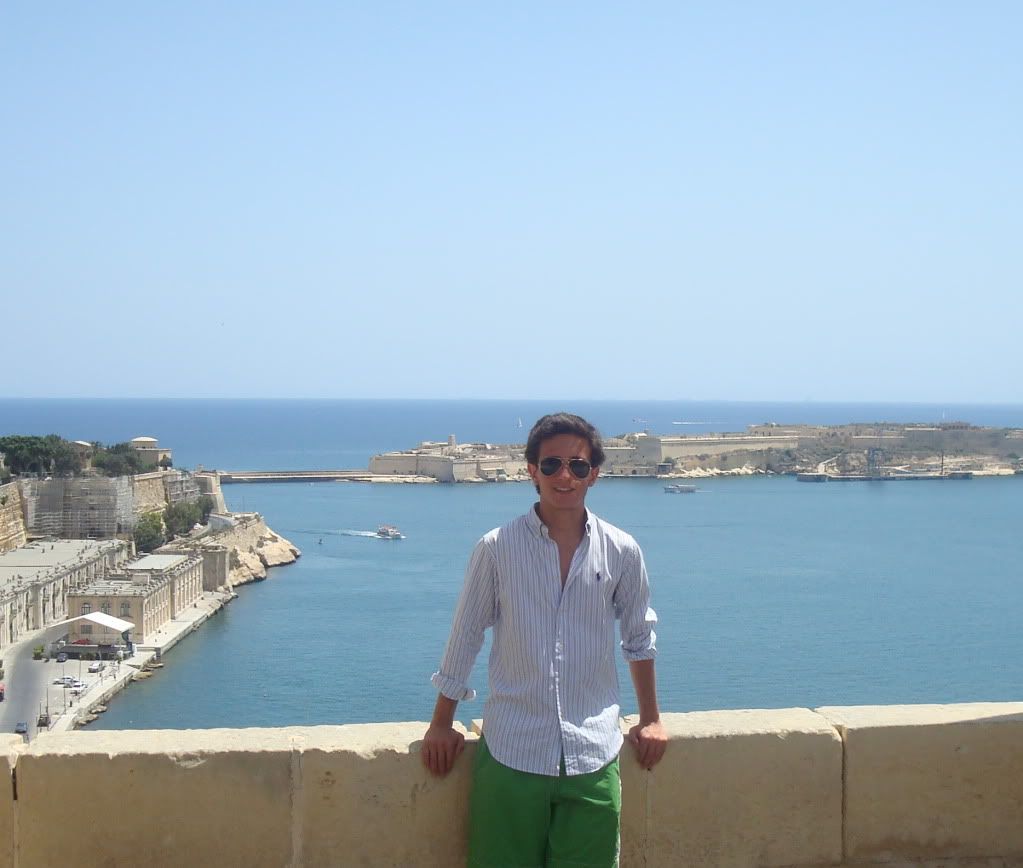 Name: Alfonso
School/Year: Emory '15
Major: Economics and Pre-Business
Hometown: Madrid, Spain
Relationship Status: Single (for the moment)
Extra Curriculars: Co-Founder and Treasurer of Emory Economics Club, Greek life.
Fraternity: Sigma Chi
Height: 5'4"
 
How does it feel to be nominated as Campus Cutie? I haven't felt anything yet; we'll see what happens next weekend.
 
What's your best memory at Emory so far?
The ones that can't be remembered.
 
If you were given one million dollars in cash, how would you spend it?
I would spend the first 100,000 for a party, save the rest.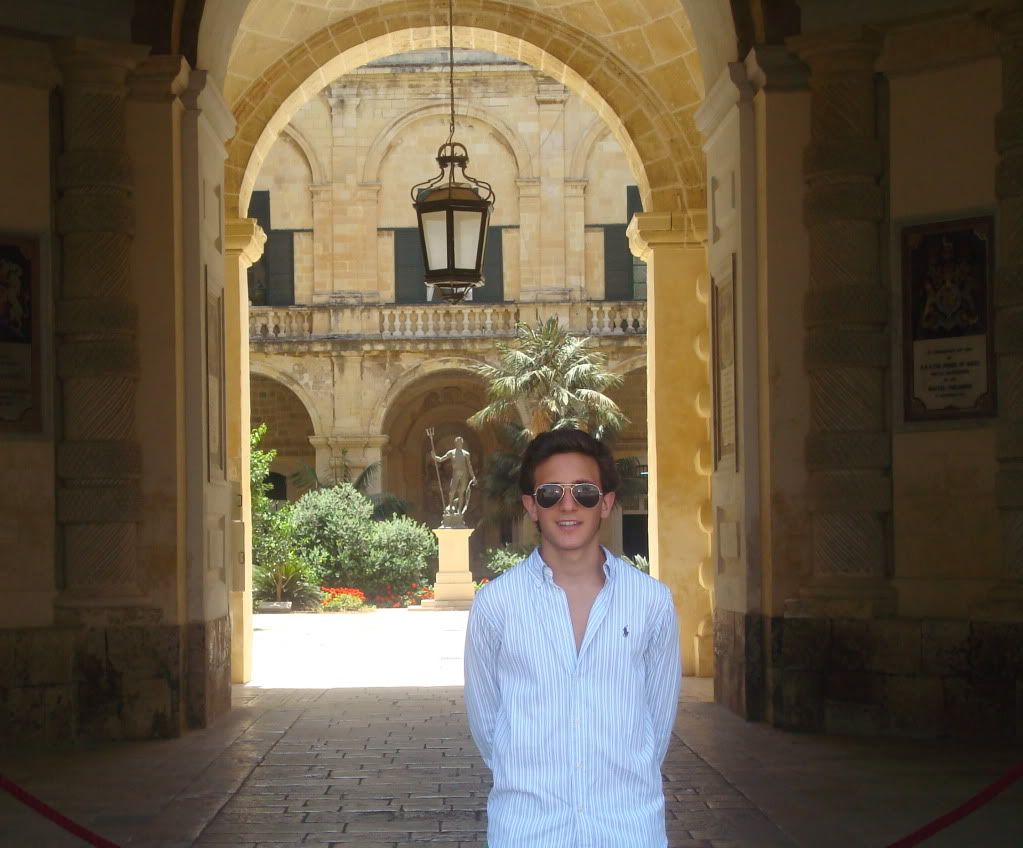 What do you do outside of class in your free time? Enjoy life
 
What do you look for in a girl? Good inside and outside: A nice person.
 
If you could have one superpower what would it be and why?
Make time go slower whenever it's a good time.
 
What is the most embarrassing situation you have experienced? Can't think of one just now… Probably a good sign.
 
Where do you see yourself 10 years from now? Hopefully alive

Name: Hormuz Dadabhoy
College: University of Toranto '14
Program: Asia Pacific Studies, Semiotic Anthropology and Environmental Studies
Hometown: Mumbai, India
 
Extra-Curricular Involvement: House President in both first and second years, play squash, swim, ride, and am a member of the Victoria College Council and the Victoria University Senate. Also a campus tour guide and Residence Don in the upcoming academic year. 
 
How do you relieve stress? I play squash, swim, and watch 1970's British comedy shows such as Fawlty Towers, Yes Minister, and Black Adder. However, with that being said I don't seem to experience the intense stress that other students speak of. 
 
If you could travel to any place in the world this instant, where would it be? Canada's north, Nunavut in particular. Or Mauritania, and that's because it has some of the longest trains in the world.
 
What immediately comes to mind when you think of U of T? Ivy
 
Pet peeves? Unpunctuality mainly. But on the whole I'm a fairly easy going person.  
 
What are the most important things you look for in a relationship? Someone with whom you can have good conversations, fun, and just generally be yourself around. In all honesty, I'm not really looking for anything, it's more an emotional reaction that I can't put my finger on. 
 
What traits do you most admire in a girl? Intelligence, and especially spontaneity and humour. 
Favourite movie and/or celebrity you most idolize? John Cleese.  
Favourite Movie: Forrest Gump
 
Career you wished for as a child: Formula One racing driver, engine driver, or bus driver. Basically, I really like mechanical things.  
 
What you hope to become now and other noteworthy future plans? I am going to China in the summer where I will be taking a course and writing a field research paper. After university, I could either shack in my parent's basement and play with my train set for the rest of my life OR become an investigative journalist/lawyer and change the world in whatever capacity I can.


Name: Aly Kassim-Lakha
School/Year: University of Pennsylvania '15
Major: Finance, OPIM, and Accounting
Birthday:  February 9, 1993
Age: 19
Hometown: Toronto, Canada. My parents are from Kenya but my great-grandparents were Indian
What do you miss most about Canada? Probably the hockey. Also my friends, my family, and free health care. I also don't have allergies in Canada, but in the States I do...and I have to pay for the medicine because this isn't Canada.
What countries have you been to, and where would you like to travel someday? I've been to Kenya, Tanzania, Uganda, Malaysia, Thailand, India, China, Japan, Singapore, France, England, Italy, Turkey, Mexico, Spain, United Arab Emirates, the Caribbean, and Tunisia. I'd like to go to Greece, South America, and the Middle East. I also want to go back to France.
Describe yourself in 3 words: Charming, active, conscientious.
Any hidden talents? Nothing special, but I do a lot of public speaking, debate, etc. I also play a lot of sports like hockey, football, baseball, basketball, and tennis.
Languages: English, French
Extracurriculars: Consultant for the Wharton Small Business Development Center, freshman representative for the Wharton Undergraduate Finance Club, lots of work in entrepreneurship (residential program in Ware College House)
Favorite food: Thai food. My life hasn't been the same since my friends introduced me to Pad Thai.
Favorite restaurant in Philly: It's a three-way tie between Hummus, Pattaya, and New Delhi. Oh, and Banana Leaf. I love food.
Favorite pick-up line: "Let's count shoulders." My second favorite is "girl, you must be exhausted because you've been running through my mind all day."
Celebrity crush: Keira Knightley.
Best pranks you've pulled off: I was able to get into one of my friends' rooms and while he was at breakfast I took all his clothes and tied them into a huge rope of clothing. I proceeded to hang the rope of clothing from the junior balcony on top of McClelland. When he left McClelland after breakfast he noticed that there were clothes hanging and I believe he said, "I'd hate to be that person." Little did he know that it was all his!
Another time I was able to get into the same friend's room, and on his wall he had photos of himself that spelled "India." I thought his room needed redecorating… so I rearranged the photos to spell out "Aly." Somehow, he knew it was me.
Most embarrassing moment at Penn: I don't know if this is embarrassing or just heartwarming but I was in SHS when I first got to Penn and I was trying to find a shortcut after stopping by International House to get my documents approved (something only international students have to deal with) and somehow on my way back to the Quad I ended up on Baltimore Avenue. It was raining cats and dogs outside and I ended up being really late to convocation…and my clothes were wet. I even called a new friend I made during NSO and he gave me the wrong directions; he intentionally misled me.
Best Penn memory: Probably the third or fourth night of NSO — I was with my new friends and one night instead of going out we just stayed in and played ping pong, ate crêpes and watched movies. It was delightful because those friends turned out to be my best friends at Penn.
Oh, and also the night my friends surprised me on my birthday with tickets to see a hockey game (Toronto vs. Philadelphia). They gave me two tickets and when I got there they were all waiting for me. That same night they got me my favorite kind of cake from The Cheesecake Factory and then they took me back to my room, which they had decorated, and one of my friends got me a signed jersey from my favorite hockey team.


Name: Rhorie Williams
School/Year: Virginia Commonwealth University/Sophomore
Major: Accounting
Hometown: Kingston, Jamaica
Zodiac Sign: Cancer
Favorite color: Red
What do you like to do for fun? I like to party and hang out with my frat brothers
Oh, so you're in a frat? Which one? Theta Chi
What is your favorite thing about Theta Chi? I like the closeness of the brotherhood and the diversity.  We actually feel like brothers.
What is your type of girl? Smart and open-minded. I like a girl who can be my friend and my girlfriend at the same time.
Who are some of your celebrity crushes and why? Zoe Saldana, because shes just 'BAD'. Mila Kunis because I think she's one of the prettiest girls who's famous right now. Kim Kardashian… because she's Kim Kardashian. She has the best body I've ever seen. Sarah Hyland because she's cute and petite.
3 turn ons:
1) Fruity perfume
2) Long straight hair (preferably red)
3) Curves
3 turn offs:
1) A bad attitude
 2) ditsy
3) no style
 
What is your dream job and why?
To be a night club owner, life would just be one big party.
What is your biggest fear?
Dying young


Name: Osman Yusuf
School/Year: University of Toronto '12
Program: International Relations, History, Philosophy
College: Victoria University
Hometown: Paris, France
Relationship Status: Single
Activities: Reading, Cycling
Drink of choice: Cold Water
Boxers or briefs: Briefs, only briefs
If you be any fictional character, who would it be, and why? Superman, because then I could wear briefs on the outside and no one would judge me!
Write an acrostic poem for yourself:
On
Sundays
Men
Always
Nap
If you were a wild animal, what would it be? Gorilla, they're intelligent, physically strong, social, and they have this kind of guarded vulnerability when you look into their eyes. Also, they throw poop at each other.
Every guy needs these three things in his closet: A good choice of shoes, comfy sweaters and skinny ties
If you were on death row, what would your last meal be? Lasagna
If your life was a movie, what would the title be? The Darjeeling Unlimited (because I drink a lot of tea…)
Famous last words? All right!
On being chosen as a campus cutie: Flattered and not in the least bit annoyed


Name: Uros Simovic
School/Year: McGill University '12
Major: Electrical Engineering
Hometown: Belgrade, Serbia
Favourite city & why? Istanbul. It caught me by surprise, I wasn't expecting such a wonderful combination of East and West, old and modern. I honestly wasn't expecting much, when you go to Paris and New York you feel like you've been there before because of all the movies, but Istanbul, I felt like I was discovering it on my own
What does your ideal Friday night entail? Absolutely anything with friends, it could be a fancy bar or just relaxing on a couch
Favourite meal? This is quite difficult, it all depends on the season, availability, and my overall mood, but a home cooked meal is always appreciated. It has the best spice out there and it's prepared with love (I know it sounds cheesy but hey, you know it's true)
If you could be any superhero, which one would you be? Batman, out of all of them he is the only one that has no superpowers and is the most selfless
Hobbies: The oldest hobby I have is paleontology. At some point in time, I wanted to study science, biology, evolution, and ultimately, paleontology. Unfortunately, my family of engineers didn't like that idea so I turned that passion into my hobby. If you walk into my room, you will find dozens of university level books, wooden skeletons, and if you are lucky I might even show you some fossils I acquired over the years
Something no one knows about you? If there is something no one knows about me, I would like to keep it that way


Name: Umberto Tosi
School/Year: University of Pennsylvania '15
Major: Biological Basis of Behavior
Age: 19
Hometown: Busto Arsizio, Italy
Birthday: May 26, 1992
Languages: Italian, English
Favorite city: Milan
What do you miss most about Italy? I miss my friends and family, and the food and wine.
Biggest culture shock: People don't kiss on the cheek when they see each other around here. Also, people don't know how to master the art of drinking.
Favorite food: Risotto.
Favorite restaurant in Philly: Marrakesh.
Best Italian restaurant in Philly: My room…(yes ladies, Umberto can cook!)
Favorite thing about American girls: They appreciate the fact that I'm Italian…
First thing you notice about a girl: The color of her eyes.
Perfect first date: Dinner at a good restaurant.
What do you look for in a girl? Someone who is attractive, funny, and takes care of me.
Do you believe in love at first sight? Nope, but maybe infatuation at first sight.
Do you believe in soul mates? Yes I do.
Does true love last forever? Yes, definitely.
Favorite pick-up line: Looking into a girl's eyes and telling her "you look sad tonight."
Celebrity Crush: Uma Thurman
Dream job: Doctor, maybe in a city like Boston.
Most memorable part of freshman year: Meeting a girl for the first time at a sorority party downtown and being asked about marriage…
Something you have to do before graduating: Visit all seven continents.


Name: Baptiste Fassin
School/Year: Boston University '15
Major: Sociology
Hometown: Paris, France
Current City: Princeton, New Jersey
Relationship Status: Single
What are your hobbies and interests, and are you involved in any clubs at BU? My big passion is football (soccer), which I play around 3 times a week. I also enjoy going to hockey games with my friends, to follow the news, all sort of things, and I am not in any clubs.
You play intramural football (soccer) right? Yes I do
Favorite musical artists? As artists I like Chiddy Bang, Kanye West, and many French artists.
Favorite Food? I am a huge fan of French food obviously. 
Favorite TV Show? My favorite show for the moment, so far, is Game of Thrones.
If you could use one word to describe yourself what would it be? Open-minded.
Do you have any exciting plans for spring break? I am actually going to NYC the first night.  I am sleeping in a floor mate's apartment with another friend.  I go back to Princeton, NJ, where I live, on the next day where I will see my family and spend my spring break.  More like a relaxing vacation.


Name: Alejandro Ledesma
School/Year: U San Francisco '12
Major: Business
Age: 22
Hometown: Barcelona
Relationship Status: Single
 
Describe your personality. I'm confident, funny, and I love meeting new people. Also, I love to party and play all kinds of sports.
 
Why did you choose to study abroad at USF? I wanted to be in San Francisco because all of my friends told me that it was an incredible city.
 
What do you like the most about USF girls? I haven't met a lot of them, but they seem to be friendly and funny.
 
What are your hopes for the future? Start my own business and maybe live in San Francisco for a few years.
 
Turn ons for girls? Good smile, funny, and mature.
 
What do you find the most confusing about girls? You never know what they really want.
 
Fun facts about yourself. I speak four languages and I love Formula 1. 


Name: Sebastian Vandenheste
School: Duke University
Concentration: History Major, Economics Minor, MMS Certificate
Age: 19
Hometown: Hong Kong, China
 
Favorite place to eat off campus: Revolutions; they always have a great tasting menu that I recommend ordering.
 
First thing you notice about a girl: Her hair, its all about the flow.
 
Why Duke: The gothic architecture and being able to escape city life.
 
Best class taken at Duke: European Colonial Encounter with Susanna Thorne; the idea of power enthralls me.
 
Favorite Book: Catcher in the Rye.
 
Ideal Saturday night: Hanging out with my Delta Sig brothers having just played an afternoon of golf with my roommate at the WA Duke.
 
Favorite TV Show: Blue Mountain State. Thad Castle? Enough said.
 
Most embarrassing memory: Being 50 minutes late to Spanish my freshman year after getting on the Robertson Bus. It wasn't until half way there that I realized I was headed to Chapel Thrill.
 
Favorite "fro-yo" flavor: Chocolate with Gummy Bears.
 
If you could take anyone to a date function: Lady Gaga, but only if she promised not to cramp my style. 
You Might Also Like...