We woke up bright and early on our last morning in Amsterdam to travel back to the USA. We had a cab pick us up at our hotel at 6:45am Amsterdam time to take us to the airport. The cab cost $39 plus tip for the three of us together which was more than worth it with our huge suitcases (now packed full with our European shopping finds added).
We were a little concerned that our bags would be overweight and they would charge us to put them on the plane, but luckily the usual 40 lb. weight limit is actually increased to 70 lb. for flights from abroad back to the US, and this 70 lb. limit applies to all legs of your trip (we had a layover in Dublin, but the 70 lb. limit applied to the Amsterdam --> Dublin fight too).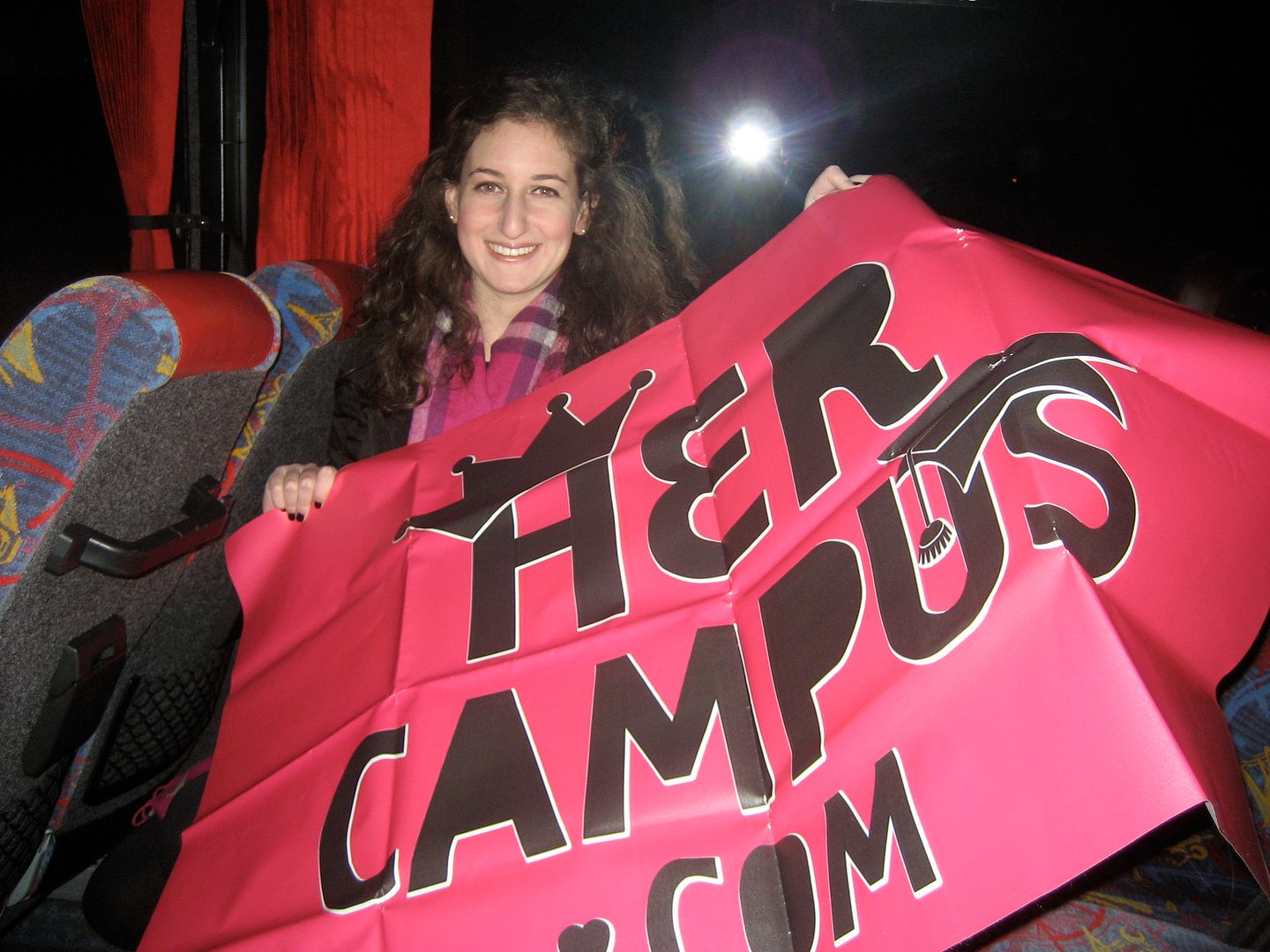 We got breakfast of croissants and smoothies at the airport, then took a quick flight from Amsterdam to Dublin (the beautiful airport from our first day!). In typical HC fashion, we could not resist doing some final shopping at the Dublin airport during our layover. I got an adorable ID card case from London handbag designer Radley, and a super lightweight tote by designer Kurt Geiger (both at extremely reasonable prices!).
We got lunch at the Dublin airport, went through customs or "US Pre-Clearance", then waited at our gate for our flight, where we spotted people wearing Superbowl jerseys (we traveled back on the day of the Superbowl)! It was another Aer Lingus flight back to Boston from Dublin, again with surprisingly tasty hot meals and lots of good, current movie choices. Six hours later we were back in Boston, glad to be home in time for the Superbowl but already missing our incredible trip!!
On our plane ride back, we decided to compile some tips & tricks we learned on our trip, for you to keep in mind on your next European adventure (make sure to enter our "Have Contiki, Will Travel" Contest for a shot at winning your own FREE Contiki trip!). Here they are:
DON'T bring a blowdryer, flat iron, or curling iron- the outlets there will fizzle your appliances, plus every hotel we stayed at had a blowdryer in the room. If you need a flat iron or curling iron, pick up a cheap one at a convenience store near where you're staying. I ended up opting to just let my hair dry naturally (rather than straightening it), as evidenced in this pic.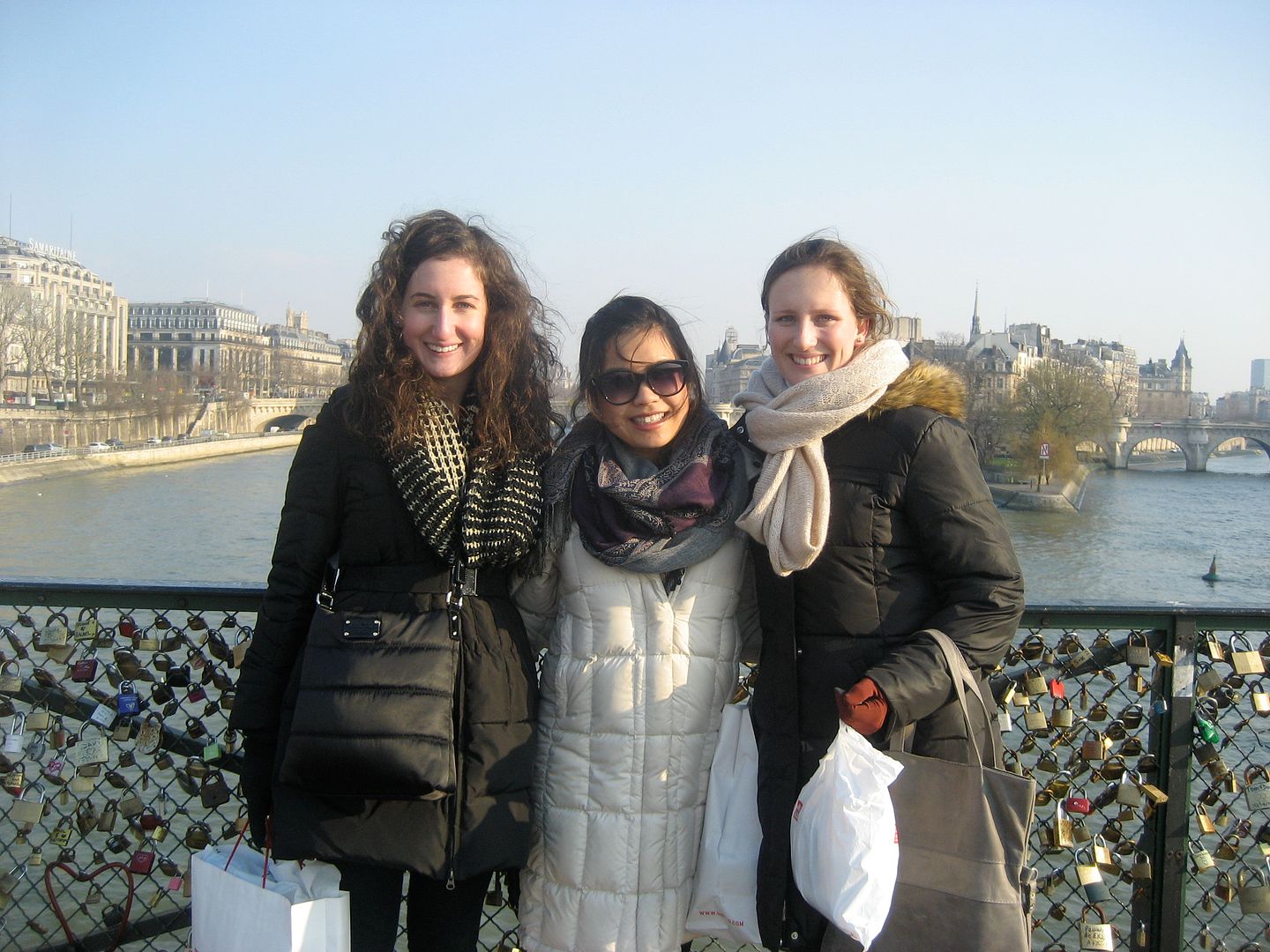 DO bring your own toiletries, especially conditioner- the hotels didn't have them in the room!
DO wear layers. It was absolutely FREEZING throughout our trip so I ended up picking up a bulky sweater and some chunky scarves in London that I wore every day for the rest of the trip. The weather can be unpredictable so have many options on hand! Check out how bundled up we are here!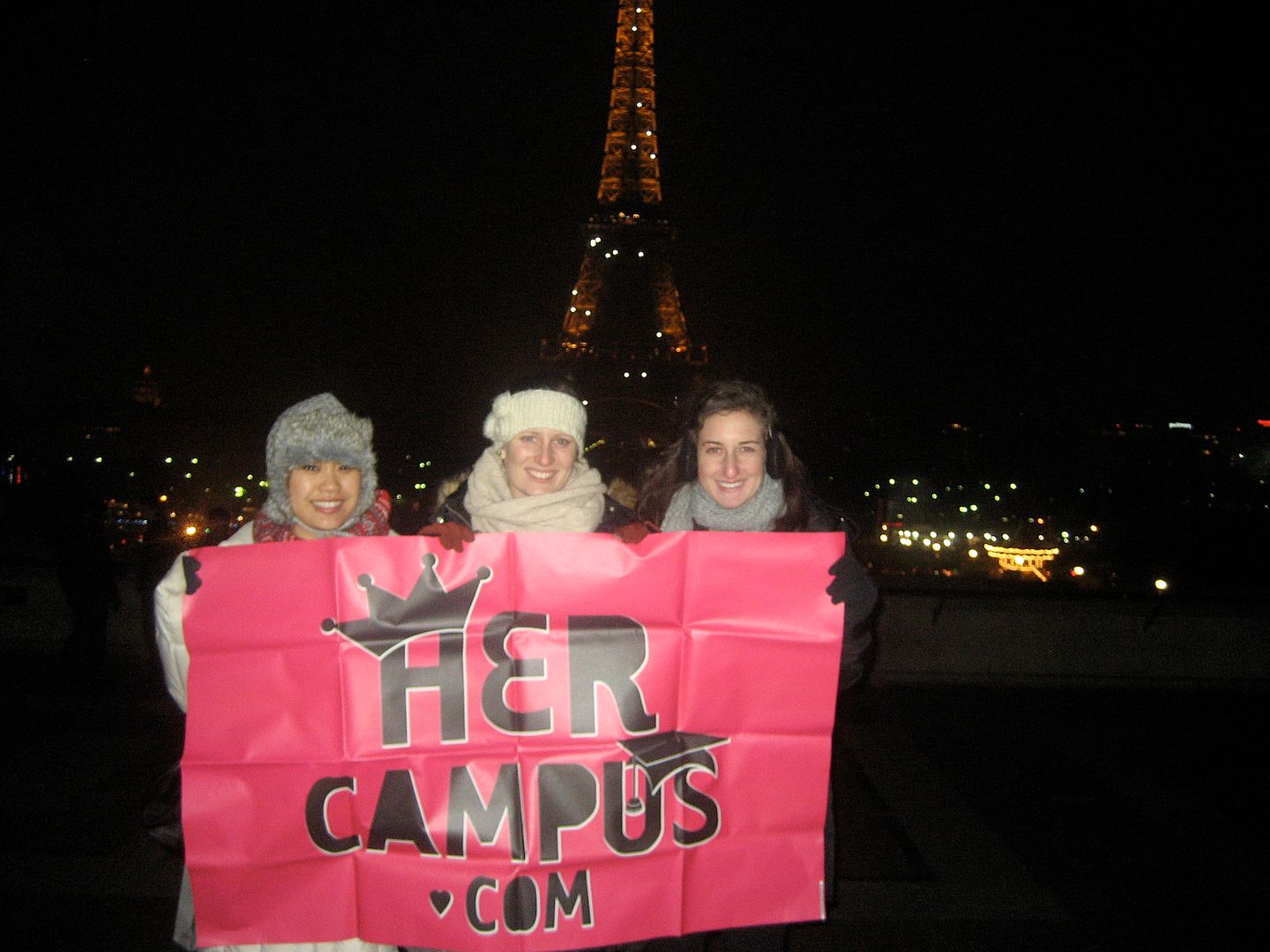 DON'T wear heels. You'll be doing so much walking, plus the weather could be terrible and you don't want to ruin nice shoes, or have to worry about your feet hurting. A flat boot is a good choice for the winter.
DO keep Chapstick and hand lotion in your purse. Since the weather was so cold, our hands, lips, face, everything got super dry. Make sure to have lotion and Chapstick on you at all times so you can keep reapplying.
DO bring a hat and gloves. It sounds obvious, but I didn't bring a hat because I generally don't like the way hats look on me. But I really wished I had brought one! And make sure your gloves are actually warm ones (also look for ones meant for texting). When it's super cold and you're walking around outside for long periods of time, being comfortable is most important when it comes to your enjoyment of the trip. Check out how cold it was in Amsterdam!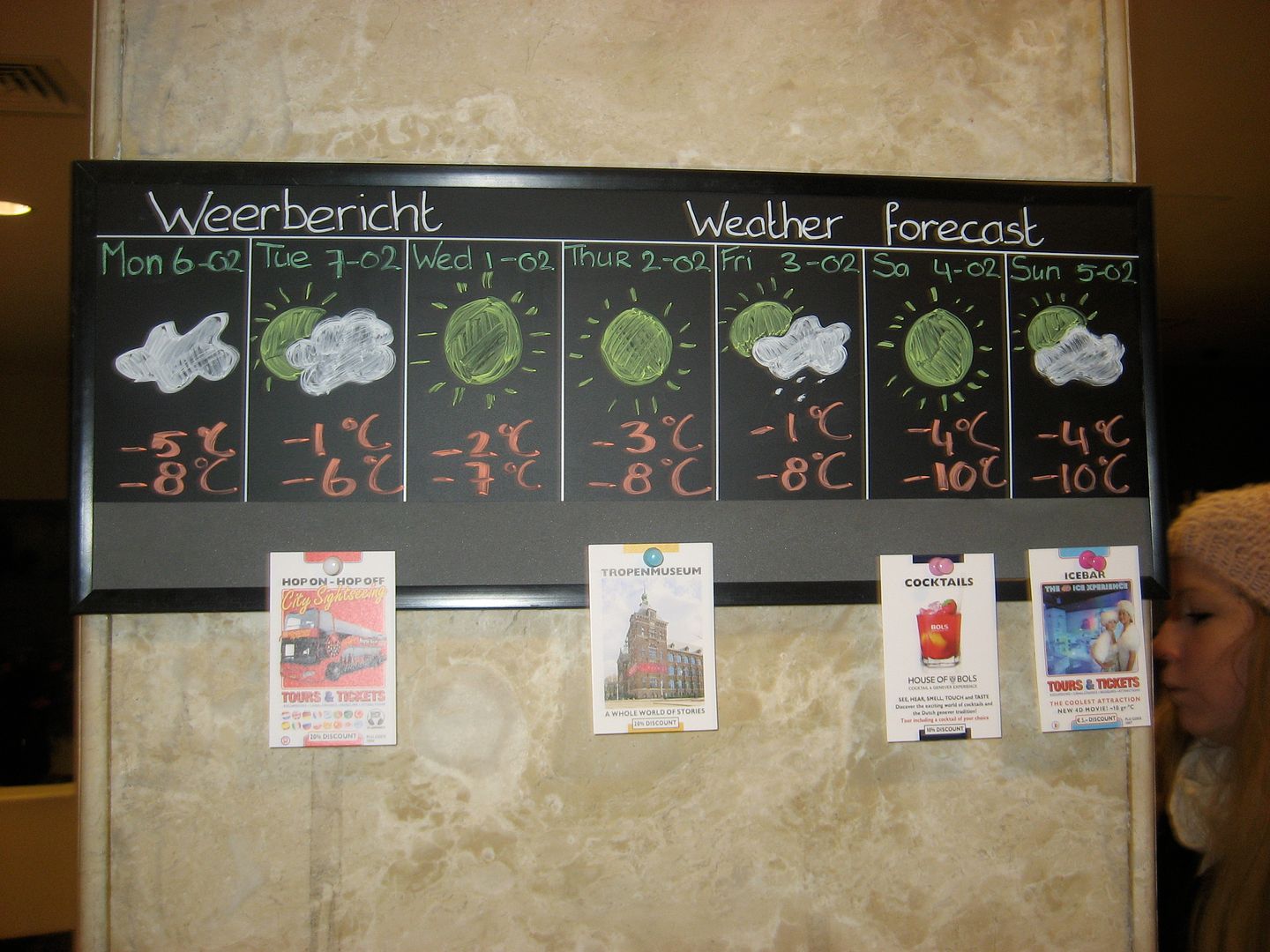 DO carry hand sanitizer on you. You won't always be able to wash your hands before a meal, and nothing is a bigger buzzkill when you're traveling than getting sick.
DO keep track of your coins. In the US, coins aren't worth that much, but in Europe, they are! Some coins are worth more than $2. So don't just casually throw them in the bottom of your purse or forget about them- treat them like real money.
DO carry a messenger bag. A messenger bag is practical for so many reasons- it frees your hands, it puts less stress on your shoulder and arm, plus it's much harder for pick-pockets to access. I picked up this Kate Spade messenger bag during a holiday sale at the Kate Spade outlet in December, and it ended up being so practical for this trip!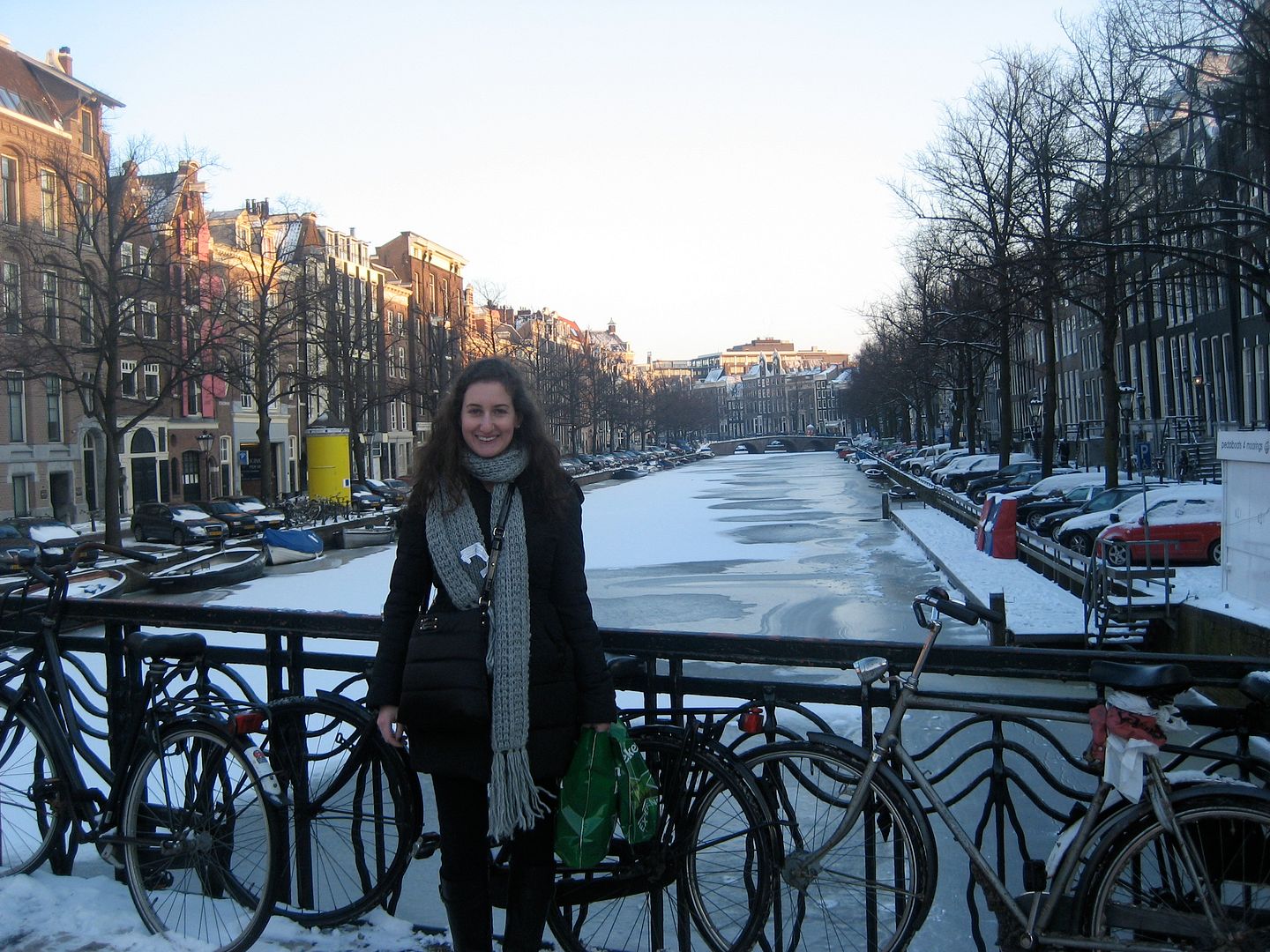 DO see if you can login to any wifi networks on your phone. Using your cell phone's normal data plan in Europe would be crazy expensive. Instead, switch your phone to Airplane Mode to avoid ridiculously high charges. But constantly check to see if your phone is picking up any wifi networks, which will allow you to access the internet on your phone for free. We would constantly check for wifi and when we had it, we jumped on the opportunity to check email and update Facebook and Twitter!
DON'T tip 20%. A 20% tip is typical in the US, but in Europe, a 10% tip is more than generous enough. Tips aren't mandatory, either--only tip for service that was actually really good.
DO split restaurant bills on multiple credit cards with your friends. Restaurants don't mind splitting up a bill on multiple people's credit cards, so don't worry about trying to work it all out yourselves! We split this bill, for our banana nutella pancakes in Amsterdam, four ways!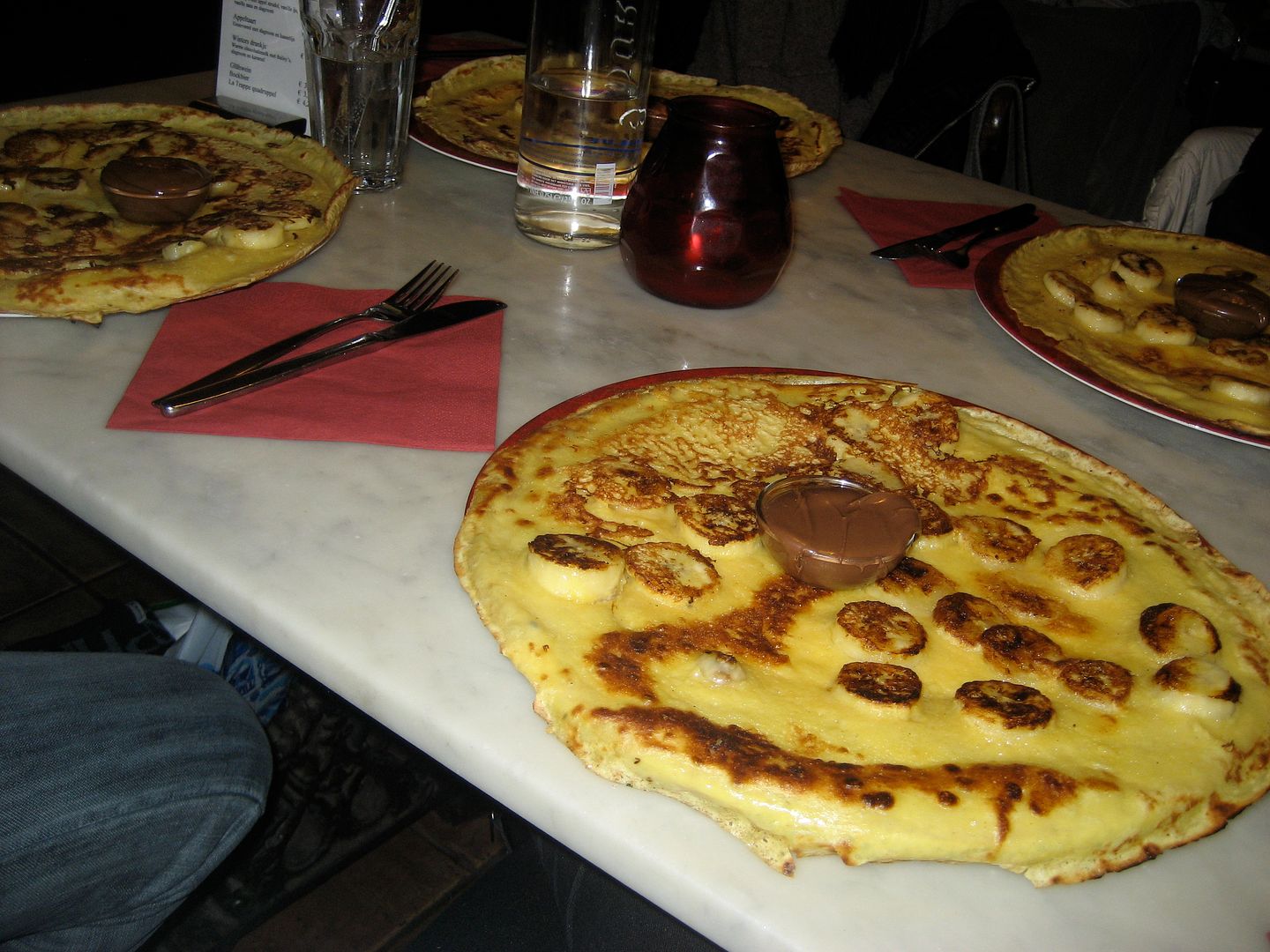 DON'T pack TOO light. While you don't need your entire wardrobe, you also don't want to have to rewear dirty clothes. Bring enough tops to wear a different one each day, and at least a few pairs of bottoms. Bring more socks and underwear than you think you'll need.
DO save room in your suitcase to do some shopping, both weight-wise and space-wise. Trust us, you're going to want to do some shopping!
Okay, and now some HC-goes-to-Europe vocab!
Chips or frites = French fries
Tube or metro = Subway
Toilets = Bathroom
Tram = An above-ground train
A big one = A crazy night out
I'd be keen to... = I'd really like to...
Uni = College
Hook-up = Hook-up (yup, they call it the same thing, and its meaning is just as ambiguous!)
Jump my bones = Forced makeout
That's all from us! Be sure to enter our "Have Contiki, Will Travel" Contest to win your own FREE Contiki trip! Au revoir!
You Might Also Like...