Friday morning marked the end of our stay in Paris and the end of our time with most of the other people in our Contiki group. About half of our group were taking unescorted extensions to other cities (five of us were heading to Amsterdam, six were going to Rome, two were staying on in Paris), and the rest were heading back to their homes. We said our goodbyes to our new friends and John, who drove us for the last time to the train station.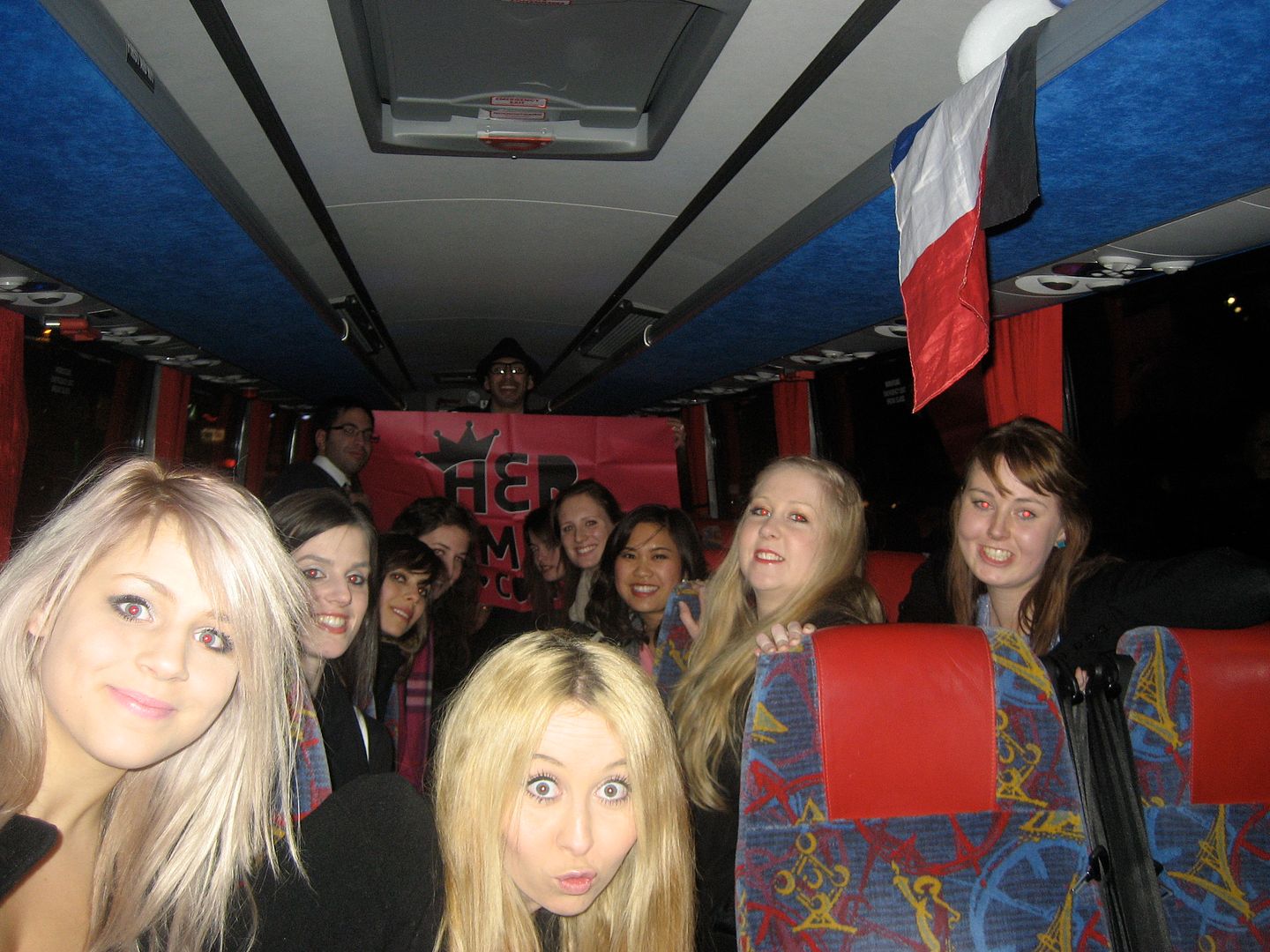 Luckily, Petula was accompanying us to Amsterdam, so we got to spend another few hours with her en route to the last stop on our European adventure! After picking up some delicious sandwiches from a vendor at the train station, we boarded our train to Amsterdam. It was a super nice train, with extremely comfortable plush seats, seating areas with fold-out tables, and wifi available for purchase -- much nicer than even the Amtrak! -- and we settled in comfortably. During the trip, we witnessed a hilarious incident in which two guys accidentally boarded the train a day early! Thankfully when they checked their tickets and realized their mistake, they were really good sports and laughed it off.
As the train zoomed along at up to 300 km/hr (186 mph), Petula gave us a final map orientation of Amsterdam, giving us pointers on the exact trains and trams we would need to take for visiting the Heineken Brewery, Anne Frank's House, Dam Square, the I Amsterdam sign, and the rest of the sights!
We were all so surprised to see Amsterdam completely covered in snow! It was a beautiful sight, but lugging our heavy suitcases through snow (they don't plow the sidewalks!) was definitely not fun. The Dutch know how to deal with snow, though...with sleds!!
Thankfully, the discomfort was shortlived and we got to our hotel easily enough via a bus from the train station. Here, we said goodbye to Petula and tipped her for being the most amazing tour guide ever!
Our hotel was the Best Western "Blue Square Hotel" located at the bus stop Plein 40-45. Not only was this hotel the best/nicest looking/most modern on our trip so far, Chelsea and I lucked out with a pretty spacious corner room! After resting up a bit, it was time for dinner. Unwilling to brave the elements on that bitterly cold night, I decided to grab a quick bite close to the hotel and hide in our warm room for the rest of the night to do some work (hey, you gotta do what you gotta do...)!
Petula had recommended the fast food chain FEBO, known for its hot food "vending machine" system, as a must-try in Amsterdam, and there just happened to be one right next to our hotel! Obvi, that's where I went. Here's what the "vending machine" setup looked like: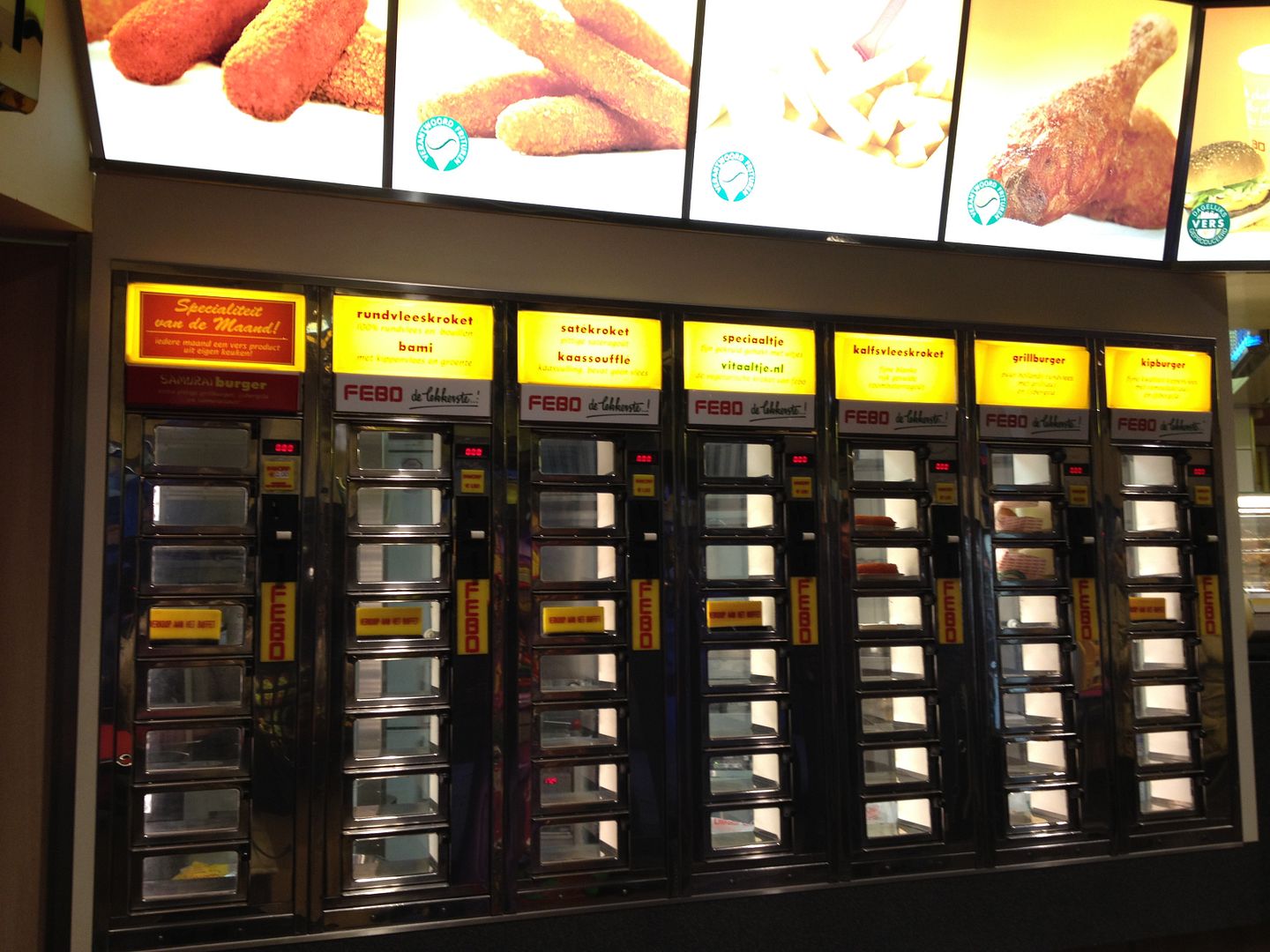 As you can see, you select the food you want, pay at the machine, and open the window to get your food, making human interaction completely unnecessary! AWESOME!!! Disappointingly, everyone actually just ordered with the human at the cash register, so that's what I did too. A bit anti-climactic, tbch (to be completely honest). Still, it was a unique experience!
MEANWHILE, Stephanie and Chelsea (such brave souls!) piled the layers on and joined up with Shane and Jody to explore Dam Square (pictured below) and the Red Light District!
Here's what Steph and Chelsea experienced that night: We ate dinner at an Argentinian steakhouse (there were SO many of these around Amsterdam -- bizarre!) and then checked out the Red Light District. Though not the classiest part of town, the Red Light District is definitely a must-see "tourist attraction." Since prostitution is legal and regulated in Amsterdam, plenty of scantily clad women occupy storefront windows soliciting customers and you can even attend a show (no, not the kind you'd take your mother to!). Despite the X-rated advertisements, even the Red Light District was gorgeous, with plenty of frozen canals, boathouses, and gorgeous bridges.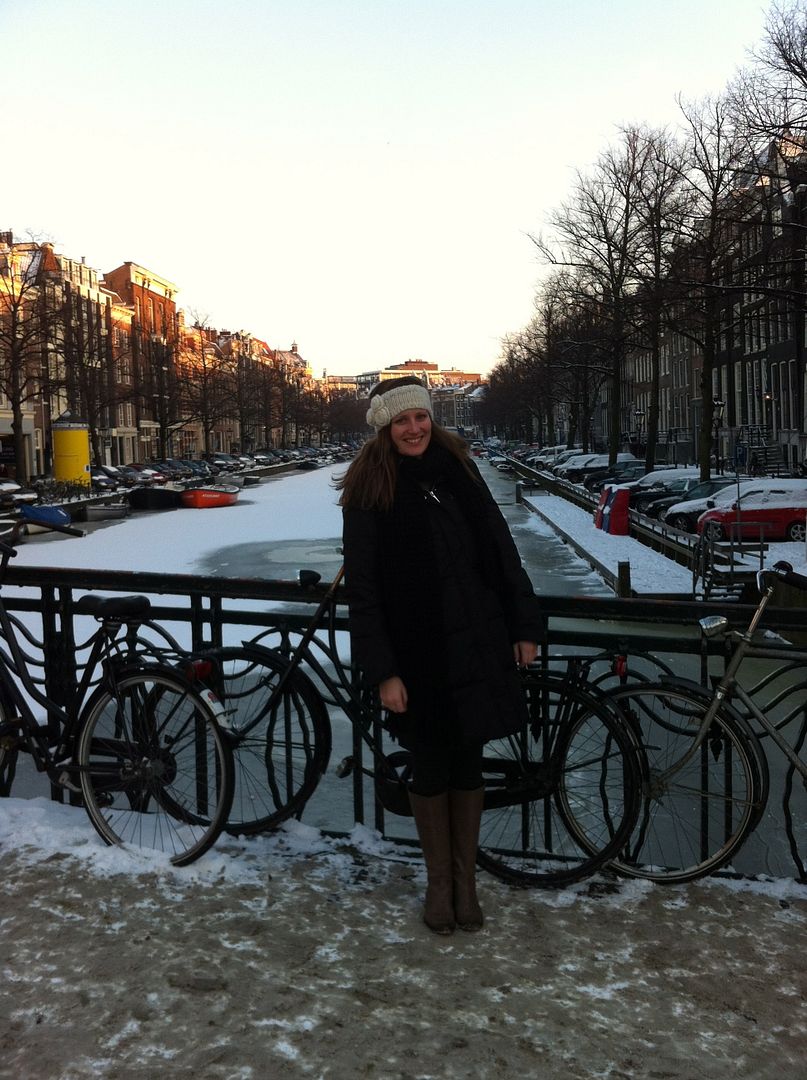 After taking a photo of a group of swans, we decided to leave the Red Light District and head back to Dam Square for chocolate covered waffles before calling it a night. After all, we had another jam-packed day ahead of us!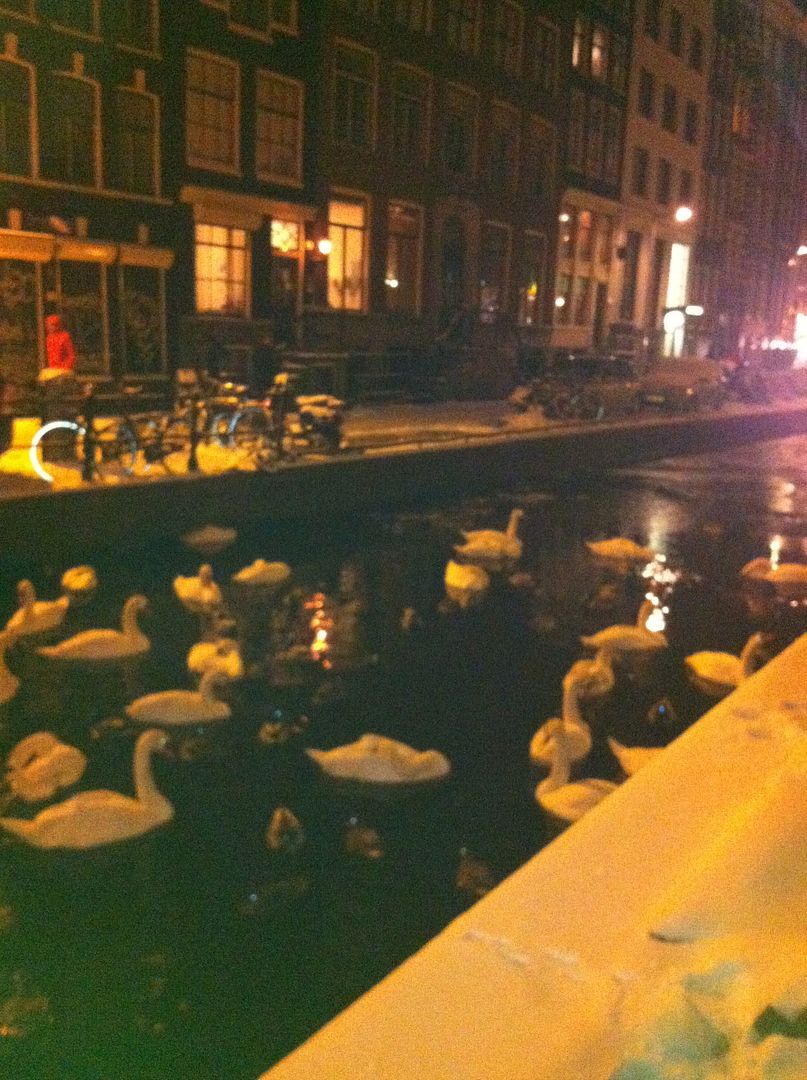 You Might Also Like...