Twihards, this is the moment (before the moment) you've been waiting for: the new teaser trailer for Breaking Dawn Part 2 is out! Watch it here.
So what can we gather from the 1:19 of red-eyed glory? Well, Part 2 is bound to be better than Part 1 for three reasons.
1) More action
Let's face it, with Victoria dead, there wasn't too much going on in Part 1. There were the scenic views of the landscape, the shots of everyone staring moodily at Bella, the eerie birdseye views of her emaciated body, but war? No. A little hunt? Forget it. Even the epic showdown of the werewolves v. the Cullens was cut short because Jacob imprinted on Renesmee. Now that the Volturi are coming to town, action-packed panic and tension abound as a result of Irina's betrayal, and Edward's aresenal of international vampires will gather to help him fight. And hopefully this means more lines, too. That way, we won't have to cringe like we did in Part 1 as Jasper--whose speaking parts could probably be counted on one hand--puts all his effort into the line: "Possibly."  Don't try to tell me he didn't practice that one in the mirror.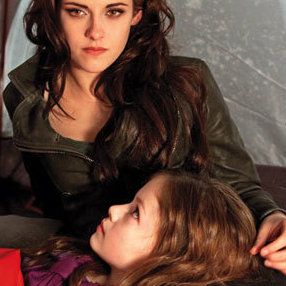 2) Bella and Renesmee
Even though her voicover at the beginning of the trailer--"After 18 years of being utterly ordinary..."--has a frustratingly self-deprecating tone, we've been waiting a long time for Bella to transform. Now we'll get to see her hunt, fight, overcome her desire for human blood. We'll also finally get to see more than a one-second, side profile glimpse of Renesmee. We can't wait for Renesmee to wow us all, zipping through the stages of maturation within days. Hey, who doesn't love creepily precocious children? 
3) No cliffhangers
Thank goodness there won't be any screams of suspense, knowing we'll have to wait another year to find out what happens next.
For more fun facts that we can learn from the trailer, click here.
Let us know what you think about the new trailer, collegiettes! And don't forget to mark your calendars for November 16!
You Might Also Like...