Is there anything more daunting than packing for college? Sure, your school's housing website has a handy (yet short) list of essentials—mattress cover, laundry bag, shower caddy, etc.—but what about all that other stuff in your room right now? When you're moving into a dorm for the first time (or even if it's not the first time), it may be tempting to just bring EVERYTHING (our dads and their overstuffed vans can attest to that) because you never know what you'll actually need, but trust us—when it comes to packing for a dorm, less is more.
While some TV shows and movies may have tricked you into believing that dorm rooms have endless space (we're looking at you, Gossip Girl and Blair Waldorf's ridiculous NYU dorm), they're actually pretty small… make that really small. Not to mention you're going to have to share that small space with a roommate and all her stuff. So how do you decide what is and isn't necessary to bring for a year in a dorm? Obviously, check HC's Pick It Or Skip It Guide so you know exactly which dorm room supplies to shove in that van, and what to leave with your 'rents.
PICK IT!
Cute Sweats
There is a lot of "lounging" in college — whether it be in the actual dorm lounge or bonding with your new besties in your twin XL bed. You'll want a cute pair of sweats, and what could be better than a set that shows off your school spirit? VS PINK's Collegiate collection has awesome tees and sweats for a ton of schools. $36.50 (shirt); $54.50 (pant)
A Jacket That Goes With Everything
Limited closet space means a limited wardrobe… aka not every single blazer and bomber jacket you own. But that doesn't mean you can't still be stylish with your outerwear! Bring one cute jacket that will go with everything and you'll be the envy of all the fashionistas on campus—and your hallmates, when your closet is the only one in the dorm that doesn't resemble an episode of Hoarders. We love this Tommy Hilfiger Denim Jacket; can't you just see yourself relaxing on the quad in this, surrounded by fallen leaves and snuggling with that hot lacrosse player from your chem class? Well, at least the jacket is a sure thing. $79.99
An All-Star Sweetener

Coffee is obviously a staple for collegiettes, but more than that is our favorite sweetners. Don't risk having to settle for a generic sweetener at the library cafe and pack Stevia In The Raw. It's made by the same company as Sugar In The Raw (those cute brown sugar packets with the chunky sugar inside)! But it's even better than Sugar In The Raw because it's a zero calorie sweetner (and all-natural, of course!). It differs from other zero-cal sweetners because it isn't artificial -- it's made from the leaf of the stevia plant — way better!
An Ultra-Flattering, Ultra-Affordable Unfussy Going Out Dress
Frats and clubs and bars, oh my—we don't have to tell you that the college going out scene is legendary. And since it's full of hot college guys just waiting for you to flirt with them, you don't want to show up wearing flip flops and your favorite university t-shirt. Make sure you bring a dress, like this Night On The Town Bodycon Dress from Forever 21, that will make you feel like the hottest girl in the room when you go out. $19.80
Breakfast Substitutes


If you think you're going to make it to the dining hall for breakfast before your 9 a.m. class, think again. With all the late nights studying and bonding with your new besties, sacrificing 45 minutes of extra sleep in morning for some eggs and toast just doesn't seem worth it. Fill your fridge with CalNATURALE Svelte — a delicious protein energy drink that acts as a perfect breakfast substitute to enjoy on your way to class. And it comes in four delicious flavors —  French Vanilla, Chocolate (our fave!), Spiced Chai and Cappuccino. $17.95 for six.
Extra Plastic Shelves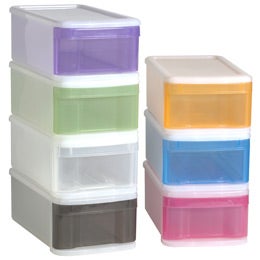 Odds are you won't have the sort of drawer space you had at home in your dorm room. Therefore you'll need to bring some of your own. The Small Tint Stacking Drawers from The Container Store are great because they're inexpensive, colorful, and stackable — so you can fit them best into your room. $8.99

Pages
You Might Also Like...