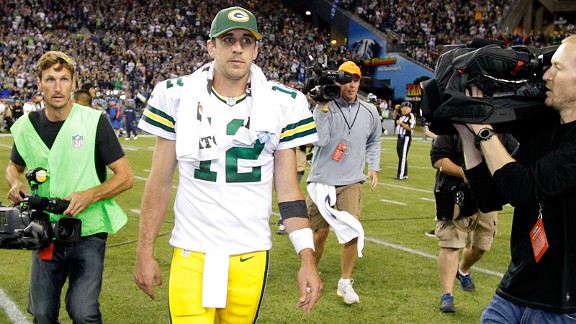 For all you football-loving collegiettes, it's almost time to stop worrying about the NFL referee lockout. The National Football League and the NFL Referees Association are close to settling a deal that will get the refs back on the field, according to the most recent report from ESPN's Chris Mortensen.
For those who aren't caught up on football news, the referee's union began negotiations with the NFL in June, when the league proposed replacing referee pensions with 401(k)'s as well as other changes. Since the negotiations are not finalized, the NFL brought in replacement referees in for the first three weeks of the season, the NYTimes reports.
These replacement referees, though, are creating a lot of controversy. On Monday evening's game between the Seattle Seahawks and the Green Bay Packers, the replacement officials ruled that Seahawks scored a touchdown, though most fans saw something different unfold on the field. The contentious call has caused a huge debate, with players like Packer's quarterback Aaron Rodgers alleging that the entire industry is being "tarnished" by the NFL's labor disputes, according to a report by ESPN.
There is also a safety issue at play. While the NFL has insisted that they are focused on improving players' safety by making sure that referees enforce strict safety rules, the new referees may not be up to the task. DeMaurice Smith of the NFL Player's Association expressed his concern that "that the workplace today is less safe than it was with the real officials," in an interview with CBS News.
Though the negotiations continue, there is a common hope among fans (including President Obama!) and officials alike that the disputes will be settled soon.
And finally, if you're not a football fan, but still want to know about this issue, check out this post from Thought Catalog, which explains Monday night's game in a way that even non-football fans can understand!
UPDATE: The NFL and NFLRA have reached an agreement, and the referees will officially return to the field on Thursday 9/27, according to ESPN News.
Photo Source:
http://espn.go.com/blog/nfcnorth/post/_/id/46878/aaron-rodgers-game-is-b...
You Might Also Like...