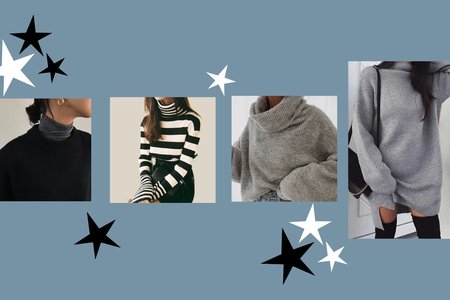 A Definitive List of All The Turtleneck Styles & How to Pull Them Off
Turtlenecks are the wardrobe staple that has followed me for pretty much all of my life. It started as elementary school me tugging at the neck of my top during family Christmas photos and complaining that I was suffocating; but now I can't get enough of the classic item. Oh, how times have changed. 
This season, I have been loving turtlenecks and have been pairing them with a variety of different outfits. It may seem like something as simple as a top with a high neckline can get boring, but that's so far from the truth. From fitted ribbed turtlenecks to colorful stripes and chunky sweaters, there are so many different styles that deserve a spot in your closet this winter.
Any of these styles are interchangeable and you can accessorize any turtleneck however you prefer. I don't think it's even possible to have enough turtlenecks in your closet this season. Each one of these styles serves its own purpose and will pair great with a lot of items that you already own.