In Her Campus' series Closet Check, we're getting a look inside the closet of a college student and learning all about how they put together their favorite outfits. In this piece, we talk to Katie Grierson, a sophomore at the University of Ottawa who's all about comfort and confidence.
Name: Wila Mae Navarro, 21
Year: Junior
School: San Jose State University
Where do you live? Off campus in an apartment
These responses have been edited and condensed for clarity.
The Closet Check
I love how spacious my closet is. I'm very lucky to have my own room, and space for my clothes and accessories. I don't own any organizing accessories. I just use what I have. For example, I hang my belts on the hook part of my hangers and I use rolled up paper bags from the grocery store and stick them in my boots to keep them upright. I think less is more, and I don't like buying things unless I find them very necessary. I don't own a lot of clothes. I regularly clean out my closet whenever I notice pieces that I'm not showing enough love. I usually donate or sell my clothes to a thrift store, and I give what's left to my younger cousins.
Creating The Fits
For me, the first step is always checking the weather. If it's cold, I go for one of my corduroy flare pants, a simple long sleeve, and my white puffer coat. If it's a sunny day, I wear long skirts and a cozy sweater. Next is laying my clothes on my desk chair for easy access in the morning. Picking my outfit the night before is a must because I work in the mornings on campus, so I have to be out the door ASAP.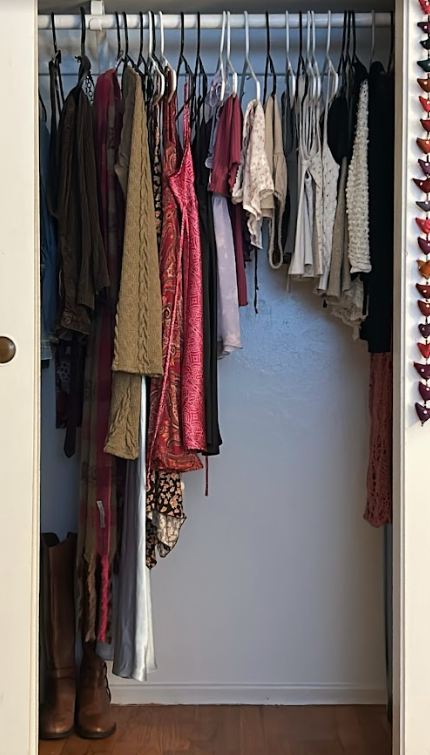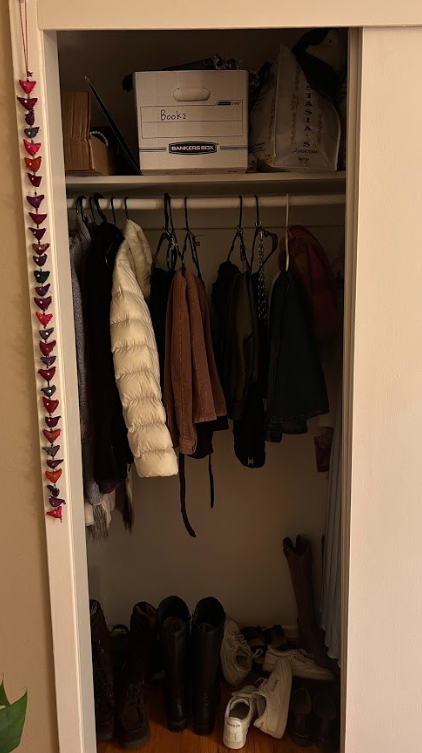 What I'd Wear To: A St. Patrick's Day Party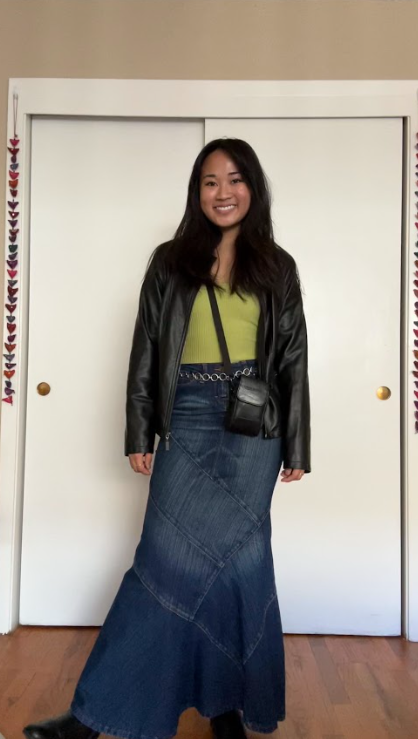 I'm going out with my friends for St. Patrick's Day, so it's important that my outfit is both functional and cute. I'm wearing a moss green tube top from PacSun because I love tops that accentuate my neckline. It's certainly going to be cold out, so I chose this long denim maxi skirt I thrifted from a vendor at So-so Market in Berkeley, California, a vintage market. I love silver jewelry and silver hardware on clothes, so I chose this chain belt from Brandy Melville because it breaks up the blue skirt and the green top nicely. Under my skirt, I'm wearing knee high boots for extra warmth. Also for extra warmth, I chose this leather jacket I thrifted from ThredUp. To top it off, I'm wearing my film camera bag to capture some memories on 35mm film.
What I'd Wear To: Class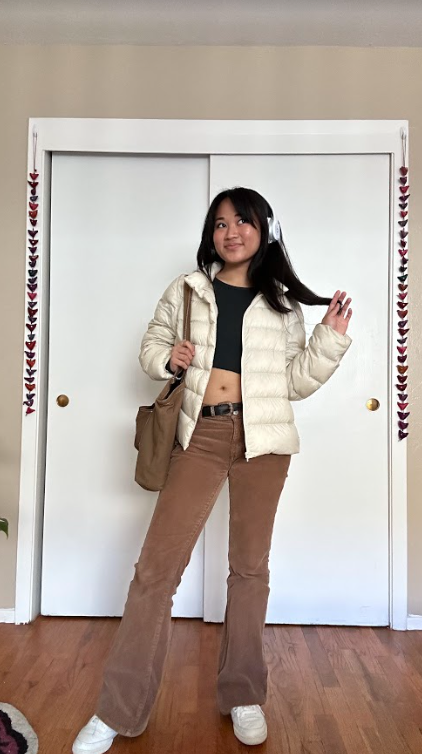 When it comes to dressing for class, the goal is always comfort, but I like looking "dressed up" — or semi-put together — because it motivates me to get work done. I chose to throw on a black cropped long sleeve from Brandy Melville because it was soft and comfortable. To add some texture to my outfit, I chose these light brown, low-waisted flared corduroy pants from Brandy Melville that I bought secondhand. I added a black belt from Brandy Melville to match my top. It's been unusually cold in the Bay Area lately, so I chose to throw on this light puffer coat from Uniqlo. For my accessories, I added my Beats Wireless headphones and my brown tote bag with white stitching from @EarthtoAimz. I chose those accessories because it went with the color scheme of my outfit and I like it when colors pair seamlessly together.
What I'd Wear To: Date Night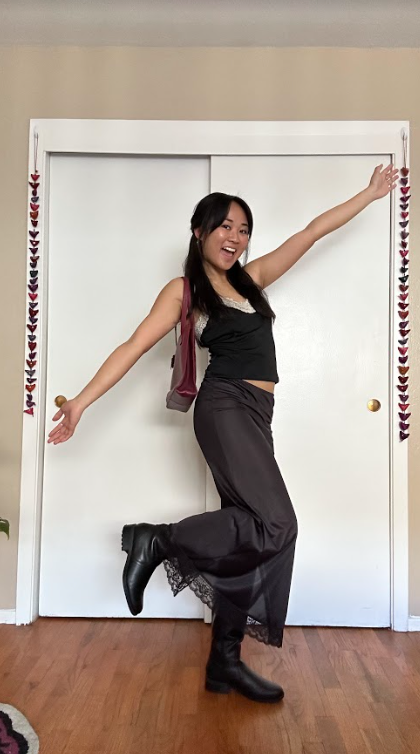 Whenever I head out for a night on the town, I always gravitate towards a black outfit. My date night outfit is completely thrifted. I chose this black tank top with white from Victoria Secret because I think any laced-line top is super flattering. The same goes for my black maxi skirt with the lace trim on the bottom. I don't wear sneakers that often, and I love it when boots give you some height (I'm 5' 2″). My burgundy purse is a hand-me-down from my mother, and I added this accessory to give my black outfit a pop of color.
What I'd Wear To: An Internship Interview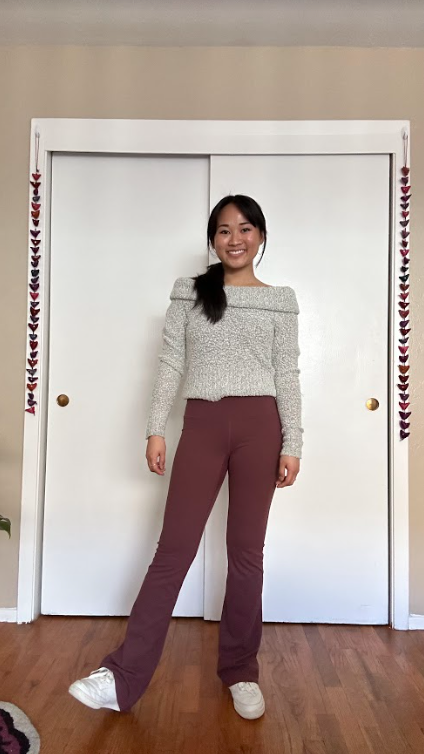 If there's one thing you should know about me, it's that I don't like blazers. If it's not a leather jacket or a Penny Lane coat, I'm not wearing a coat that day. Instead, I go for long-sleeve tops. I thrifted this white and gray Mudd off-the-shoulder sweater from a vendor at So-so Market. I chose this sweater because it's comfortable, but also shows off that feminine flair. Since all of my internship interviews are online, I would most likely wear flare leggings or sweatpants because they are only seeing the upper half of my body. I just got these mauve leggings from Uniqlo a couple weekends ago and I'm getting great use out of them so far.