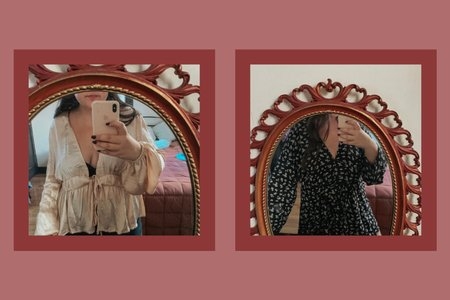 I Tried Nasty Gal's Extended Sizing & Now I'm Seriously Obsessed
In September of 2018, Nasty Gal introduced a whole new range of extended sizing. When the line first dropped, I could barely contain my excitement. This was a store I had watched my friends shop at for years and I was finally able to find trendy clothes in my size as well. The plus-size range offers over three hundred items that go from a size 12-20. My favorite part about the line? It's pretty much exact to the normal store. They have skirts, dresses and blouses that all match what is offered to everyone else, which is an amazing win for the plus-size community. As someone that is used to getting the more oversized, less revealing version of what my other friends wear, this was refreshing.
Even though Nasty Gal released their extended sizes over a year ago, I spent a lot of time scrolling the website and never actually made a purchase. Since the clothes are so different from what I'm used to buying from plus size sections, I think I was intimidated to buy from the variety of low cut dresses and tight shirts. I always had dozens of items on my wishlist, but never felt like I could pull any of it off. Nasty Gal definitely has clothes that are a little bit out of my comfort zone, but I finally decided to try a few things out — and to say I'm pleased with my order is a huge understatement. Here's how it all went down:
Outfit #1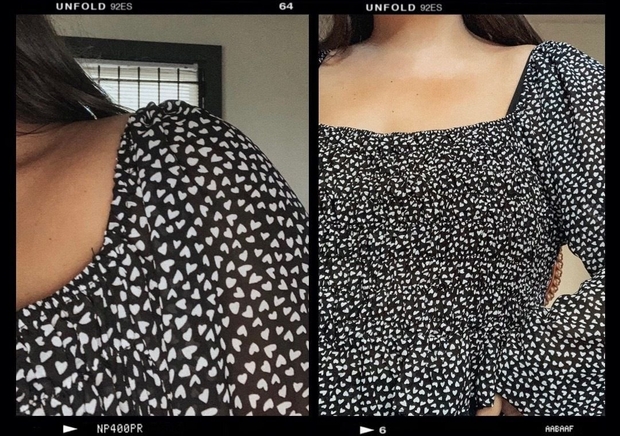 Hearts Lie Plus Square Neck Top, Nasty Gal, $56; shop now
Out of all of the pieces that I purchased, this top is the one that I have been staring at longingly for the longest amount of time. Something about the heart pattern and the flow of the sleeves made me really fall in love with it. I got this top in a size 18, but I definitely could have sized down because the sleeves are a little loose at the top. The top hits at the perfect spot for high waisted jeans and would go so well with a pair of booties for a night out. This shirt was the least daring of my purchases, but it didn't disappoint.
Outfit #2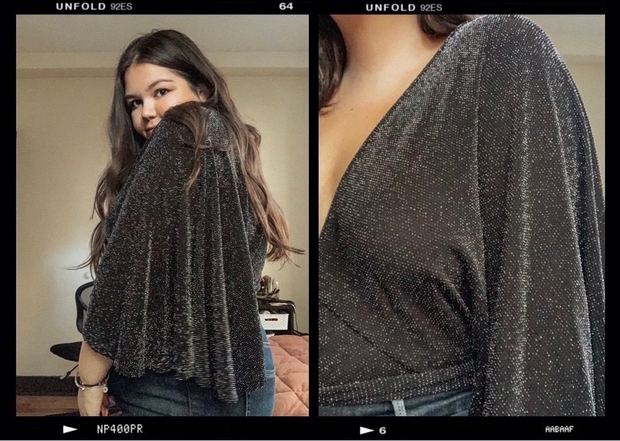 Right On Shine Glitter Plus Bodysuit, Nasty Gal, $32; shop now
This low-cut bodysuit was my most daring purchase. Not only is it revealing, but how many times will I really need a glitter bodysuit? Turns out, I want to wear it every day. I love the way it fits my body, but the flowy sleeves give me some comfort. I got this in a size 16 and it fits perfectly. I knew I didn't want the top to be too loose, so I'm glad I went with this size. I still haven't found the right occasion to bring this out, but I like knowing it's in my closet for when I'm ready to make a statement.
Outfit #3
Baby V Mine Plus Floral Wrap Dress, Nasty Gal, $60; shop now
I am totally obsessed with this dress and I can't wait to wear it. This is another piece with a low cut, but it's really different from anything else I have. The tie on the waist makes the dress really easy to adjust because it is a little loose at the top. I'm really excited to wear this during the fall and winter months.
Outfit #4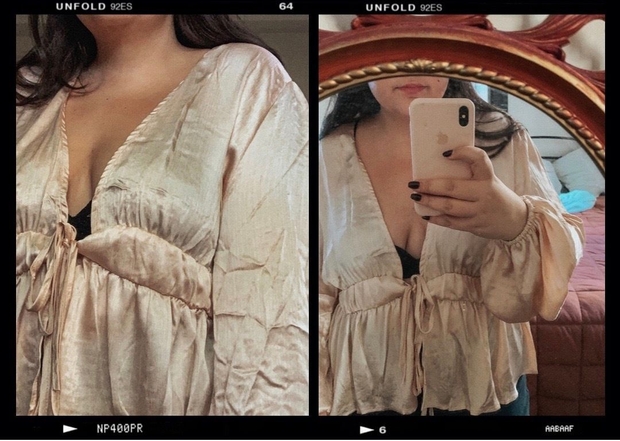 Satin Sheets Plus Tie Blouse, Nasty Gal, $56; shop now
A tie blouse is a piece of clothing I have wanted for a really long time, but I never knew how I would wear it. I love the color of this top, it's really soft and pretty. I would style this top with a pretty bralette or a tank top underneath and jeans. My favorite thing about Nasty Gal is that they allow me to try trends for a really low cost, and this blouse is an example of a trend I always wanted to try, but wasn't sure if I would like it. I could have sized down in this top too, but it's good to know what size I am for future purchases.
After going through my Nasty Gal haul, not only am I thrilled to add four new shiny and flowy items to my closet, but I feel good about myself knowing that I stepped out of my comfort zone. I got everything for fifty percent off, which makes me even more excited to make another purchase very soon. We love an affordable moment!