How to Save Money at 500+ Top Online Stores
This is a sponsored feature. All opinions are 100% our own.
Most collegiettes love to shop, but we often end up spending more time window-shopping than making purchases because we can't afford to buy what we really want. And let's be honest—that's just not as much fun. But that could easily change if you start using Chippmunk, an awesome online coupon search! After you enter in your budget and what kinds of products or stores you'd like, Chippmunk searches more than 500 top online stores to get you the best coupons for your price range. Online shopping just became even easier!
You can compare deals from all these different retailers with one simple search. Chippmunk searches include fantastic brands such as LOFT, Target, Banana Republic, Gap, and way more! Perhaps the best thing about this search is that you can search for deals by category. The categories are so varied and include everything from chocolate to handbags to pets to gifts—there's going to be few things that you can't find coupons for using Chippmunk.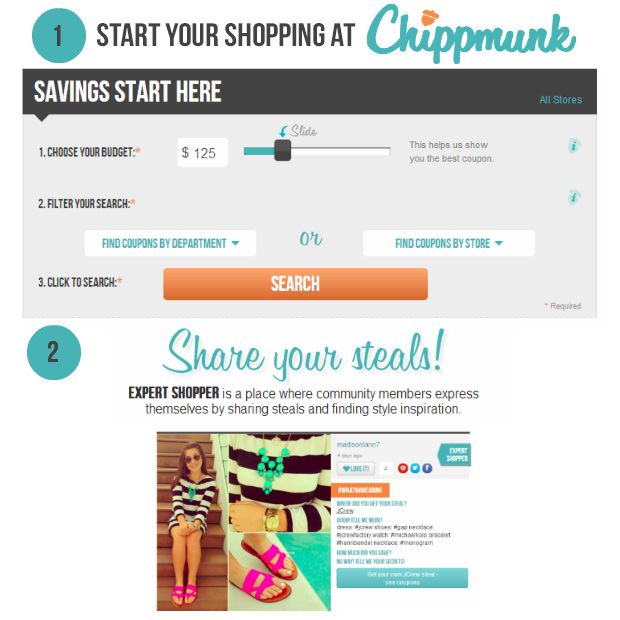 After a quick search at a budget of $45 in "handbags," I was amazed! There are some really fantastic offers in just this search alone (like up to 75 percent off at Coach!), and I have to admit that I was very tempted to purchase a new handbag because the discount was that great. Chippmunk says that it can help you make the most of your budget, and after checking out this search I can easily see how they do it – these deals really are awesome.
Many of these deals are exclusive to Chippmunk, so you won't be able to get them anywhere else; you better not miss out on these deals, collegiettes! Or, if you know exactly what it is you want to get, you can even filter your search by store. Why waste time that busy college students don't have?
Chippmunk Expert Shopper is also a great way to find new outfit ideas from other users at great prices. You can share photos of your steals with other members here and find style inspiration for all of your back-to-school outfits.
Who says that shopping has to be expensive? You just need to know where to look, collegiettes! Make sure you check out Chippmunk before buying any of your back-to-school purchases.
Also, Chippmunk is giving away two $100 gift cards to the store of your choice! Just follow @shopchippmunk on Twitter and Tweet your favorite coupon from their site! Be sure to tag @shopchippmunk in your Tweet to enter to win. The contest runs from August 13th to the 27th at midnight PST. Good luck, collegiettes! Read the contest rules here.