Earlier this week, I headed to Be Styled, a chic new blowdry bar in Chestnut Hill, MA to try out their services!  I have naturally frizzy, curly hair and am always trying to figure out how to get it to look sleek and straight but still have some body and movement to it, rather than killing it with a flat iron, so I was pumped to see what they would do.
I arrived having not the best hair day.  I had blowdried and straightened my hair a couple days before, but since then had worked out and sweat but not washed my hair, so this was not my finest hair moment to say the least!
Here's what I looked like when I arrived.
A stylist met me, and first we sat down to talk about what style I was looking for with my blowdry.  I decided on their "Be soft" look, which leaves your hair mostly straight but with some soft waves to it.
Next, I got my hair washed. I opted to go for the deep conditioning treatment too since I was already having my hair washed.  The stylist told me that using the deep conditioning treatment makes a huge difference in how shiny your hair looks, so I was thrilled.  Check me out getting deep-conditioned!  :)
Once my hair was washed and conditioned, it was time for the blowout.  But unlike at most salons where you sit there bored while someone does your hair, I had plenty to occupy myself with!  Each blowdry station has an iPad there for you to play on, so I caught up on some emails and checked out Her Campus, of course! ;)  I also jotted down some notes of the blowdrying tips the stylist was sharing with me and emailed them to myself.
They also brought me a yummy latte to sip on, and they had the movie "Clueless" playing on the TV so I was very much entertained!
The stylist gave me some awesome tips on how to do a salon-quality blowdry on your own:
Blow your hair with just a blowdryer (no brush) until the hair is 90% dry, then start using your brush.
Use a boar bristle brush, it's better for your hair.
When using the brush, start at the roots with the brush, then the shaft, then the ends.
Blowdry your hair in sections, starting at the top with the crown, working your way down the back, then doing the sides.
Work the ends of the hair with a round brush to give it some curl and flip.
Spray on some shine spray while also blowdrying at the same time.
At Be Styled, they use all L'Oréal products for every step of the blowdry.
My hair turned out gorgeous!  Take a look.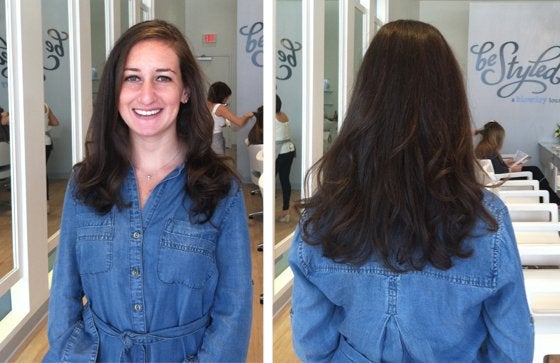 I was thrilled to be having such a good hair day for the rest of the day!
In the Boston area?  Make an appointment at Be Styled for a blowdry for your next special event or if you just feel like having an amazing hair day!