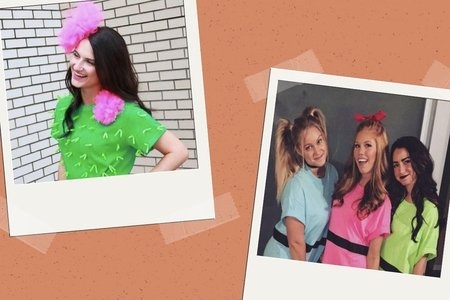 12 Genius Costumes You Can Make Out of a Big T-Shirt for Halloween
This piece has been syndicated from Her Campus UCF. You can join a chapter at your school (or start your own!).
Every college student knows oversized tee shirts are the new slouchy fad (shout out to the VSCO girls for this trend). Big tees don't only have to be for early morning classes and movie nights, though. You can be just as comfy on Halloween, while still being festive and cute.
The secret to an oversized tee shirt costume is making sure everything else is on point — the accessories are what really make the costume. You can dress up your tee shirt with some knee socks and creative makeup and nobody will realize your Halloween costume is only a step away from pajamas.
Depending on the animal, you can make your animal pattern with felt or fabric paint. I made my bear costume with a large brown shirt, some lighter brown felt, and fur. To make your costume cuter, pick an animal with recognizable ears. If you have a sewing kit or even strong glue, you can make ears by strategically cutting fabric and wrapping it around a regular headband. The process sounds complicated, but it doesn't take very long once you get an idea for the shape of your ears. There are also lots of Pinterest tutorials in case you have a creative block. 

This costume couldn't be easier. Grab a giant white tee shirt and add a face with either felt or fabric paint. Add even more spook by cutting a curvy edge to the bottom of your ghost shirt. This costume would be paired perfectly with black or white socks. If you're celebrating Halloween with a group of people, you can modify the costume and turn yourself into a Pacman ghost.

If you do want to make it yourself, black paint or felt is once again your best friend. We put our hair in buns and tied green ribbon around them to make it seem like our pumpkins had stems.

All of the main characters of Monster's Inc can be adorably portrayed with big tee shirts. For Mike, paint a large eyeball and a smile in the middle of your shirt and try to find socks that match as closely as possible. For Boo, wear an oversized pink shirt with purple leggings, and then tie your hair into cute ponytails. Both high and low ponytails would work, so you can pick what looks best on you. For Sully, paint (or glue) some purple spots onto a blue shirt. Extra points if you use purple fuzz! To complete the Sully look, find a tutorial on Pinterest to make a headband with horns. If you happen to have a group of three friends, you can all be a monster trio.

Another classic trio costume is none other than The Powerpuff Girls. Each person needs to get a colored shirt corresponding to his or her character, and enough black paint or fabric to make a thick strip around the middle. For more realistic results, also wear black tights and black ballet flats with white socks. You don't have to synch the waist as shown in this picture, but it certainly adds a cute touch.  

6.

Charlie Brown and Lucy

Dressing as Charlie Brown and Lucy for Halloween might be the one thing easier than dressing as a ghost. The only thing required for the Charlie big tee is a big, thick squiggle at the bottom. For Lucy, you need a blue shirt and some painted embellishments at the top. As usual, the right socks and shoes can make a big difference. This costume can be effortlessly paired with Costume #3 if you and a friend would like to reenact Charlie Brown and the Great Pumpkin.

Another group option is dressing as dominos. Each member of the group needs a black shirt and black socks. Then, the group can decide who would like to be which number sequence. Once you know what you want your domino to look like, use white paint or felt to lock in your look.

Dressing as a deck of cards is very similar to dressing as dominos, but may require a little more creativity. Every potential card should be equipped with a white shirt that can get dirty, and whatever paint colors you would like to decorate your card with. If you have no interest in being a Joker, Queen, or King, you may only need red and black. Work with your group to figure out who gets to be what.

You can never go wrong with food! For this costume, just use white paint to put a large "m" on almost any color tee shirt. This goes best with white socks and maybe a few friends to be other colors with you. Just like with M&M's, it's almost impossible to only have one and this costume looks great as a group. A different variation of this costume can also be made with Skittles instead of M&M's.

Find a yellow shirt and paint brown spikes all around. Then, assemble a stem. Pinterest has lots of cheap and easy ideas that even the least creative people will be able to put together. 

For a watermelon costume, get a bright pink shirt and attach green fabric to the bottom, and then paint on some seeds.

For a cactus costume, find a green shirt, a pink loofah for little pops of flowers, and some pipe cleaner (or paint) to add that texture.
The best thing about these costumes is that they take practically no time to make (so you can wait until the very last minute to decide what you want to be). No matter which costume you choose, these oversized tees are the key to a comfy and cute Halloween.