Emma Chamberlain, everyone's fave social media influencer turned mega socialite and model, returned as a correspondent at this year's 2023 Met Gala, and I couldn't wait to see all of her interactions with some of Hollywood's biggest stars. But the one thing I was most curious about was what she planned to wear to the event. 
If we go back at her previous Met Gala ensembles for inspiration, she wore a cream crop top and a white maxi skirt with a train to the 2022 Met Gala. Chamberlain explained her own theories on 2023 beauty trends and what may gain popularity within the year in her highly-rated podcast, Anything Goes, as well as some controversial ones. She mentioned in the podcast that there might be a surge of street style on red carpets and a comeback of minimalism fashion, so fans hypothesized that she might live up to her own predictions for the 2023 Met Gala.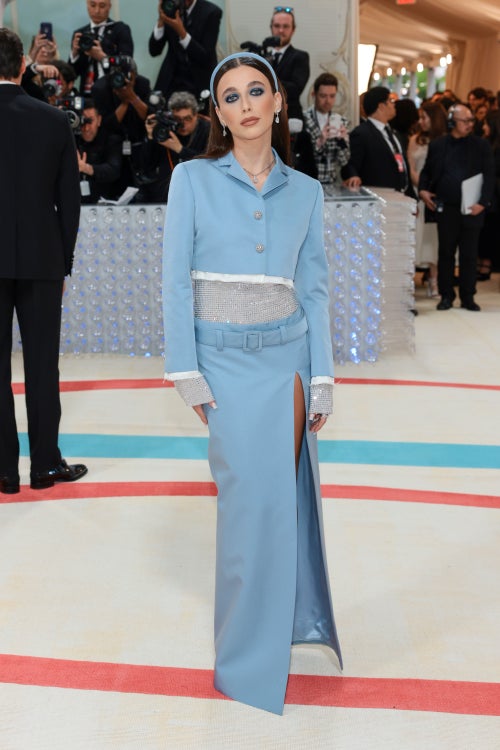 Well, it's safe to say she dressed precisely for her Met Gala appearance! Chamberlain was dressed in a two-piece baby-blue ensemble consisting of a cropped button-up with white hemming and a maxi dress with a high slit. She was also wearing a sequined shirt underneath the set that extended to the sleeves of the top. She accessorized with a similar baby blue headband, crew socks, and bowed baby blue chunky high heel shoes.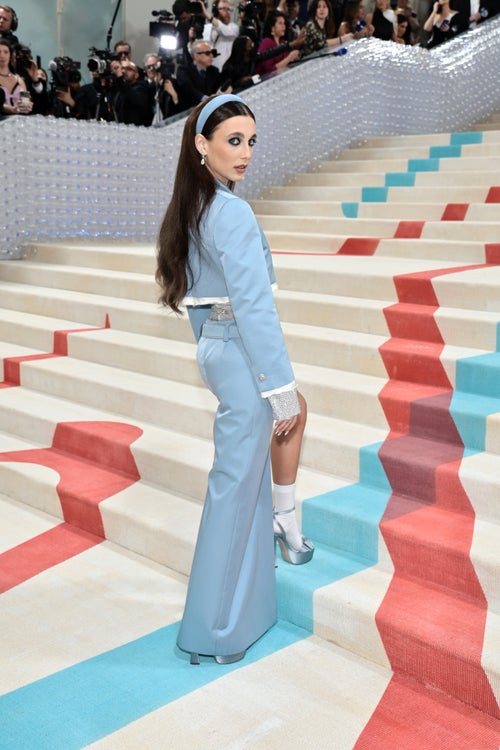 That was not the only look Chamberlain gave us. She also wore a second look when interviewing all the celebs and socialites. She was seen wearing a similar outfit to her last one, but this time it was a black two-piece set. She also changed out the sequined top underneath for a white bralette top by Miu Miu.
I don't know about you, but I'm living for her costume change. It's giving Hannah Montana, TBH.