When I made the decision to spend my semester learning remotely from my childhood bedroom, I knew I needed to spruce up my work environment. Having an organized and visually appealing space has always been super important to my workflow and productivity, so staring at blank walls or lounging in my bed all day just wasn't going to cut it.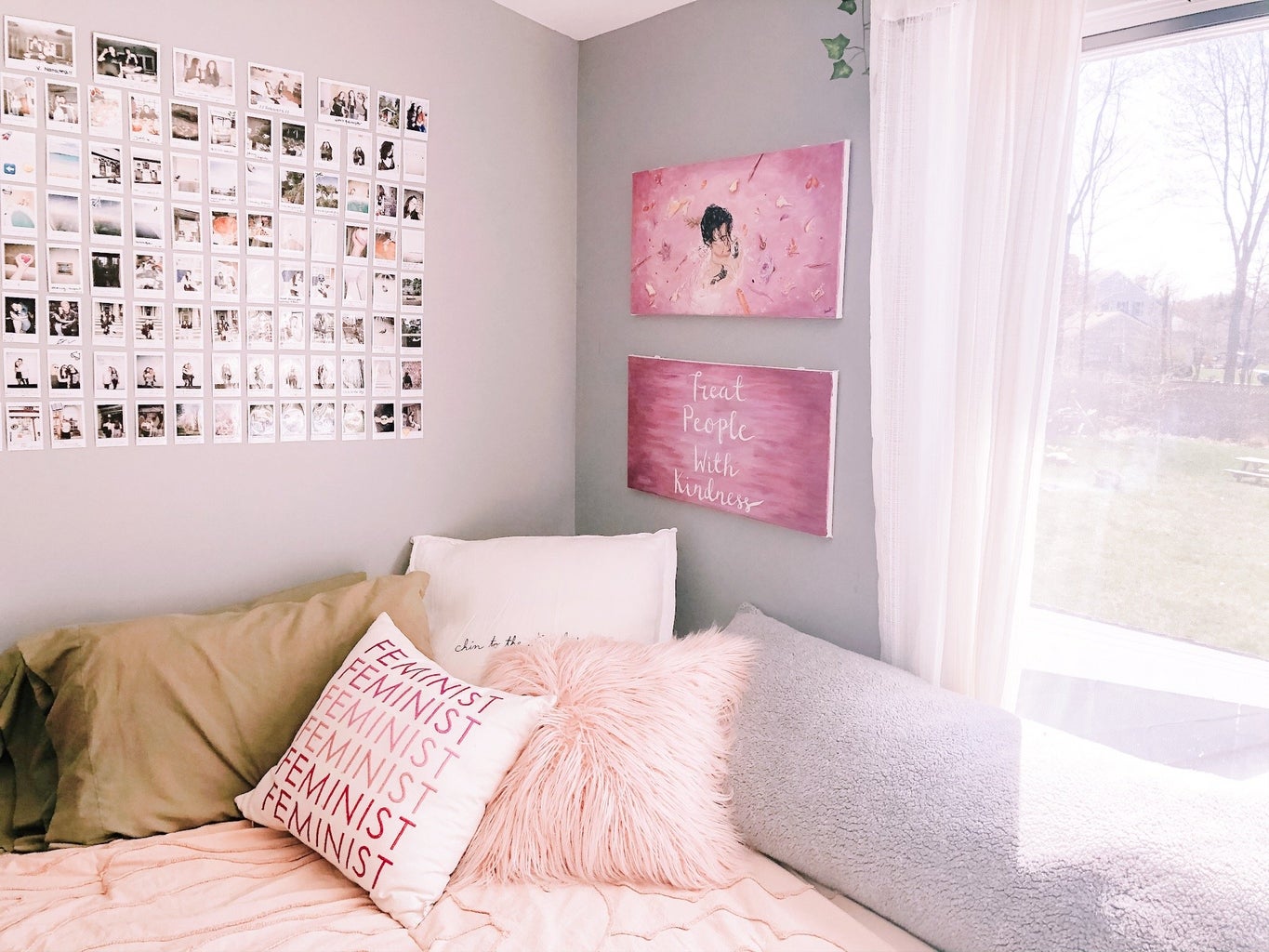 Because my bedroom is now also my classroom, library and home office all in one, I made some changes to better suit my new "normal." I unpacked all my dorm room essentials and incorporated them into my room to create a productive and trendy space that'll keep me happy all semester long!
Whether you're also learning remotely from your childhood bedroom, an apartment, or even just your dorm, here are some tips and tricks to elevate your current WFH situation that will help you make the most of your situation.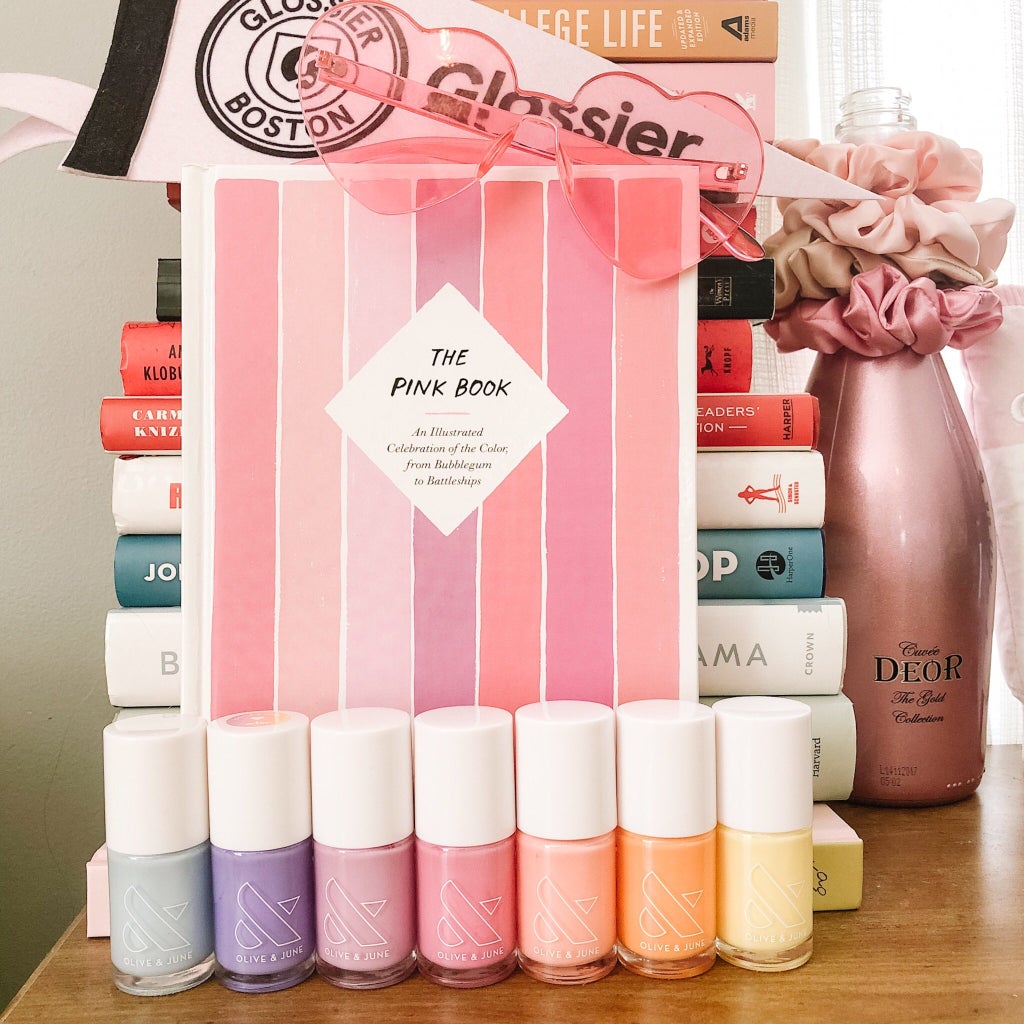 Plan out your space
Before jumping into design, analyze your current space. I naturally gravitate towards areas with natural light or cozy nooks. See how you can rearrange furniture to both maximize space and provide a comfortable and productive work environment.
Rather than starting at a blank wall, can you position a desk near a bright window? Can you add floating shelves and art prints to add color to said blank wall? Rather than having your bed in the center of the room, tucking it away in a corner of the room might maximize your space a lot better. Do you have the room to position your desk away from your bed, so it isn't in the background during your Zoom calls?
To create even more space, figure out how you can combine or remove items. Have a giant bookshelf? See if there are books you can donate, or if you can create a floating bookshelf for more floor space.
Gather inspiration
Once you're able to rearrange your space to what feels conducive to your new workflow, create a Pinterest board or Instagram saved folder for inspiration. Gathering ideas and concepts from other people's work is a really great place to start — especially if you aren't sure where to begin! Some of my favorite interior design accounts to follow on Instagram are @astoldbymichelle, @thehousethatcolourbuilt, @pinkhouseliving, @kate_rose_morgan, @53houseplantsandme, @candycoloredhome and @samswhurld.
Looking at photos can help you develop a color scheme, theme, and sometimes help you rethink your work area based on images with similar room layouts. My house is a Cape, so my bedroom has a unique slant as part of the roof line. I've always loved this detail, so right below the slant I put floating shelves to draw more attention to the cozy nook that part of my room creates.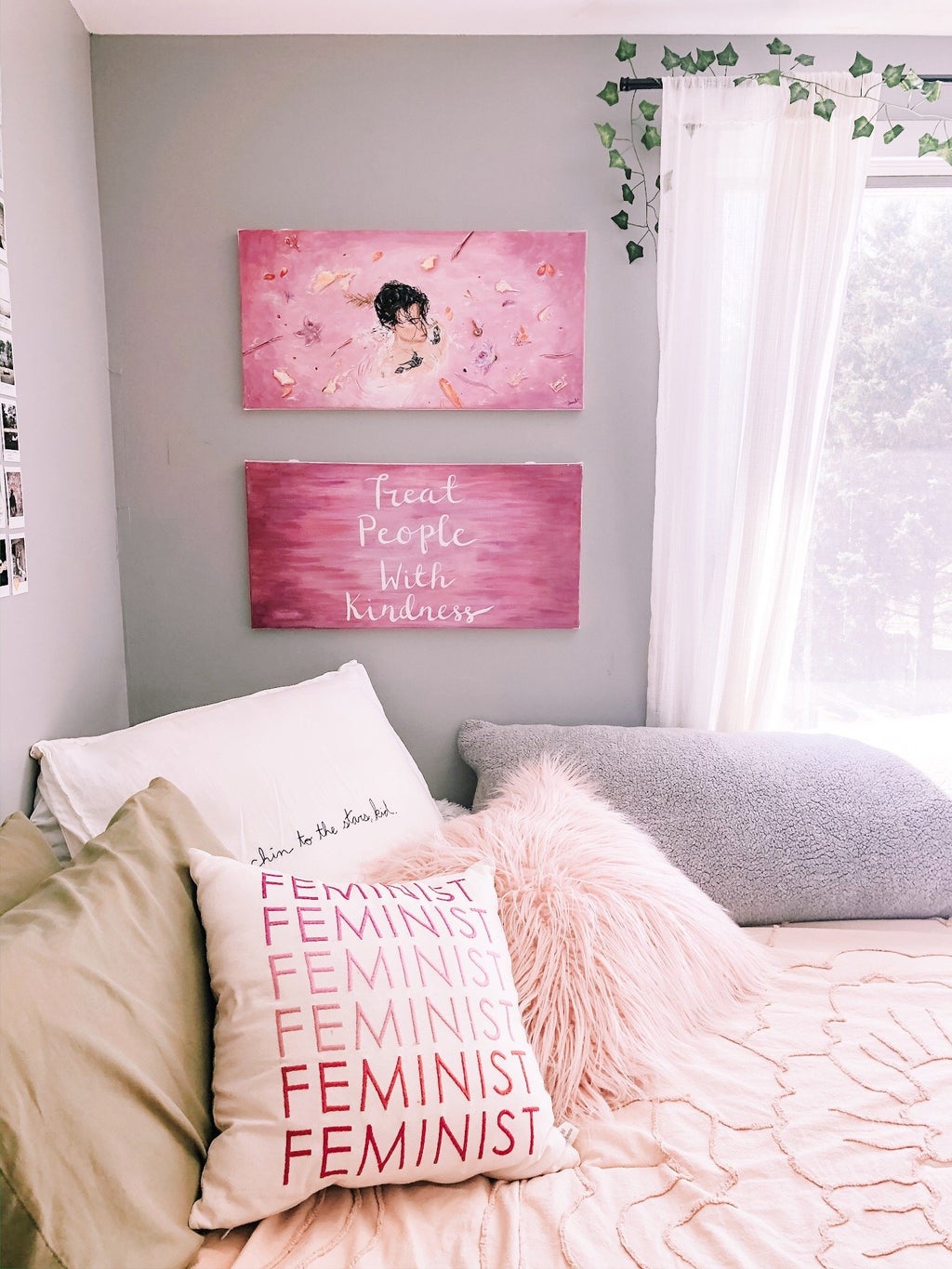 For a color scheme, I focused on incorporating greys and rosy pinks in my space. I wanted to have more muted walls so my decor and bedding would make the room pop, and it was very important to me to have a warm-toned room to still feel cozy and productive. Think about incorporating colors that aren't so loud and won't distract you from your work.
Choose your statement pieces
After drawing upon inspiration from social media, I always plan my space around key statement pieces. I usually choose 3-5 to center the rest of my decor around.
For my desk area, these statement pieces are a small stack of my favorite books, a typewriter, a floor lamp and floating shelves. From there, you can then place complementing decor around your statement pieces to elevate them further. I chose tiny plants and succulents, a rosé bottle turned scrunchie holder, and my lightbox.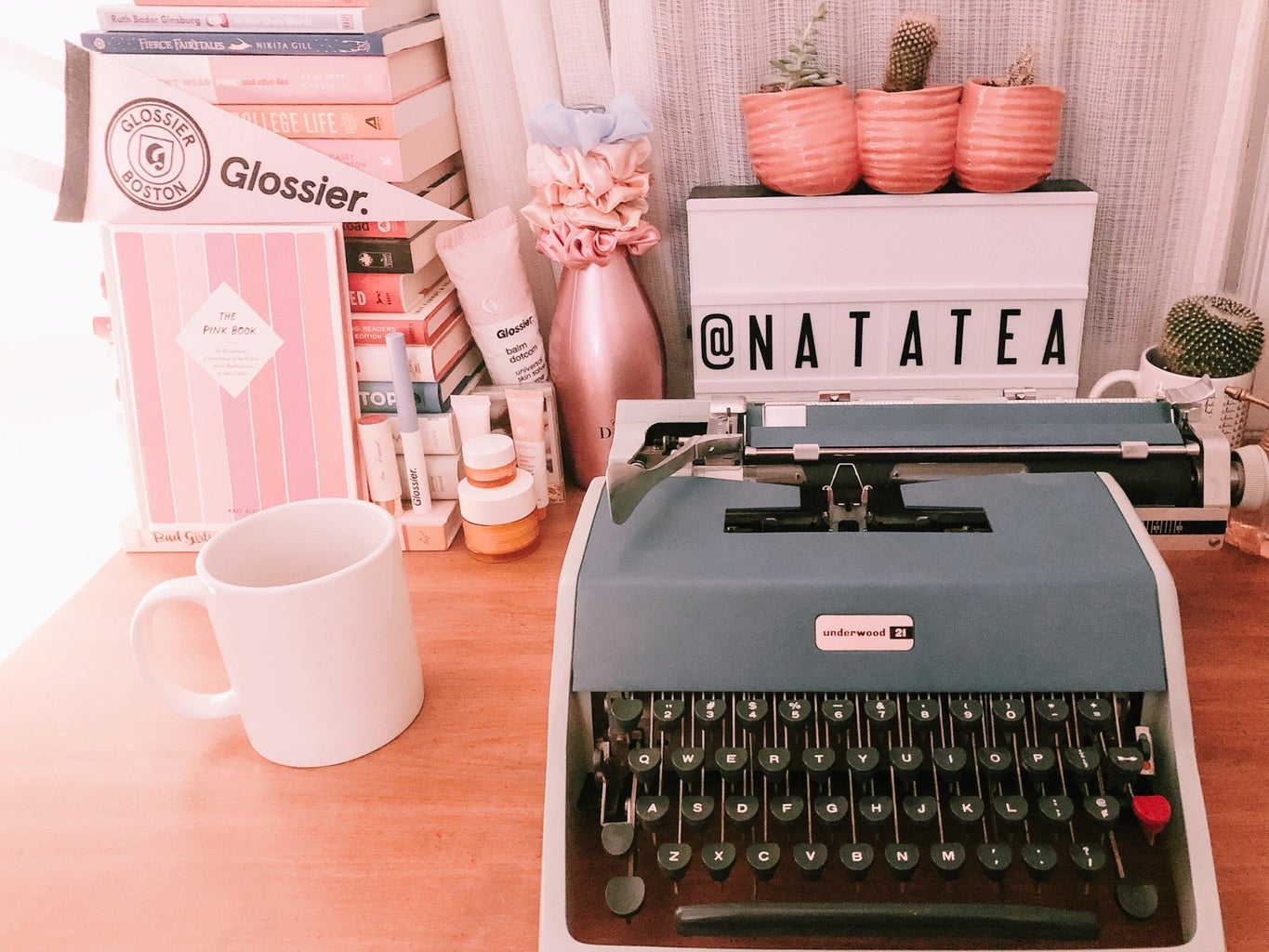 Coordinating your decor and your supplies
When redecorating your WFH space, it's super important to find balance. You want to make sure your space is both functional and fashionable — otherwise, what good is it really doing? While elevating your space, think about what you need on your desk for work and how you can incorporate pieces that don't distract or take up too much space. It's critical for me to have room for my laptop, a notebook or textbook, snacks and a lip balm.
Once I create space for those items, I know how I can work around the necessities. I stacked some books, my lightbox, and some plants along the front, and have room for my textbooks and record player on the sides.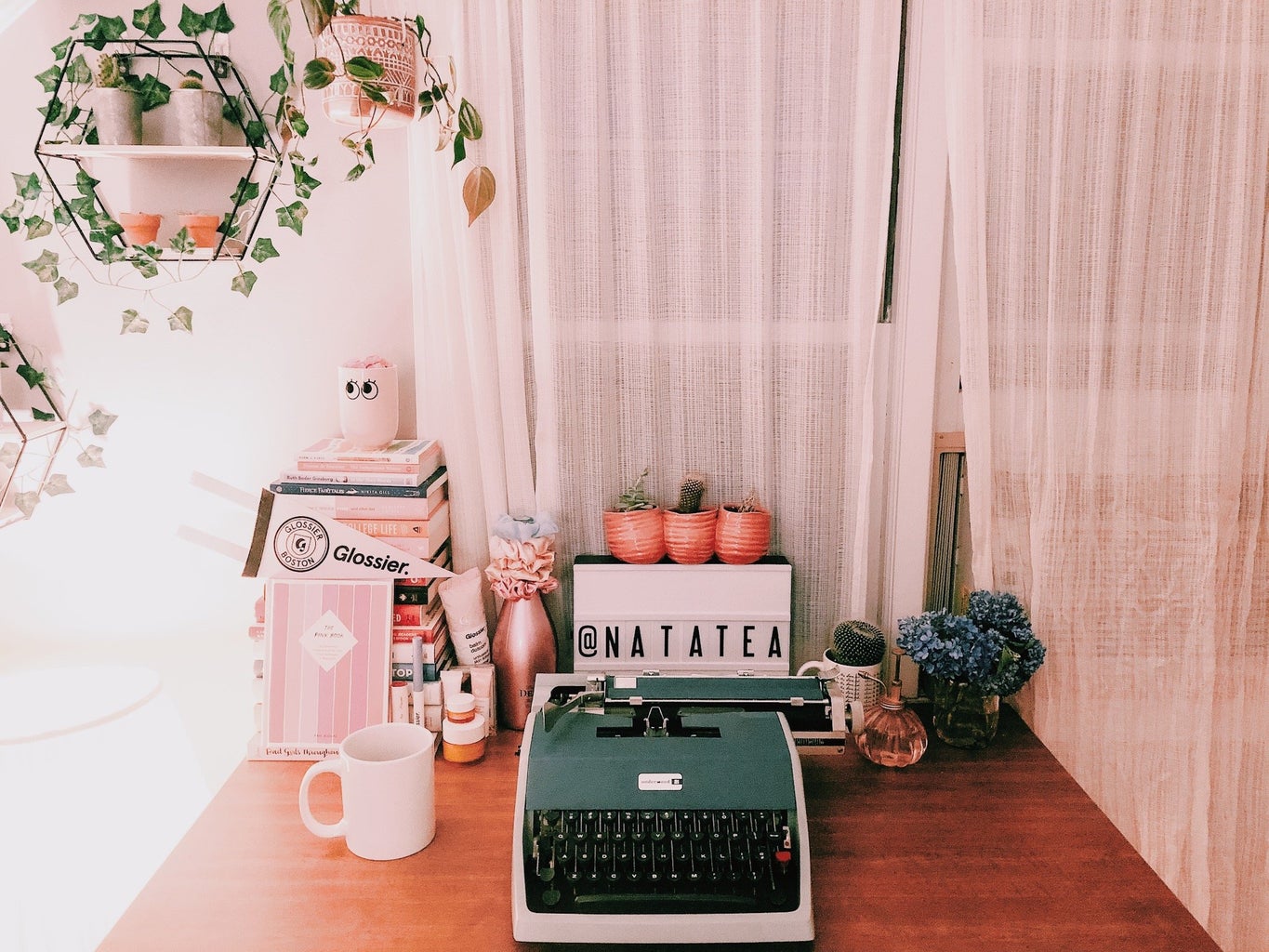 No matter your WFH situation this semester, it's important to make the most of your space to remain focused and productive. Utilize items you already own and see how you can make blank walls or an empty desk more personalized. Or, spend just a little bit of money to elevate decor pieces you already have.
There are so many ways you can create a space that meets both your work and play needs this semester. It's all about getting creative with your WFH space and utilizing social media for inspiration.