How would you describe your personal style? Whether you're a Y2K enthusiast, a cottage-core fanatic, or an emo lover, figuring out your style can help you in the journey of shopping for clothes sustainably. Influencer Megan McSherry is a prime example of that: On her Instagram account, the slow fashion influencer uploaded a post on why you should document your outfits every single day — taking daily OOTD photos — in order to figure out your personal style.
According to McSherry, she started taking daily photos of her outfits unpretentiously, her goal was just to document her first week at her summer internship at Vans. She started uploading daily Instagram stories of her looks, and her followers (she now has over 26 thousand followers on Instagram, and over 86 thousand on Tiktok) started asking for more. She took over a hundred selfies of her looks and documented her outfits for 10 months, and what started as "just another outfit photo," took her from the OOTD pic to dressing sustainability.
"I wanted to just show off my outfit, like 'Look at me, first day in the office!' and then I shared it on Instagram, and people were so supportive, so I just started posting daily outfit photos on my account, but there wasn't any intention on trying to figure out my personal style, it was just for fun," McSherry tells Her Campus.
Even when her summer internship was extended to the rest of the school year, she remained loyal to her daily outfit photos and didn't miss a day. Looking back at her selfies, she was able to figure out something she calls her "outfit formulas," a.k.a, pieces of clothing she found herself wearing almost every day. In the episode "fashion advice" on Anything Goes with Emma Chamberlain (which is, you guessed it, Emma Chamberlain's podcast), she advises people to figure out their "fashion uniform." That way, you'll be able to put together outfits in a more streamlined and easier way.
But aside from the fact that outfit formals make getting dressed a bit simpler, there is also another perk to this style trend: sustainability.
Buying clothes from sustainable and ethical brands can be expensive, and although it's more than worth it to invest in brands that are ensuring that workers are provided with fair wages, benefits, and good working conditions, it's definitely not an option for everyone.
"This challenge can help by making us realize what items and clothing pieces actually work for us, that way when we invest in something, we'll get our money's worth by wearing that item many times," McSherry explains. "The most sustainable clothing options are the ones you already have in your closet."
Since 2020, like so many others, I've spent more time at home than anywhere else: my college classes, work, internships, and sometimes even hangouts were done via Zoom. I became extremely loyal to PJ sets and sweat sets, so much that it turned into a personality trait. Now that I leave my house a bit more often now (thanks Moderna and booster shot!), I'm constantly struggling to find something to wear.
So in hopes that it'd help me figure out my own outfit formula and personal style, I decided to document my outfits daily, for seven days. Will I learn something new about my style? Or will I resort to sweatpants forever?
Day 1
On Monday, I wanted to dress up even though I'd be at home for most of the day. But that didn't stop me from wearing heels. For this look, I decided to try a skirt that I've had for the longest time but never wore because I couldn't find anything in my closet that would match it. But, by "shopping my closet," I found a black cropped top that could look good with the skirt, and I loved it! I felt like the top was flowy enough to complement the tight waist of the skirt. To accessorize, I added a pair of simply black heels and gold earrings.
Day 1 was a positive surprise for me, and even though I was way too dressed up to work from my couch, it was nice to know that I was able to create and style an outfit with pieces I don't usually wear that much.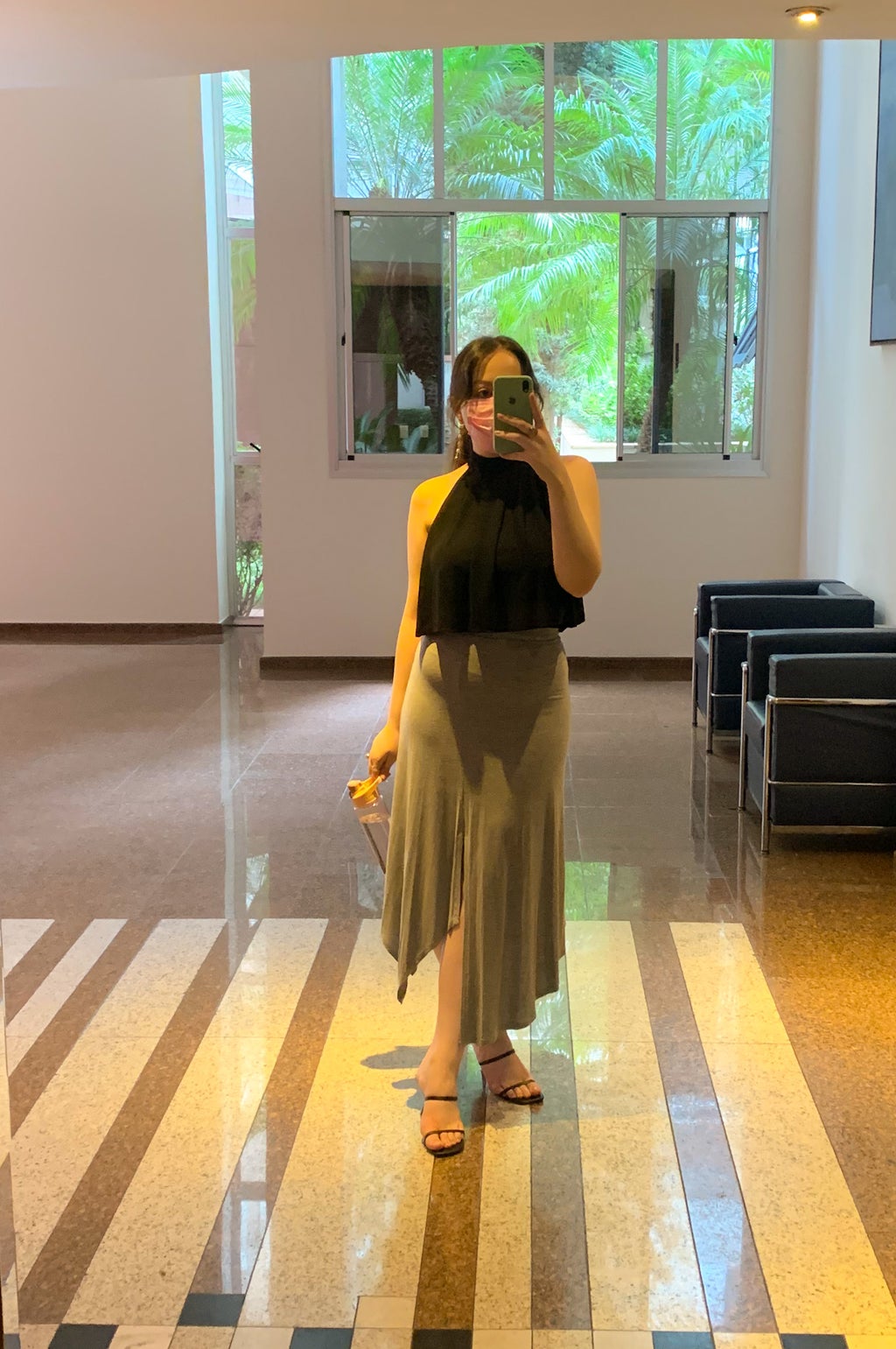 Day 2
On day 2, I pulled my most trusty, everyday fit. This strapless top is my most worn item of clothing (and I should probably purchase it in a bunch of other colors), so I paired it with some black tailored pants that I thrifted recently. To finish the look, I added black boots and, for a pop of color, my magenta baguette bag. It wasn't really that hard to create this look since this is probably my most worn outfit, and it's something that I know I feel comfortable in.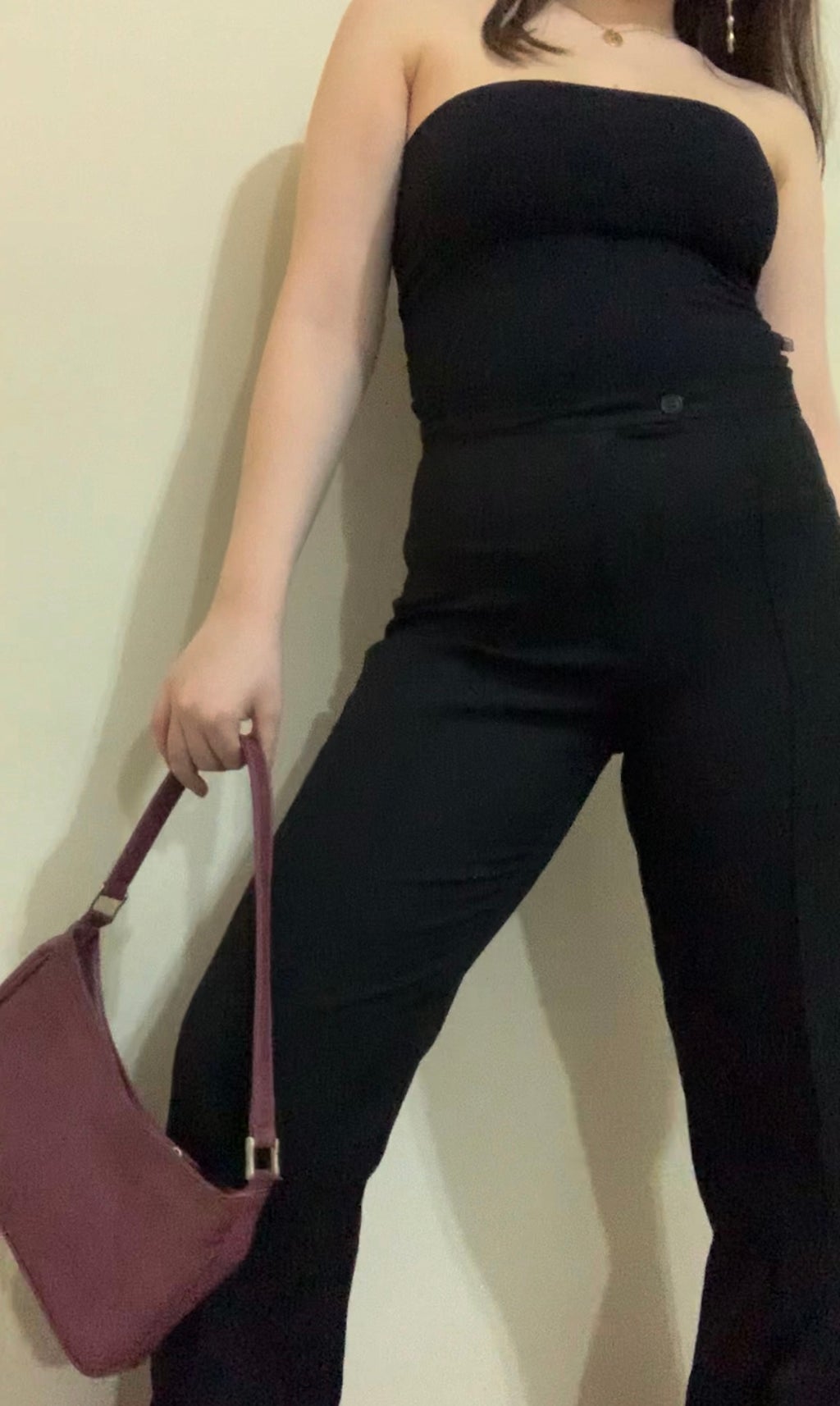 Day 3
Wednesday is, and always has been, the day of the week in which I get tired. You can notice that by my outfit choice, which is still cute (shoutout Her Campus merch!), but definitely more comfortable than the other looks. After all, it's that time of year where we're all pulling our princess Diana-inspired looks, right?
So, I choose a comfy, very cute sweatshirt paired with black biker shorts and white sneakers. This outfit is very much in my comfort zone, though I'd usually pair it with sweatpants. I feel like the biker shorts make the outfit more interesting, so I felt very comfortable and put together.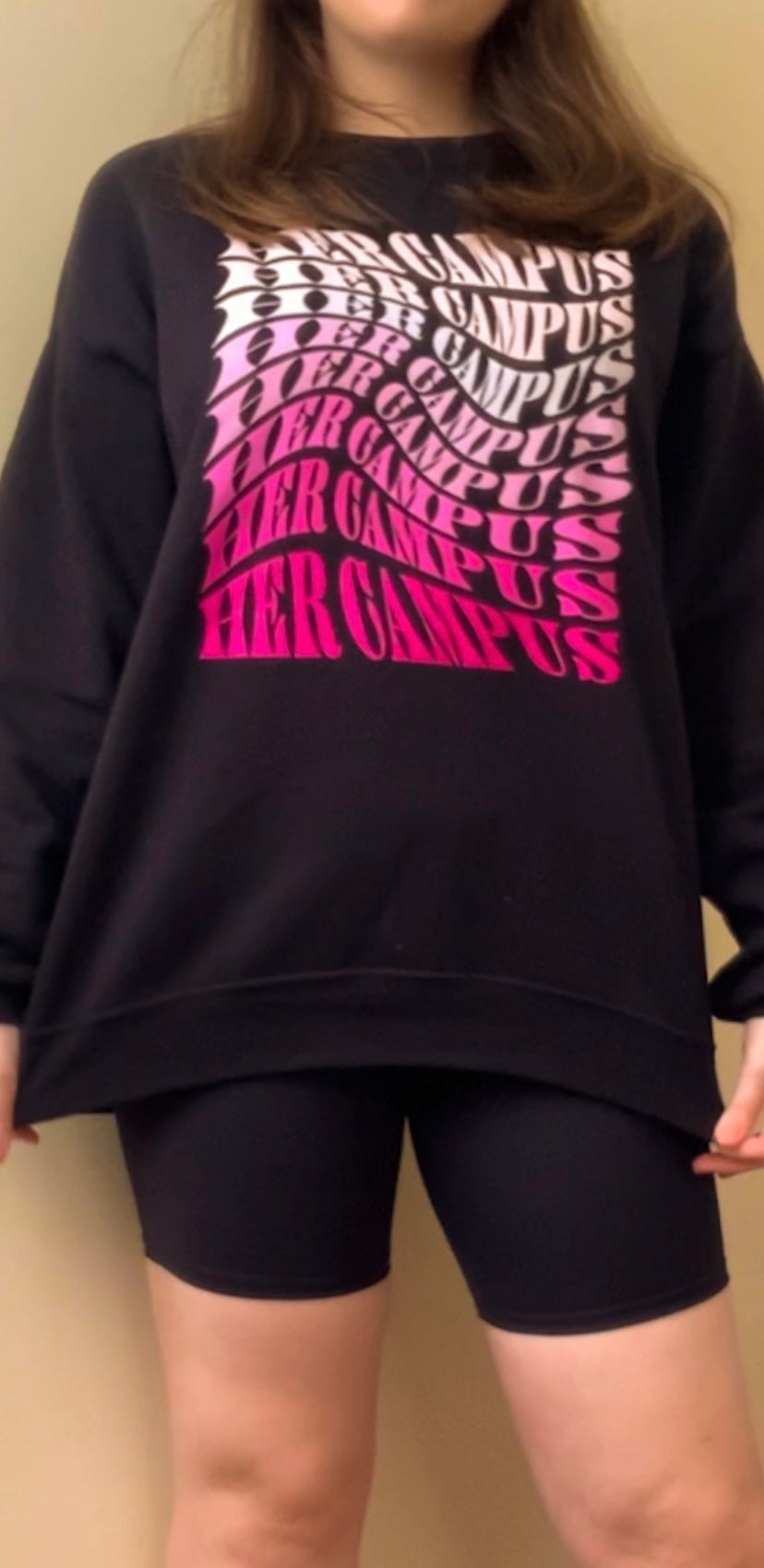 Day 4
On day 4, I was going out to watch a play, so I decided to dress up again. I chose a midi black skirt and a strapless black top (hi there again, old friend). I added a cardigan, a shoulder bag, and white sneakers (and I think I regret my shoe choice now, but you live and you learn). It was then that I actually realized something about my style: when I want to dress up, I usually opt for a skirt or a dress, but my everyday outfits (aka when I'm not dressing up) include mostly pants. McSherry believes that "outfit formulas" can change with the seasons or, in my case, with every occasion. Figuring out your most worn pieces includes paying attention to those details, too. Even though it's a "formula," people are multifaceted and opt for different clothing pieces (and even styles) at different times of the year or occasions.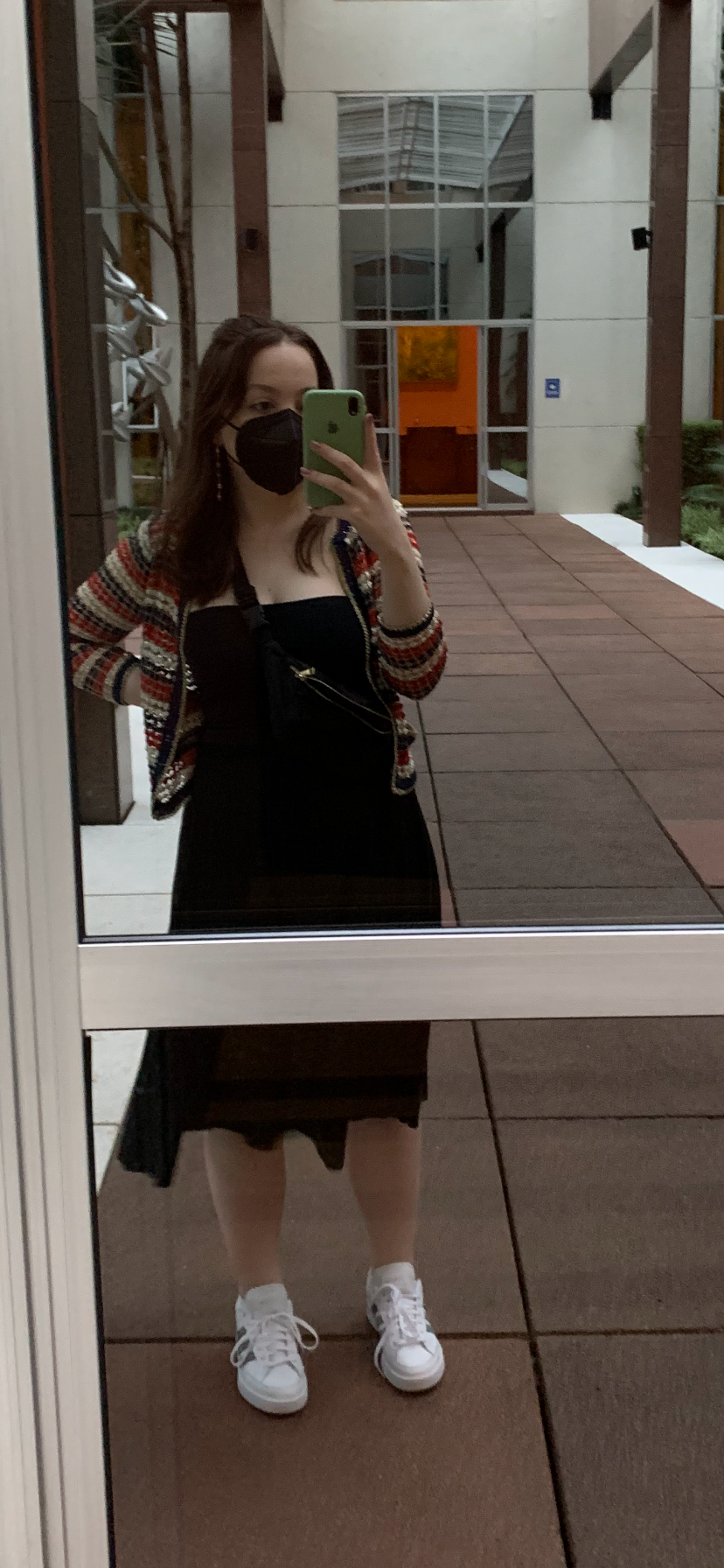 Day 5
I opted for a professional-looking outfit on day 5, and chose flared black pants and a white shirt. On my feet? Socks, but I could've paired this with black boots or even sneakers. This was by far my least favorite outfit of the week, it just felt like it needed something else. More pizzazz, perhaps. But it was still a comfortable look, and I felt way more put together in this outfit than I would've in my pajamas.
Day 6
For day 6, I brought my tailored black pants back and paired them with a black tank top and an oversized blue shirt. Even though it's very simple, I felt good and comfortable, and I found that I really liked the blue shirt (it was my first time wearing it because I had just thrifted this piece!).
On this day, I came to realize that I wear too much black, and I'd like to add more colors to my wardrobe. McSherry advised me to buy other colors of the items that I already wear a lot and can pair with pieces I already own. For example, I'll probably buy other colors of my trusty strapless black top, and I can pair those new colors with my skirts or my everyday pants.
"I now think differently about trying new things in my closet, I don't go out to sustainable brands and buy a pink top just because I don't have anything pink, now I can try new colors, but I usually choose to buy things that I know I'll wear in fun colors, too," McSherry says. Knowing her outfit formulas, she was able to realize what clothing items she should purchase because now she knows what she'll wear the most.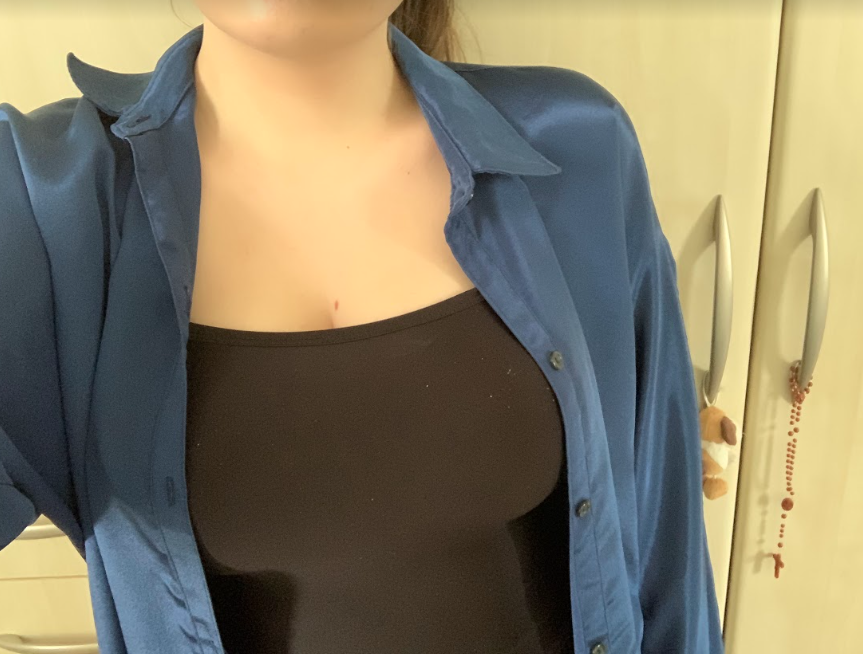 Day 7
For Sunday, I thought I earned a very comfy outfit after dressing up all week. I chose a gray sweatshirt and gray yoga pants. And although this is technically considered the infamous "gr-outfit," I felt like the difference in the shades of gray made the outfit a tiny bit less boring, and I appreciated it after a long week of playing dress-up.
Though it wasn't the grand finale we expected, it was the one we deserved. I don't know how Barbie does it.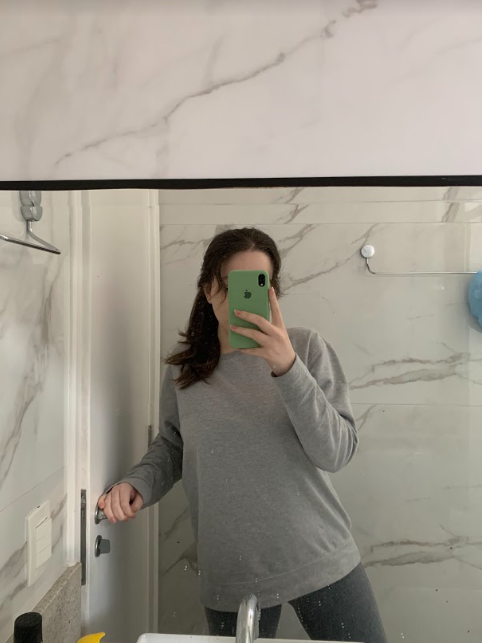 What's my outfit formula, then? I think that, just like McSherry and Emma, I also rely on a great pair of pants and a tank or a t-shirt. but when I was going out or dressing up, I opted for skirts. This explains why I've never worn things like my jean skirt because, for me, apparently, skirts are for feeling special and dressy. So maybe, for my future clothing purchases, I can invest in some dressy midi skirts for going out, and black pants for everyday use. However, I won't buy casual everyday skirts, since I don't wear them that much anyway.
According to McSherry, that's why it's important to figure out your style and outfit formulas: you realize the types of items you wear the most. Do you wear pants every day? Then, it might be worth investing in a great pair of pants instead of a trendy item that you'll probably wear no more than twice.
Figuring out your style can be tricky, but it's great to start playing with your style with the clothes you already own, and when you know what you like, you're able to make smarter purchases of items you'll wear a lot. McSherry says that you can still switch up your aesthetic, even while using outfit formulas! If your base is a pair of pants and a tank, for example, you can make it either Y2K-inspired, emo, or really anything in-between: it just depends on the colors and materials you opt for.
So, bestie, what are you waiting for? Start taking selfies and let's all figure out our outfit formulas so we can shop and dress more sustainably (and complement each other's outfits, obvi).