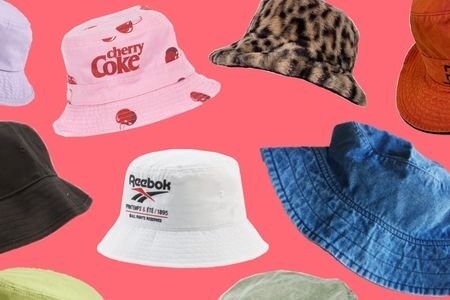 Don't Panic, But Bucket Hats Are Cool Now — Here Are 8 Ones I'm Obsessed With
When I go through my childhood photos, my brother was always wearing a bucket hat. Meanwhile, I refused to wear any kind of hat because I was such a girly girl. Headbands were totally my thing. (Sorry, Blair Waldorf — I was the original queen of headbands.) Bucket hats were just among the many early 2000s trends that my younger self didn't appreciate. Being the stubborn and rebellious child that I was, I hated half of the things my mom would make me wear. But, the woman was definitely ahead of her time as she has always told me that trends come back every five years or so. She is so right!
Now, my 22-year-old self loves the whole concept of bucket hats. Like, yes, bring on more of the early 2000s style (except for the dresses over the jeans, that can stay in the 2000s). Bucket hats are the move this summer. From the classics to the unconventional, here are my top picks of cool ones to rock all throughout the hot season.
Listen, just like dad shoes and mom jeans, our go-to hat during our childhood has made its comeback! Bucket hats are cooler than ever. Don't be the last one to follow the trend revival. 
The Her Campus National Editors write about products we love and think you'll love too. Her Campus has affiliate partnerships, so we get a share of the revenue from your purchase.