Daisy Jones and The Six has taken fans of the book series and new fans of the television adaptation on a rollercoaster ride over the last few weeks, with drama, love triangles, and the life of a band in the 1970s. While the Prime Video adaptation has some slight differences from the original book — one example being the lyrical changes to a couple tracks from the band's Aurora album — the show has stayed true to the bestselling book's original plot.
Another thing that the television adaptation has done flawlessly is accurately depict 1970s makeup and fashion. Daisy, the band's lead singer and songwriter, is one of the characters I find myself drawn to the most creatively. She frequently wears hyper-feminine pieces with either tight crop top looks or loose-fitting flowing garments, as well as staple pieces of the time such as bell bottoms and patterned prints. Daisy can truly define the word groovy! That's why I ended up finding fashion dupes for Daisy's outfits from each episode up to this point in an attempt to bring out her '70s fashion to translate to the perfect look for a 2020s Gen Zer!
Episode 1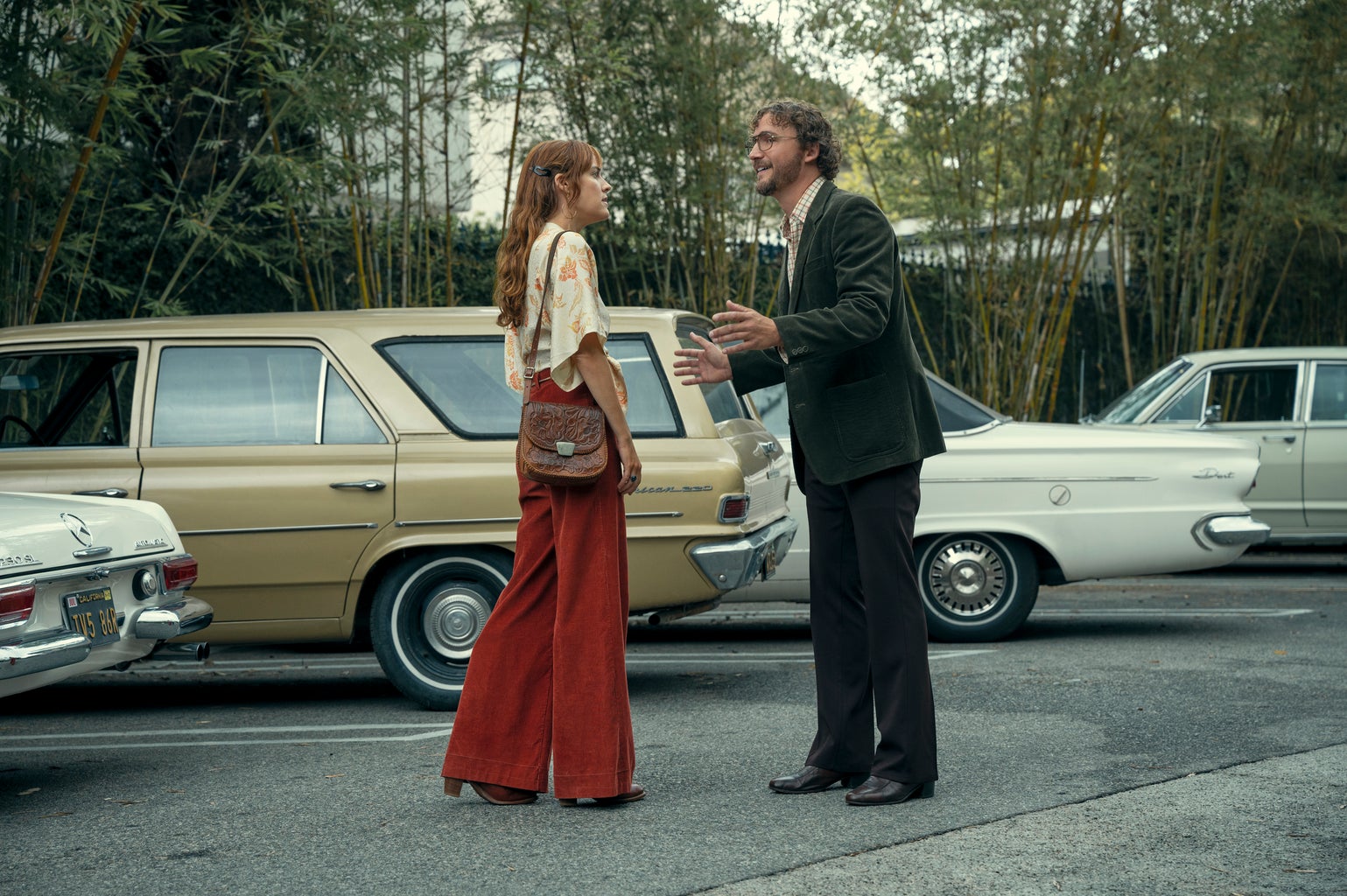 Daisy is seen in Episode 1 wearing a loose-fitting cream blouse with orange flowers ($20) cascading around the piece. She matches the vibrant blouse with burnt-red flared jeans ($20) and brown leather high-heeled boots ($27).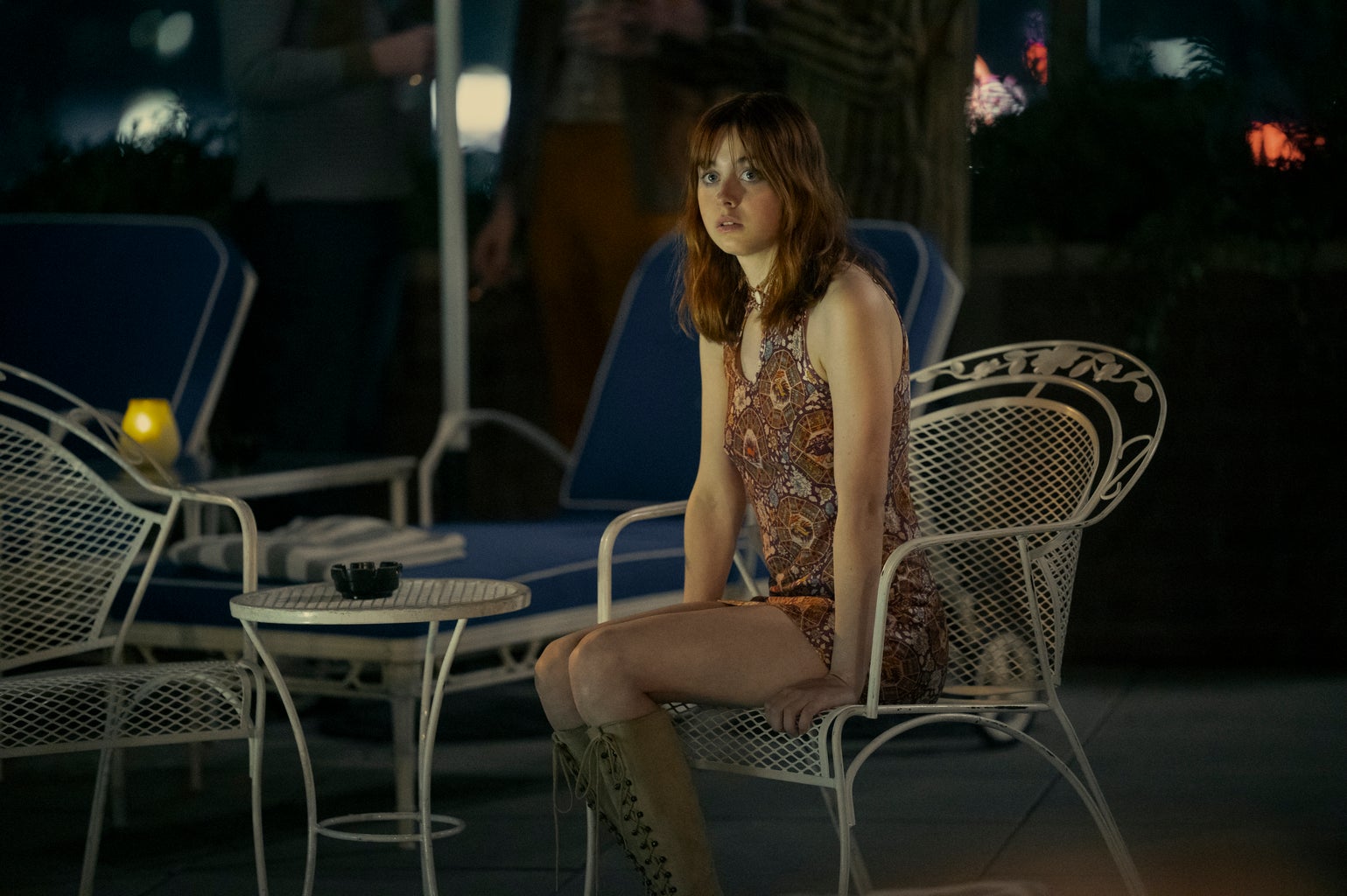 Daisy had a keen eye for fashion and all things trendy even when she was in her teens. When she discovered her new love of writing also in Episode 1, she can be seen wearing an earthy-toned brown dress ($43) with different shapes and patterns. This fashion dupe isn't exactly the same as the original, but it's ideal for a cute spring picnic photo shoot with friends or a nice brunch event!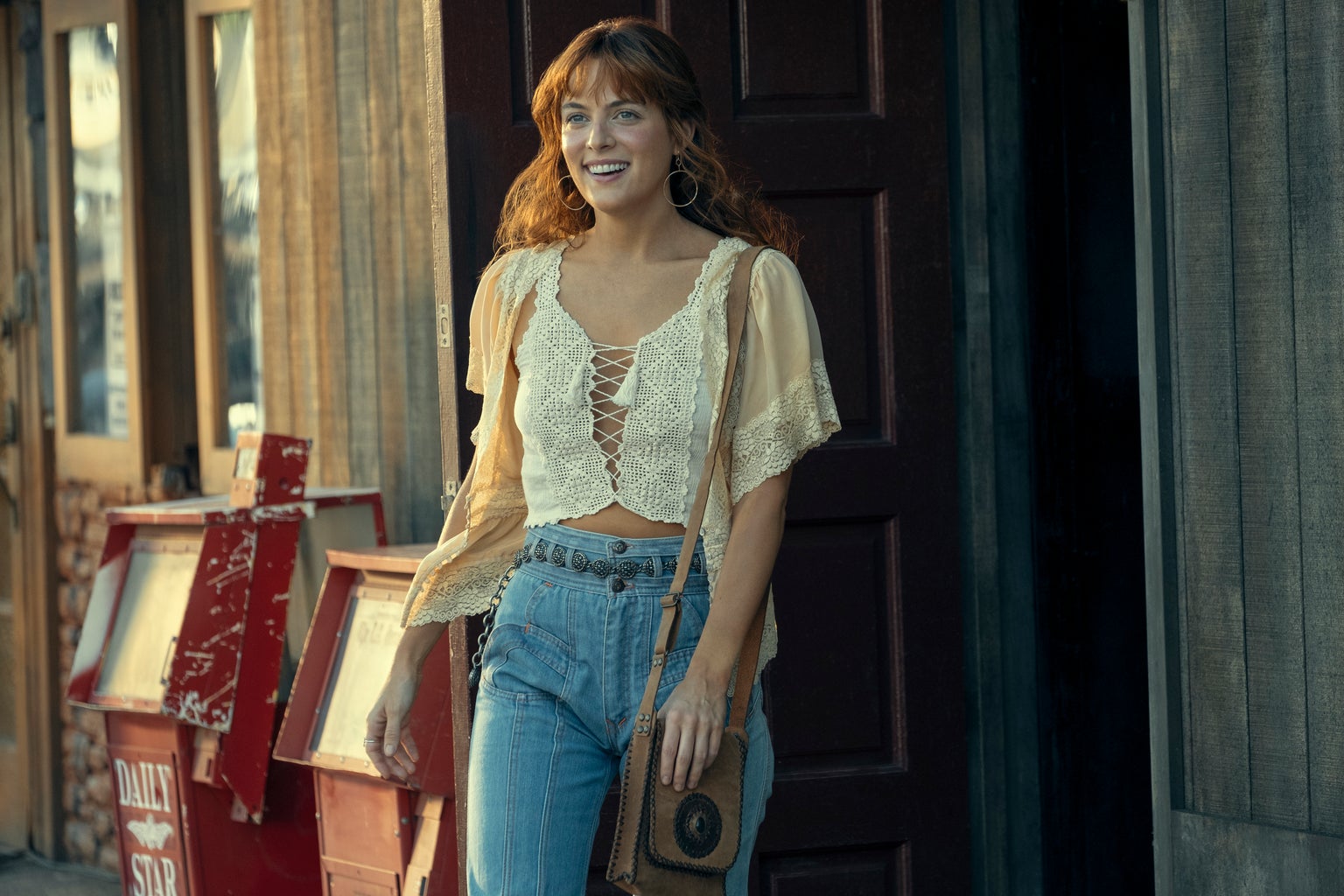 When she walks into a nearby bar to sing some of her written song lyrics in Episode 1, Daisy wears a knitted white crop top ($25) and baby blue denim jeans ($56). She completes the look with a flowy short-sleeved sweater ($27).
Episode 3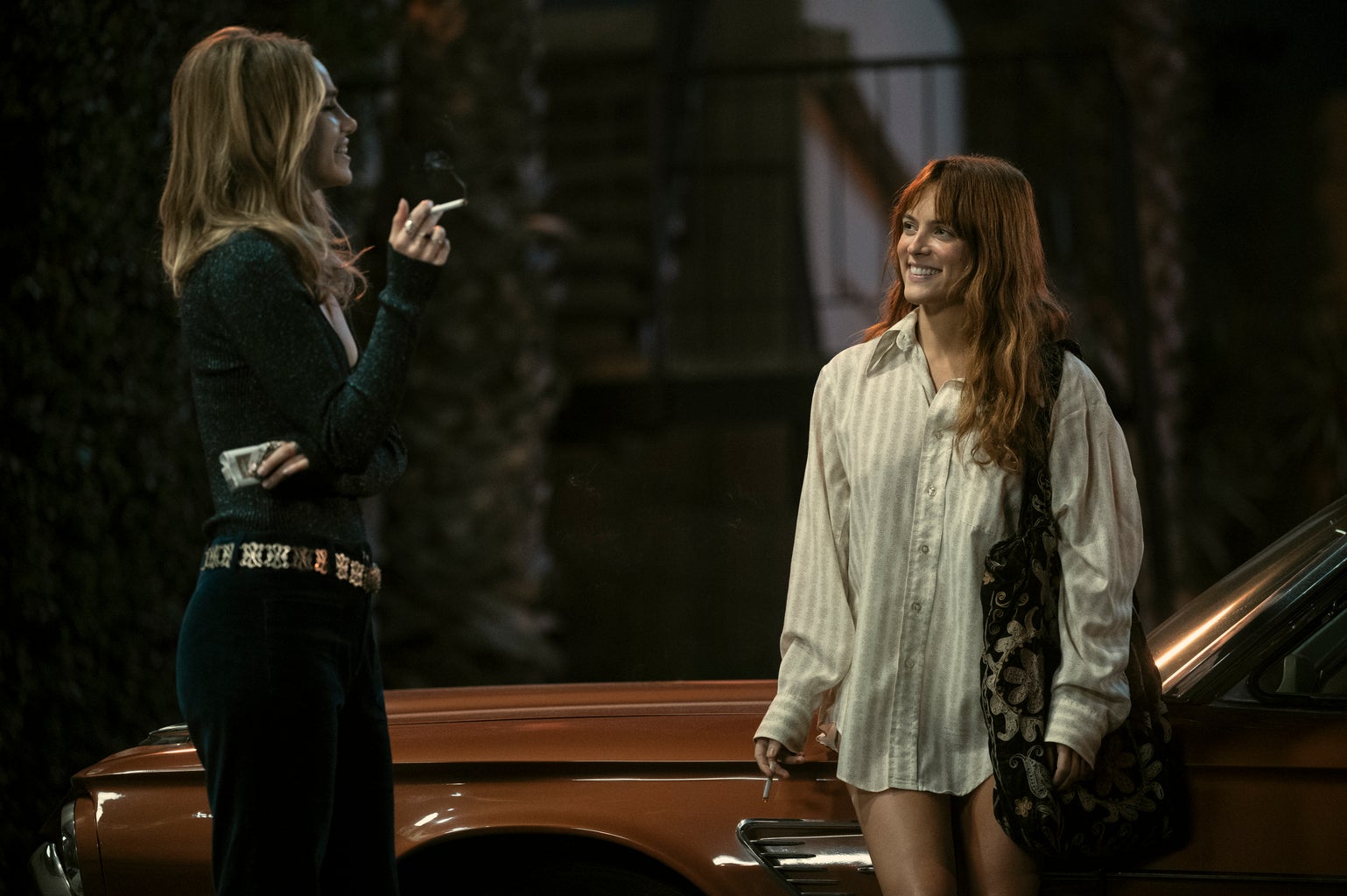 When she first records and meets with the Six in Episode 3, she is seen wearing an oversize striped button-down shirt ($45), which the group remarks on and slightly insults, but I think the look is totally iconic. I recommend wearing it with light-colored denim shorts ($27) to complete the look for a spring break beach day!
Episode 4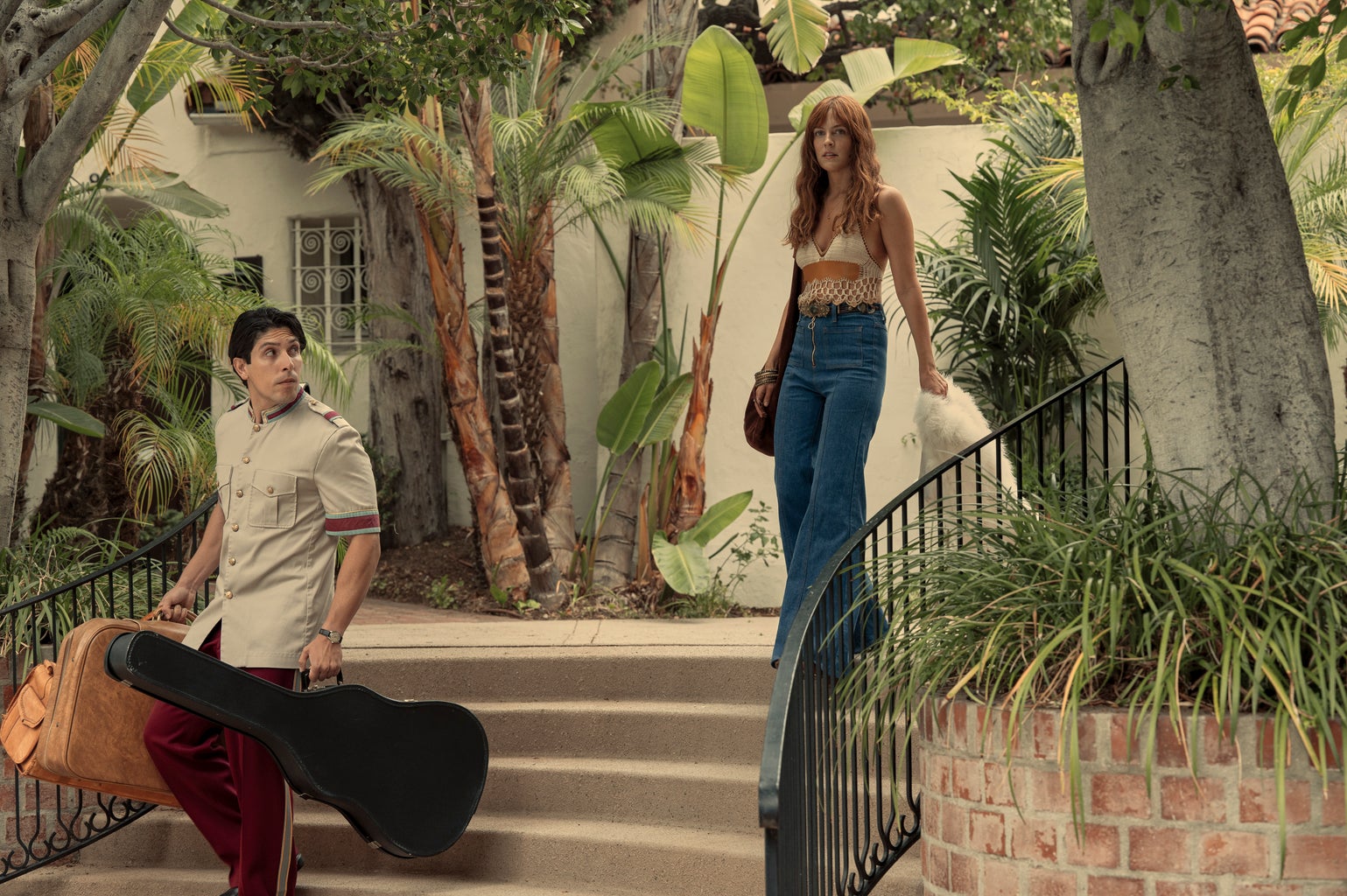 Daisy can be seen wearing light-colored flared jeans ($43) and a totally cute white crochet crop top with brown accents ($7) in Episode 4 when she first moves into a hotel after Simone leaves.
Episode 8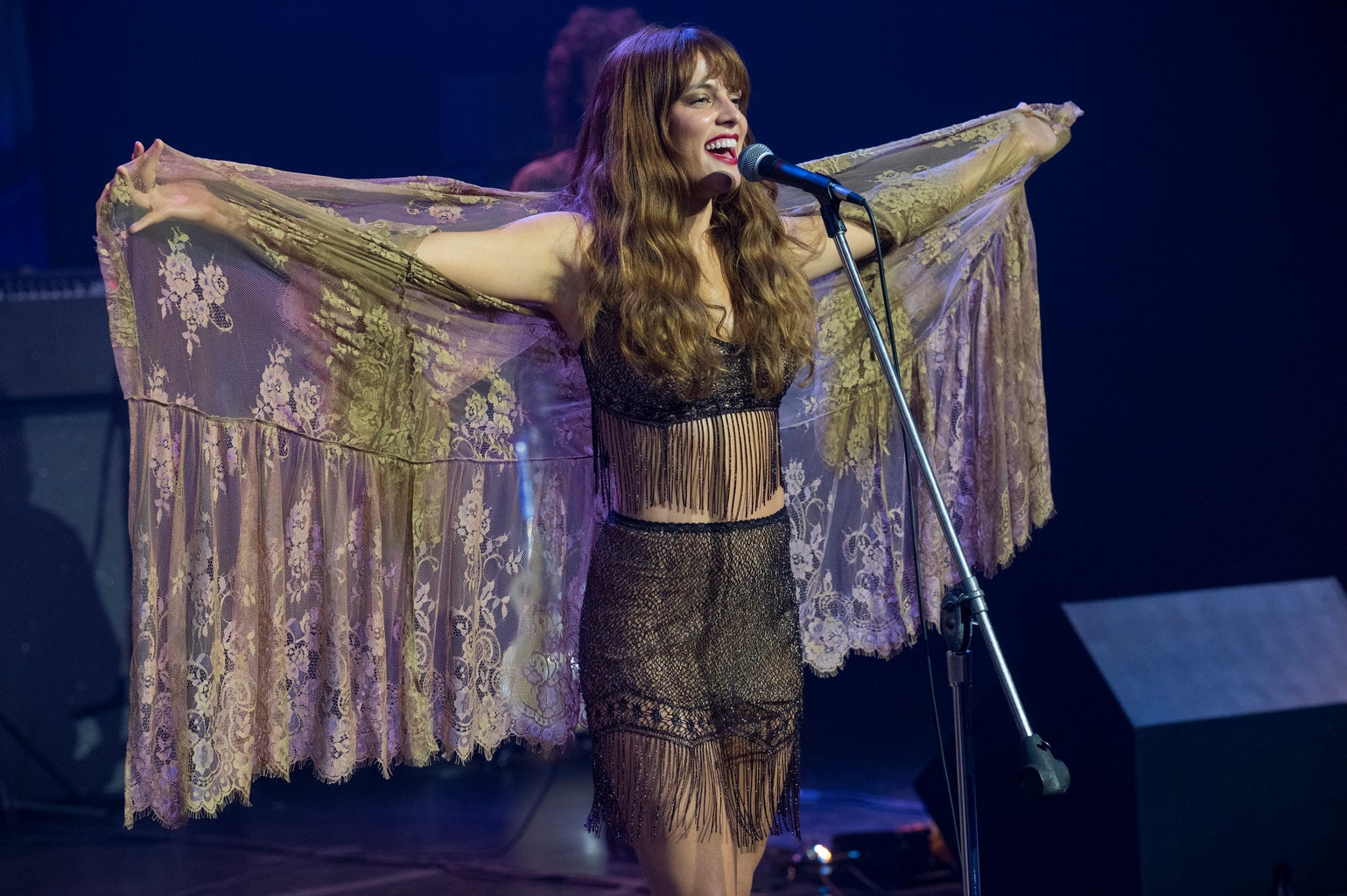 While touring with the Six In Episode 8, Daisy is wearing a tasseled two-piece crop top/skirt ensemble ($43), which she accessorizes with a green patterned shawl ($27). If you're looking for an outfit to wear on a fun night out with your friends, this could be a go-to look.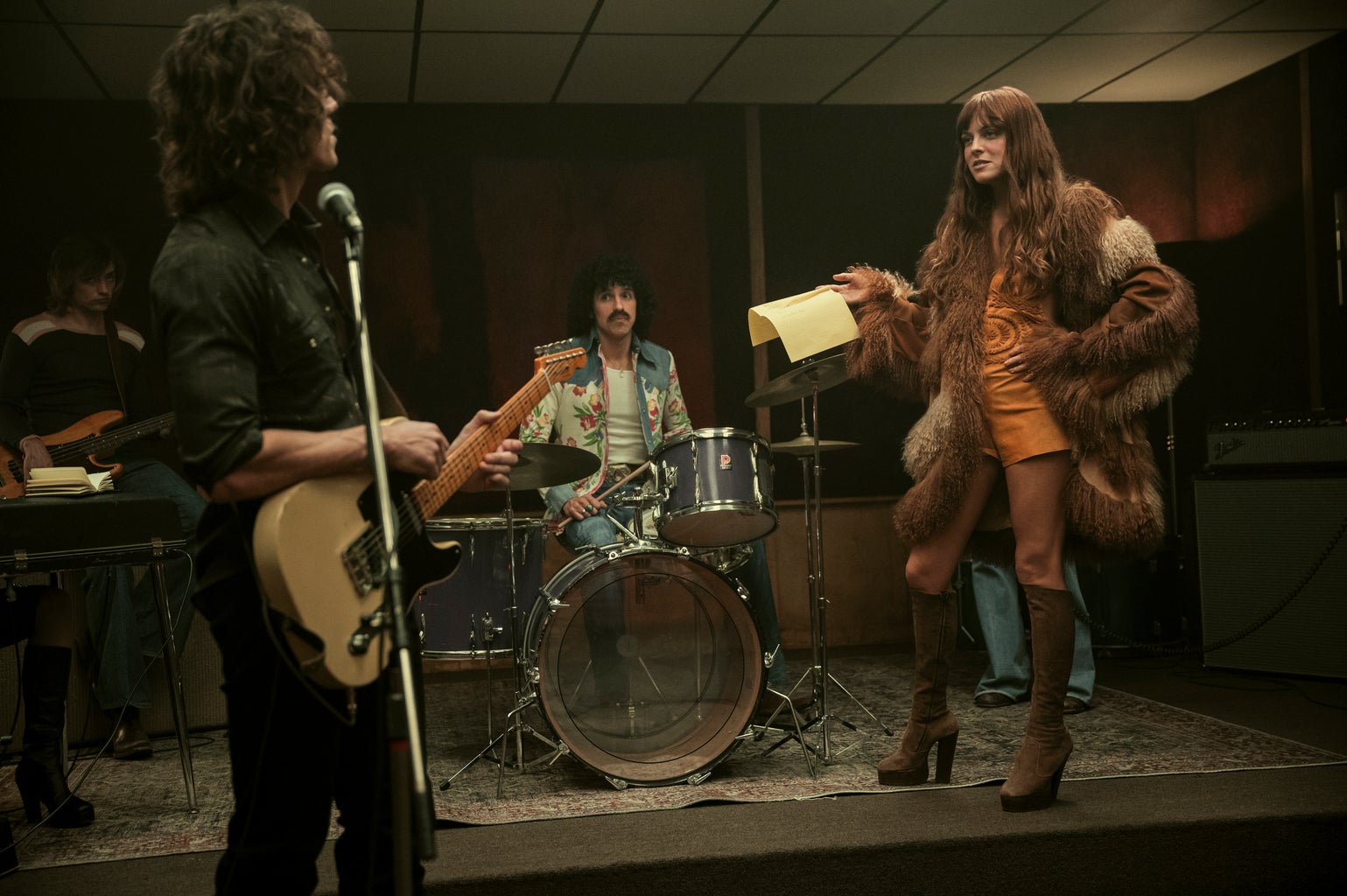 Daisy is wearing her staple brown coat with a burnt orange romper ($79) and high-heeled suede boots ($32) in the recording studio during Episode 8. This has to be your signature look if you want to feel like a rockstar from the '70s.
Episode 9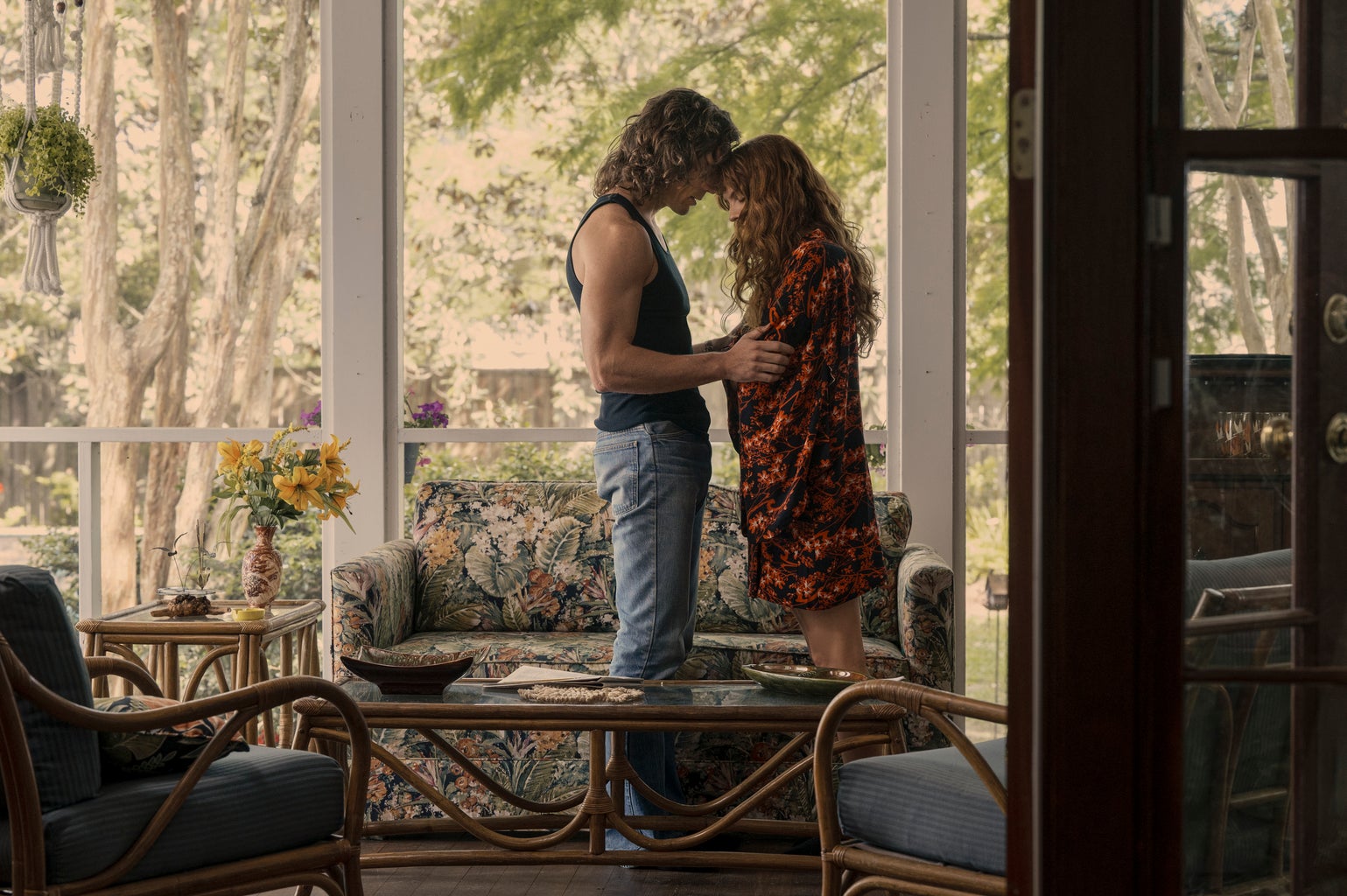 Daisy can be seen wearing a black flowy mini dress with orange flowers all over it during her sudden confession to Billy while the two are writing music together in Episode 9. If you want to channel your inner flower child from the 1970s, try this similar blossom floral mini dress ($32).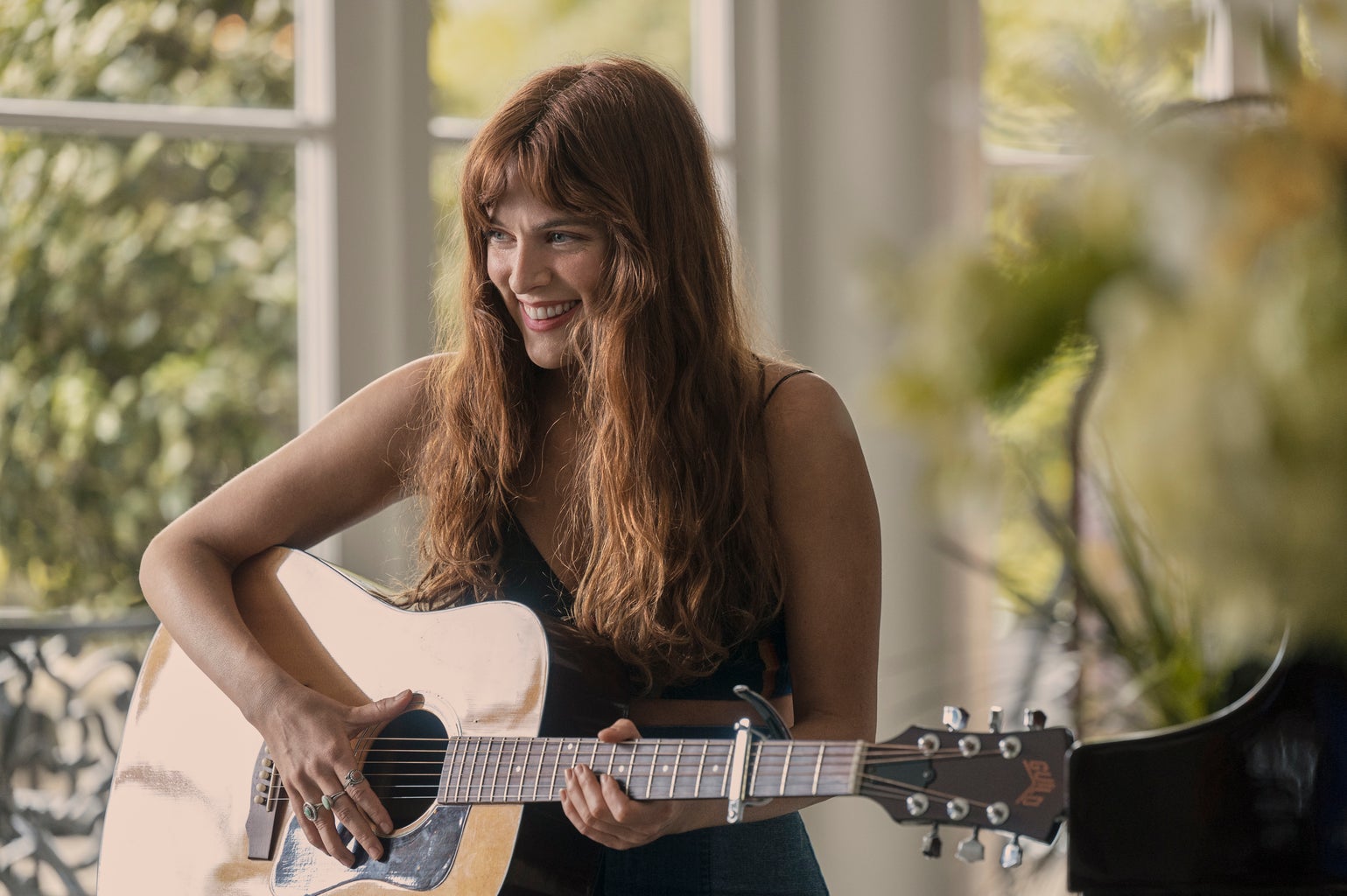 Daisy is dressed in what appears to be two-toned denim jeans ($15) and a black bralette ($37) as she plays a song for Billy on the guitar. It's a more minimalist look than we're used to seeing Daisy in, but it proves that she can rock anything.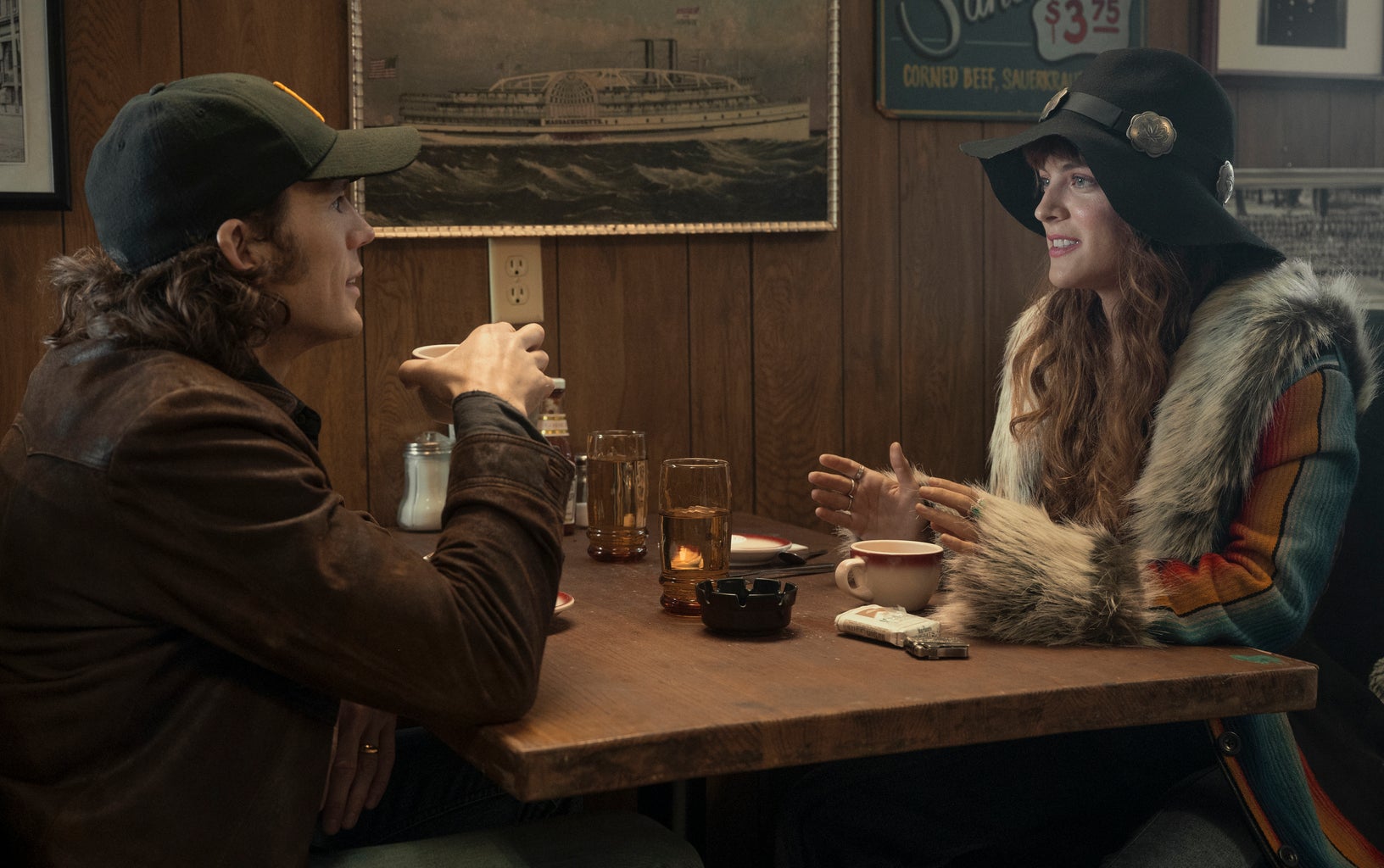 Daisy can be seen wearing a denim long coat ($89) with faux fur covering the bottom hem of the sleeves when trying to go out to a diner with Billy and avoiding being spotted by fans. She can be seen wearing a black floppy hat ($10) to accessorize the piece.
Episode 10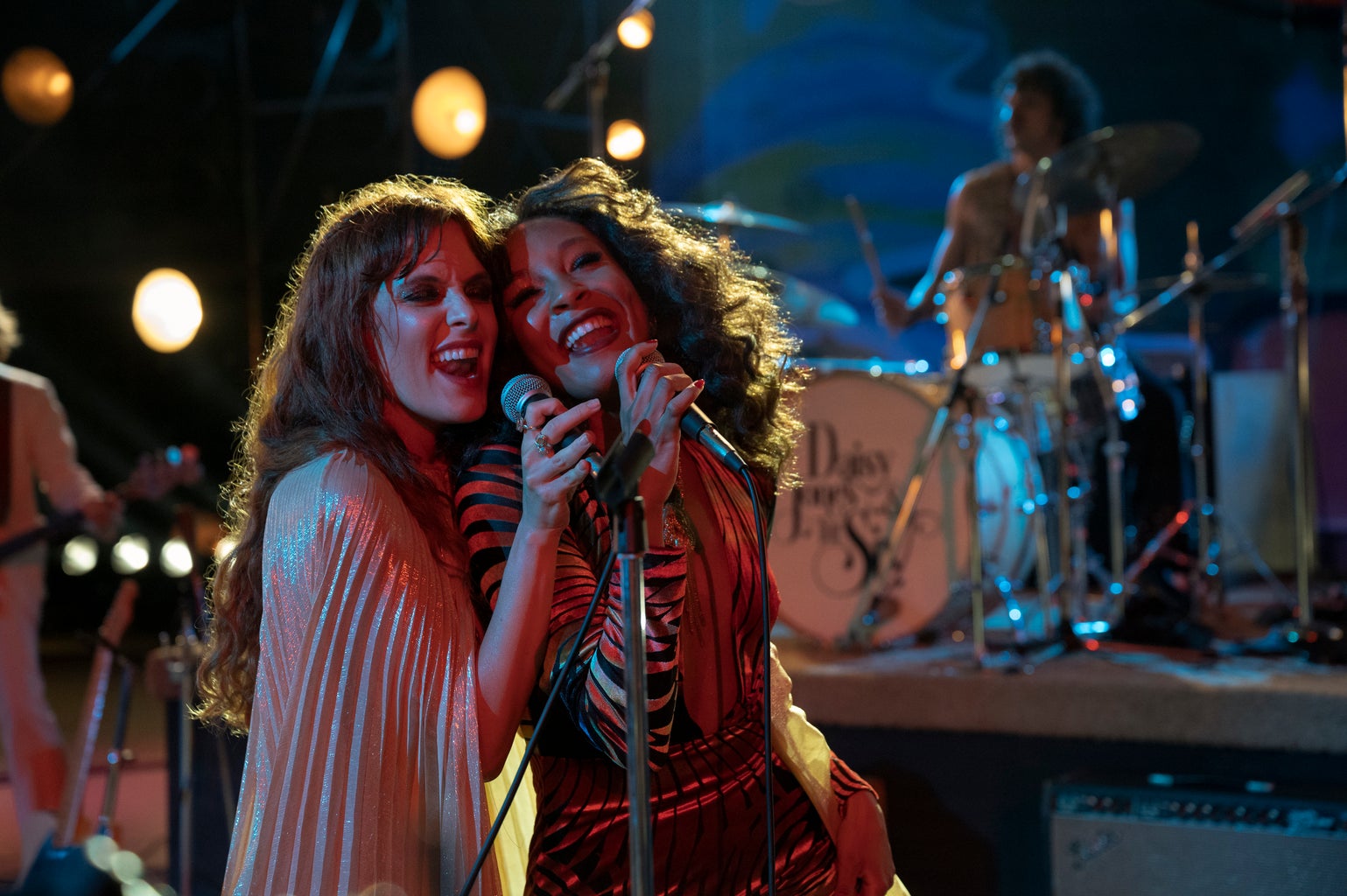 Daisy wears an ivory-colored cape over a white mesh gown ($75) throughout the entirety of Episode 10 while performing their final concert as a band. The lovely ensemble embodies total princess vibes!
This article was originally published on 3/17/23. It was updated on 3/24/23.