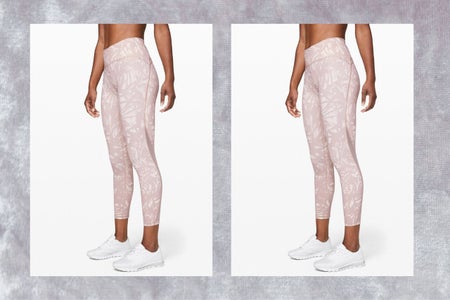 5 Comfy Pairs of Leggings to Spend All Day on the Couch In
Mostly everyone is stuck at home, and comfy clothes are becoming a major necessity. Pajama pants are typically the go-to, but leggings may be the perfect loungewear choice. When it comes to quarantine-wear, comfort is absolutely key — and leggings are comfort and style magically combined.
Lounge in style by checking out this comprehensive guide for some of the comfiest leggings that you will ever own (if you don't already).
Athleta is one of those athletic wear brands that you can rely on for comfortable and supportive leggings. This particular style is made with a soft durable fabric that allows you to be comfortable while still feeling put together and stylish. The brand is comparable to Lululemon and has a similar price range so if you're a fan of that brand then you'll love this one too!

Amazon always comes through with great clothes and these leggings are no exception. This brand is lesser known than the others on this list, but don't be fooled! The thermal knit fabric of these leggings makes more all-day comfort and the price tag makes them an absolute steal! The leggings come in multiple colors and can be ordered in single pairs or packs of three if you're feeling indecisive.

The eco-friendly athletic wear brand is no stranger to mixing comfort with sophistication. The organic cotton material is non-restrictive and the perfect loungewear choice. These leggings are sleek and stylish while giving you constant comfort.

Lululemon is known for its high-quality athletic wear but the brand is also an excellent source of comfort. This specific style is one of the first leggings that Lululemon released so it is fair to say that this is a tried and true choice.

Pro tip: For maximum comfort, you'll love the Luon fabric option!

You've likely seen advertisements for this brand on various social media platforms and may be a loyal customer but if not then you should definitely consider this option. The leggings are comfortable and durable with the best comfort fit being mid-rise. Multiple celebrities have joined in on the Fabletics fun with their own athletic wear lines so check out this brand for leggings that you'll love. Also if you sign up for a VIP membership, you can get two pairs of leggings for $24 on your first purchase!
Even though lounging at home isn't the most glamorous thing you could do, these leggings are sure to keep you cozy and ~a little~ dressed up. Each pair brings its own sense of comfort and style that are perfect for stay-at-home days. Odds are you already have a favorite pair of pajamas or sweats, so complete your lazy day collection by finding your perfect pair of leggings.