As the temp continues to drop, we're more and more drawn to the idea of cozying up inside. It is hibernation season, after all. And when you're trying to get comfortable enough to totally zen out, a sweet-smelling candle is just the mood-setter you need while binge-watching holiday movies or listening to a festive audiobook fireside.
But when you're shopping online, it can be hard to pinpoint the best-smelling candles. After all, your laptop, tablet, or phone doesn't exactly have smell-o-vision. (At least not yet!) So how do you separate the winners and the duds? The trick is to look for well-known brands or scour bestsellers on sites like Amazon with your Prime Student membership.
It's always great when you find candles that are powered by natural fragrances (think essential oils) rather than synthetic ones, too. We know what you're thinking: That sounds expensive. It doesn't have to be, though. While there are a couple of luxury candles worth splurging on (trust us on this one!), there are plenty of cheap ones out there that you'll reach for over and over again.
So whether you're looking for something relaxing for your bedroom or something refreshing to welcome guests into your living room, here are some of our favorites:
1. Apple Pie - Grandma's Kitchen Scents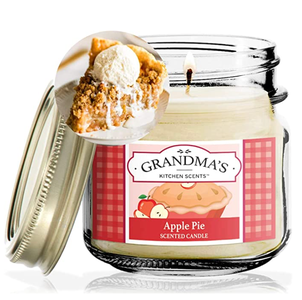 Take your affinity for all things cottage-core with a candle that brings the scent of grandma's kitchen to your space. Just like Mimi herself, it's everything nice: sweet apple pie with extra ice cream and a touch of spice.
Amazon, $13
2. Village Candle Spiced Pumpkin in a Large Apothecary Jar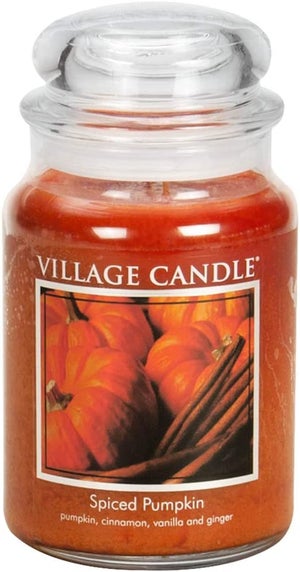 The OG candle co. is still a staple because there is no shortage of delicious scents to choose from. This time of year, we're partial to the pumpkin spice, a warm blend of pumpkin, cinnamon, vanilla, and ginger.
Amazon, $20
3. 50 Hour Long Burning, All Natural Coconut & Beeswax Candle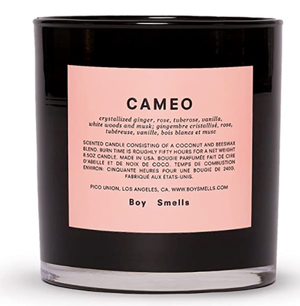 This candle is a little sweet and a little warm, thanks to notes of vanilla and tuberose that combine with ginger and musk.
Amazon, $32
4. Chesapeake Bay Balance + Harmony Candle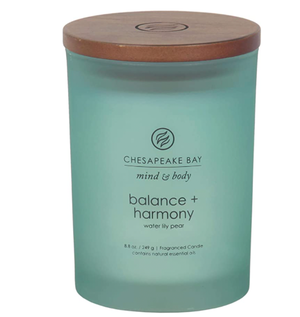 When you're having trouble finding balance (let's be honest: who doesn't struggle in this department), light up this soy blend candle. It'll deliver up to 50 hours of a rejuvenating water lily and pear scent.
Amazon, $7
5. LA JOLIE MUSE Cedarwood & Cypress Fragrance Scented Candle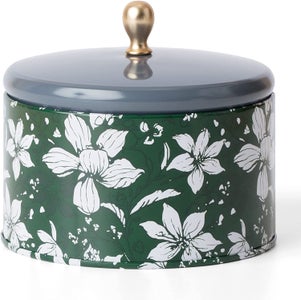 It may look like a beautiful cloche — and it can be once the wax has burned — but this decorative jar will infuse the air with the fresh aroma of conifer trees, eucalyptus, and herbs, and just a hint of sandalwood and caramel.
Amazon, $10
6. Fresh Linen Candle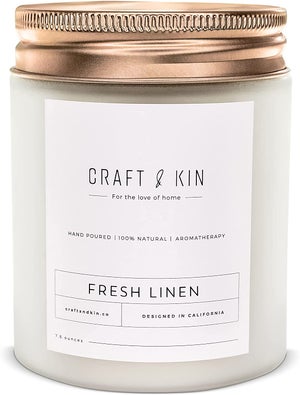 Dying to crawl into bed, but have a long list of to-dos to tackle? Play pretend with a natural soy wax aromatherapy candle that smells just like fresh linen. It's meant to help you relax and restore, even if you're not actively sleeping.
Amazon, $17
7. Amber, Rose & Sheer Musk II Candle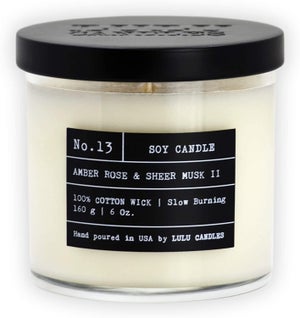 This cozy, long-lasting candle is a mix of earthy scents — woodsy musk and amber with a touch of fresh rose— that couldn't be more perfect for your next movie marathon.
Amazon, $15
8. Capri Blue Scented Candle with Glass Candle Holder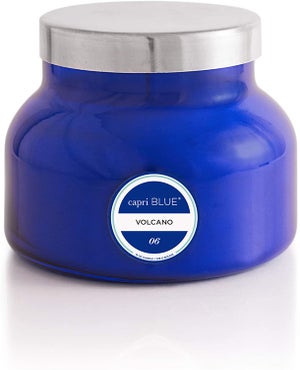 This fresh, fruity scent — exotic citrus with sugary notes — is a perennial favorite for good reason: It's light but totally satisfying. It's pretty enough for gifting, too.
Amazon, $30
9. Vintage Leather Scented Candles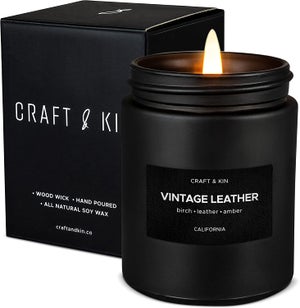 There's just something about the way a vintage leather purse smells, right? This sleek black jar candle will send that same scent wafting through your space. Sign. us. up.
Amazon, $14
10. Mrs. Meyer's Clean Day, Basil Scented Soy Candle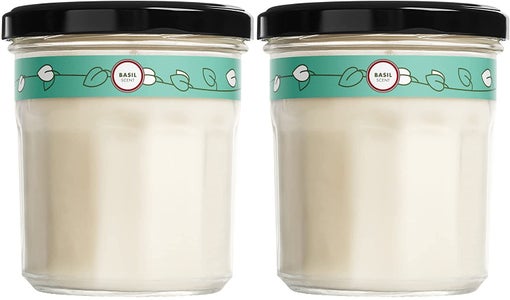 Two candles for about the same price as lunch? Yes, please — especially when the duo smells like fresh-cut basil. The cool, crisp garden-fresh fragrance is a guaranteed mood-lifter.
Amazon, $16
11. Pure White Sage Smudge Candle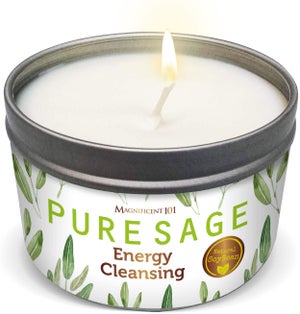 Banish any negativity from your surroundings with this pure white sage smudge candle. It's perfect for those times when you're spiraling into a ball of anxiety and need a little grounding.
Amazon, $13
12. Lavender Scented Candle for a Best Friend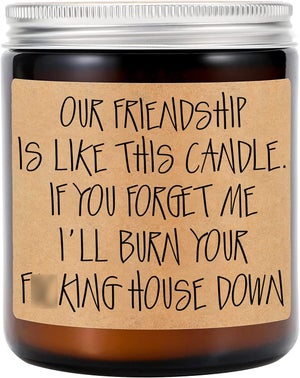 It's funny, it's true, and it makes the perfect gift. Also nice: the 100 percent natural soy wax candle's soothing lavender scent.
Amazon, $23
13. Stress Relief Soy Candle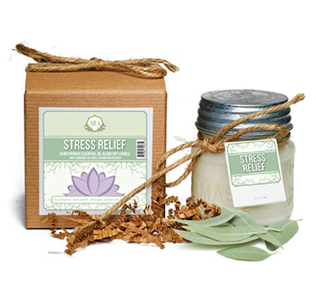 When your mind starts racing, you'll be glad to have this invigorating candle on hand. The smooth and calming scent is perfect for a moment of meditation.
Amazon, $25
14. Pop Scented Candle, Gold-Champagne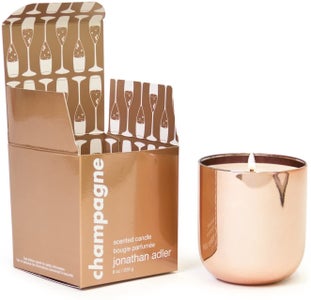 When you'd love to be popping bottles, but have to buckle down and work, light up this fizzy mix of pink grapefruit, sparkling Champagne, raspberry, French cassis, violet leaves, rose petals, crushed sage, crisp mint, and grape leaf. When it's gone, use the pretty metallic vessel as a bud vase.
Amazon, $47
15. Santorini Escapist Candle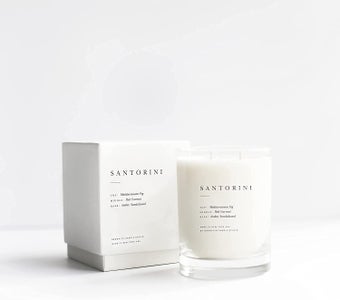 When you can't hop on a plane, get a taste of the good life by lighting up a candle inspired by one of the world's top travel destinations. You'll get all the best the Greek island has to offer right in your own apartment: earthy, fruity aromas of Santorini's abundant fig trees, lush native currants, plus woodsy notes of sandalwood and amber.
Amazon, $38
16. Apotheke Canvas Candle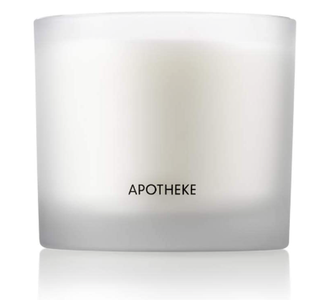 A splurge, no doubt, but candle aficionados will tell you, this candle, which has a gently fresh scent of linen, musk, and lily of the valley, is the best of the best. So go ahead and treat yourself — you deserve it.
Amazon, $74
17. Teak & Oud Wood Poured Candle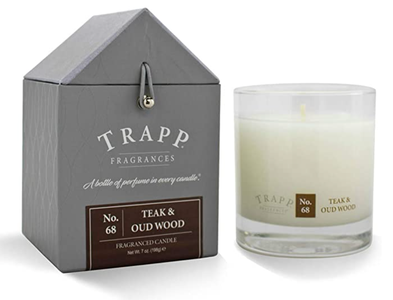 With this teak- and oud-scented candle burning, you may forget you're cooped up at home. Close your eyes, and you'll see yourself dressed to the nines sipping on a nightcap at a chic library-style bar.
Amazon, $29
18. Sage Lavender Candle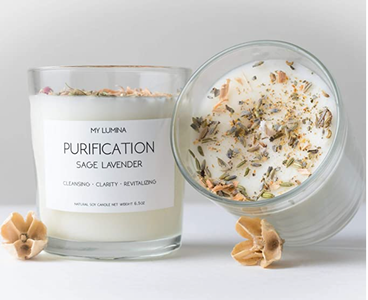 Need a hard reset? Light up this purifying candle ​​made with palo santo, white sage, and lavender essential oils to kick bad vibes to the curb, stat.
Amazon, $17
19. Voluspa Yashioka Gardenia Large Embossed Glass Jar Candle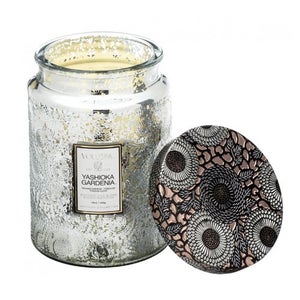 You'll feel tres fancy with this mercury glass candle on your shelf. The fruity, floral scent of a Japanese garden is just the icing on the cake.
Amazon, $35
20. Moroccan Amber Classic Candle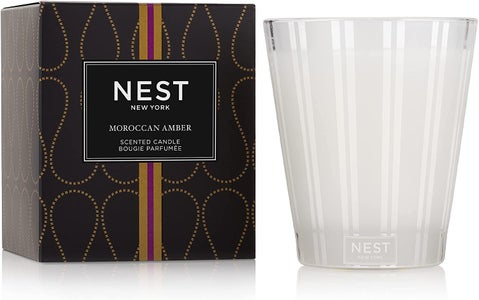 Tap into your sensual side with a woodsy candle inspired by the exotic scents of Morocco: amber, sweet patchouli, heliotrope, bergamot, and a touch of fresh eucalyptus.
Amazon, $38
As an Amazon Associate, Her Campus earns from qualifying purchases.