When I think of fashion I imagine the Met Gala, Chanel tweed blazers, NYFW, I think glitz and glamor. The thing with fashion, however, is that it's constantly changing, — so much that celebrities have been sporting athletic wear (but not for athletics?) at the most anticipated fashion events of the year. Despite my confusion with this trend, I can definitely get behind wearing Adidas sweats and tennies in public. 
The athleisure luxury look is definitely synonymous with hypebeast culture. I mean, I can't walk 10 feet in LA without seeing someone in a Kappa Sweatsuit or wearing Nike Air Force 1s (which were originally made for basketball). Now, if you still don't believe that hypebeasts have revolutionized athleisure into a luxury look, let me throw out a few more examples: Fila, Adidas, Reeboks, Jack Purcells. Take the white, chunky Fila sneaker. What is more hype beast than that? Or an Adidas tracksuit? You would fit right in on LA's Fairfax Ave wearing that. 
This intersection between literal running shoes and an elevated, hypebeast vibe is honestly too good to be true. So naturally, I decided to put this trend to the test and see if I could actually get away with wearing athletic wear in public, and not for the purpose of being athletic.
First Thing's First
If you're like me and you're swimming into unchartered waters, you have to make sure your fit is fire. I pulled out all the stops to make myself look like the badass hype beast that I want to be and took some inspo from celebrities and influencers.
What I found from doing my deep dig into actually pulling off athletic wear is that it's all about a balance. If you're wearing baggy track pants, pair that with a tight crop top. Or if you're wearing the tight biker short, throw on an oversized tee or sweatshirt. Follow this simple rule: compliment baggy with tight. 
It's All in the Deets 
First, layer the jewels. Add some layered necklaces, a leather cuff and some fun earrings to really pull the look together. As soon as you put jewelry on, you take the outfit from pilates-ready to premier-ready. Another pro-tip is to add some cool sunglasses. Don't be afraid that they won't match — in fact, the weirder, the better. Let your sunglasses be the place to experiment and get a little funky. Lastly, show off a fun vintage bag or fanny pack. I love a crossbody bag with a fun strap to add a little pop to the fit, but if you want to be really hype beast, throw on a Kappa or Supreme fanny pack.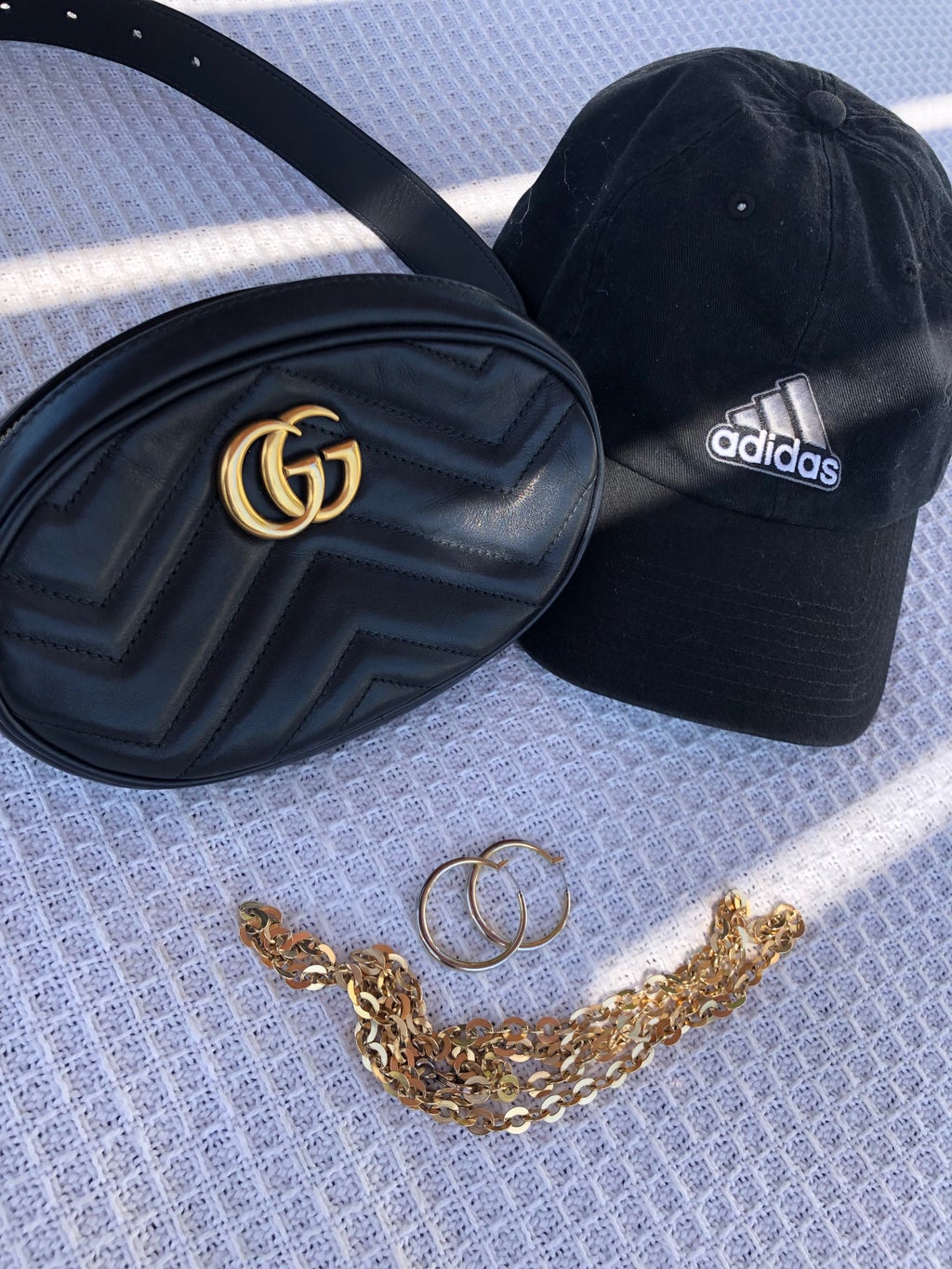 Own It 
Well now that you're dressed, all that's left to do is embrace it. Take hella selfies, because did it really happen if you didn't document it? Go to a fun locale to debut your fit, like a trendy ramen bar or a cat cafe! And most importantly, be confident. I was a little worried that I would just look like I was in pajamas, but the accessories definitely elevated the look. You can definitely get away with the athleisure look for a casual dinner or a shopping day out with the girls, so don't be afraid to try something new.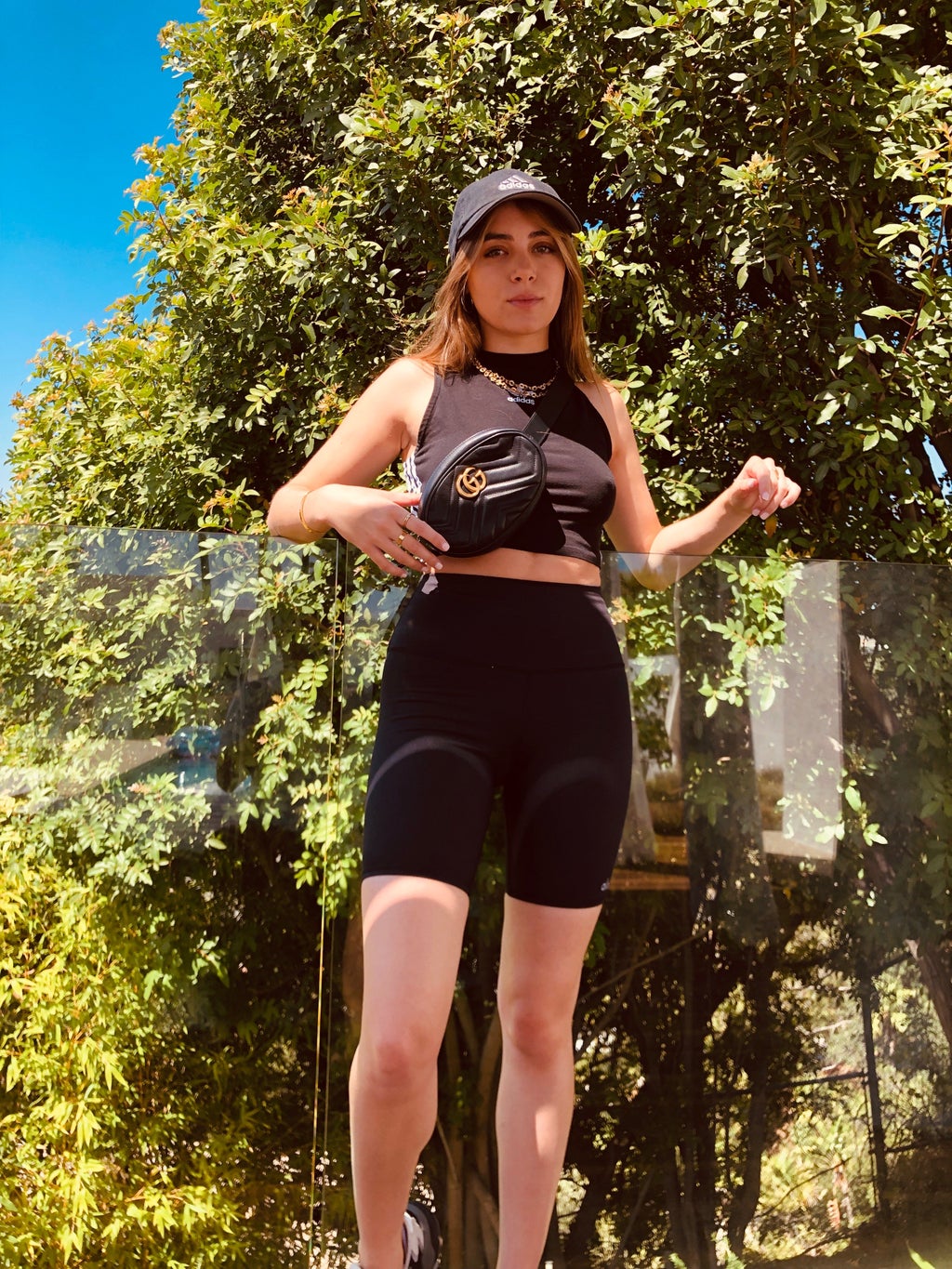 This athletic luxury trend is definitely not going anywhere and it is pretty easy to pull off just remember to compliment baggy with tight and accessorize! Check out the @hercampusstyle Instagram for a thorough look into how I styled this fit on my segment 'Hitting the Streets.' Don't forget to tag @hercampusstyle with your athleisure looks, we love to see what you're rocking!