Welcome to Extreme Sorority Houses, your look inside of the most stunning, over-the-top sorority homes in the country. This month, we're taking a tour inside Alpha Omicron Pi at University of Nebraska–Lincoln. Designed by Abbe Fenimore, Founder & Principal Designer of Studio Ten 25, this house is filled with reds, blues, pinks, and all the flowers. Read on for what goes into designing a sorority house of this caliber (and, fair warning, you might want to join this sorority after looking at these pics). 
When tasked with designing some of the most beautiful sorority houses in the country, where do you get your inspiration? Do you have guidelines you're expected to follow? 
"The inspiration for each chapter house comes from the women in the chapter, as well as their chapter advisors. We begin each project with a design development call and talk to the members about what they do and don't love about the current design and layout of their house. We talk to them in-depth about the final look they want for their home and have them set up a Pinterest board for us to communicate visually. We are fortunate that Alpha Omicron Pi is supportive of each chapter's vision for their chapter house and allows us to create a finished product that reflects each chapter's vision. The sorority wants each chapter to incorporate their own vision and we all work together as a team to create a final look that everyone is proud of. They take the time to communicate with them and gather the important details in order for each project to run smoothly in regards to budget and the overall design process. These details make the design development and implementation process successful. "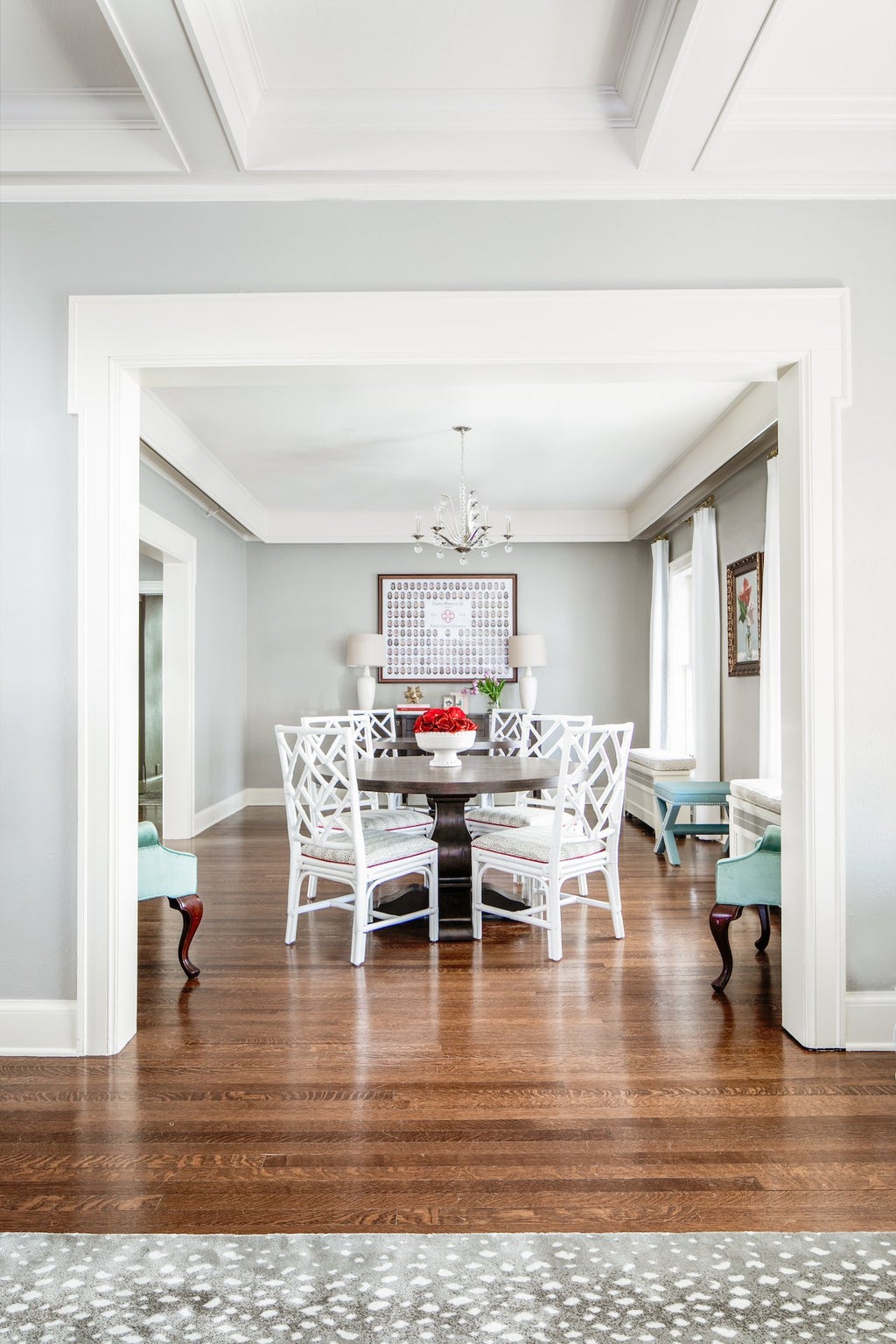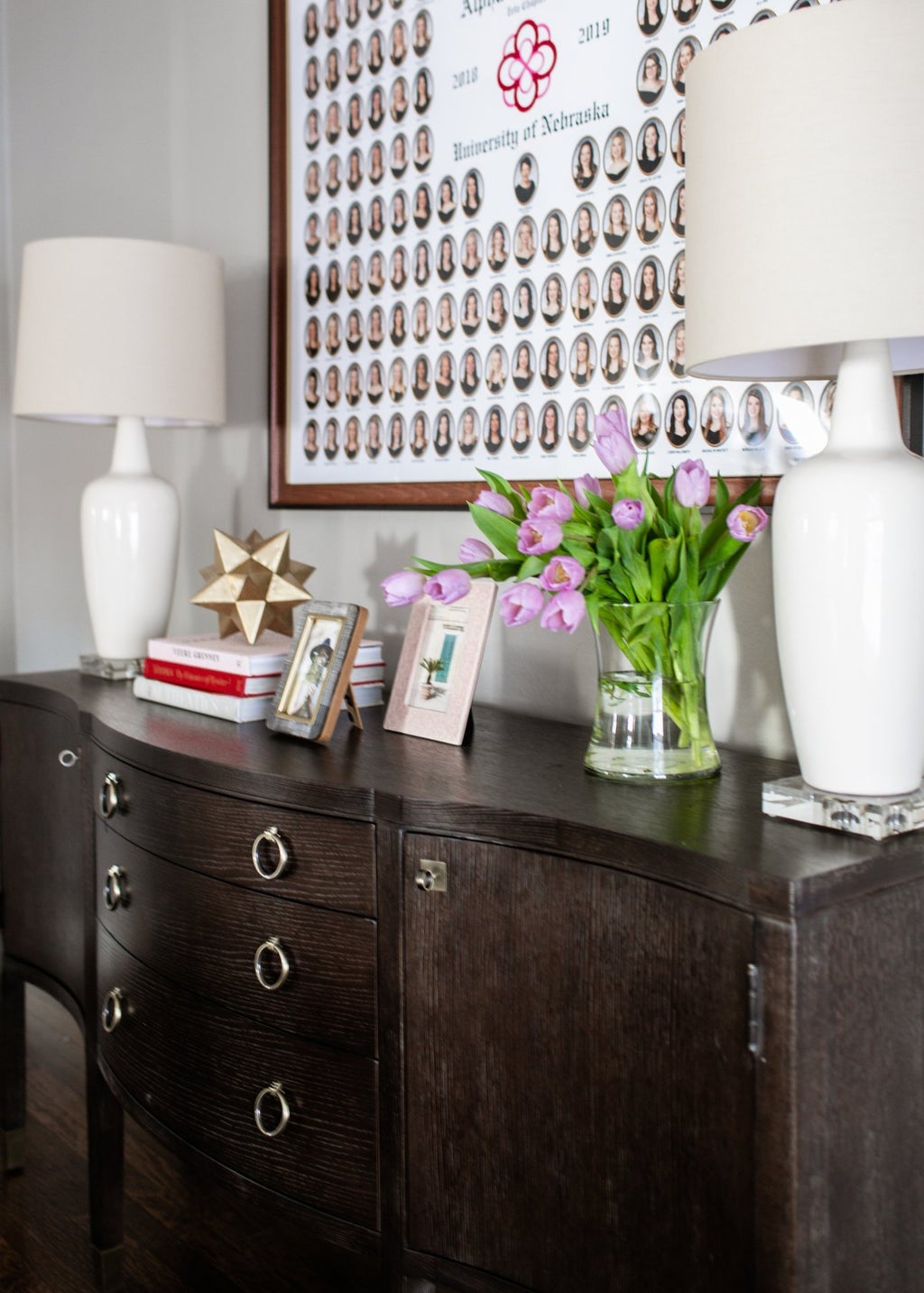 Where did most of this furniture come from?
"The majority of the seating and accent pieces were specified from trade-only vendors that allow us to be specific when selecting durable frames and fabrics for the lounge areas. When we started this project, we decided that the majority of the existing furniture needed to find a new home or be donated. The house was a mix of random furniture that didn't fit the scale of the house or was broken, and I loved that we were able to scrap them and start from scratch with the design."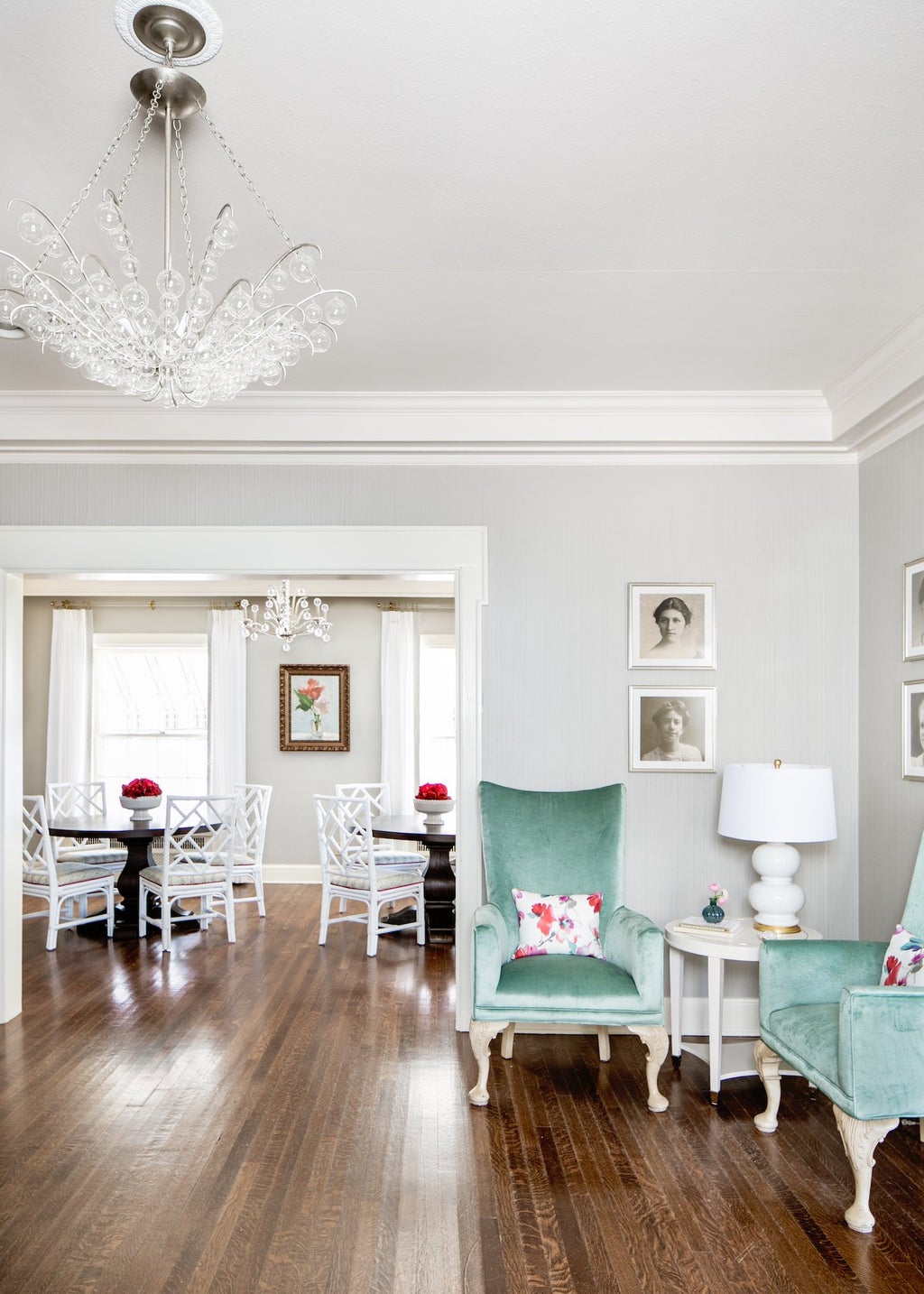 Did the school colors or anything from the school inspire you at all? 
"Like most AOII chapter houses that I work on, the Zeta chapter at the University of Nebraska-Lincoln asked for a look that would be timeless with a classic color palette. We decided to go with a foundation of gray and white with a mix of soft blues, blush pinks, and a little pop of fuchsia."
What's your favorite room in the space and why?
"I love this house so much because it is full of charm and the historical elements make it feel cozy and special. There are so many moments in this home that make me happy, but I would have to say that the built-in window-seat is by far my favorite space. It was underutilized and a forgotten spot in the main entrance of the house that served solely as a place for the women to drop their backpacks and shoes, and then move on to hang out elsewhere in the house. It had so much potential and needed a few small changes to make it function better for them. Now, it's a pretty nook that gives the women a place to chat and read, and a place for them to still drop their backpacks off."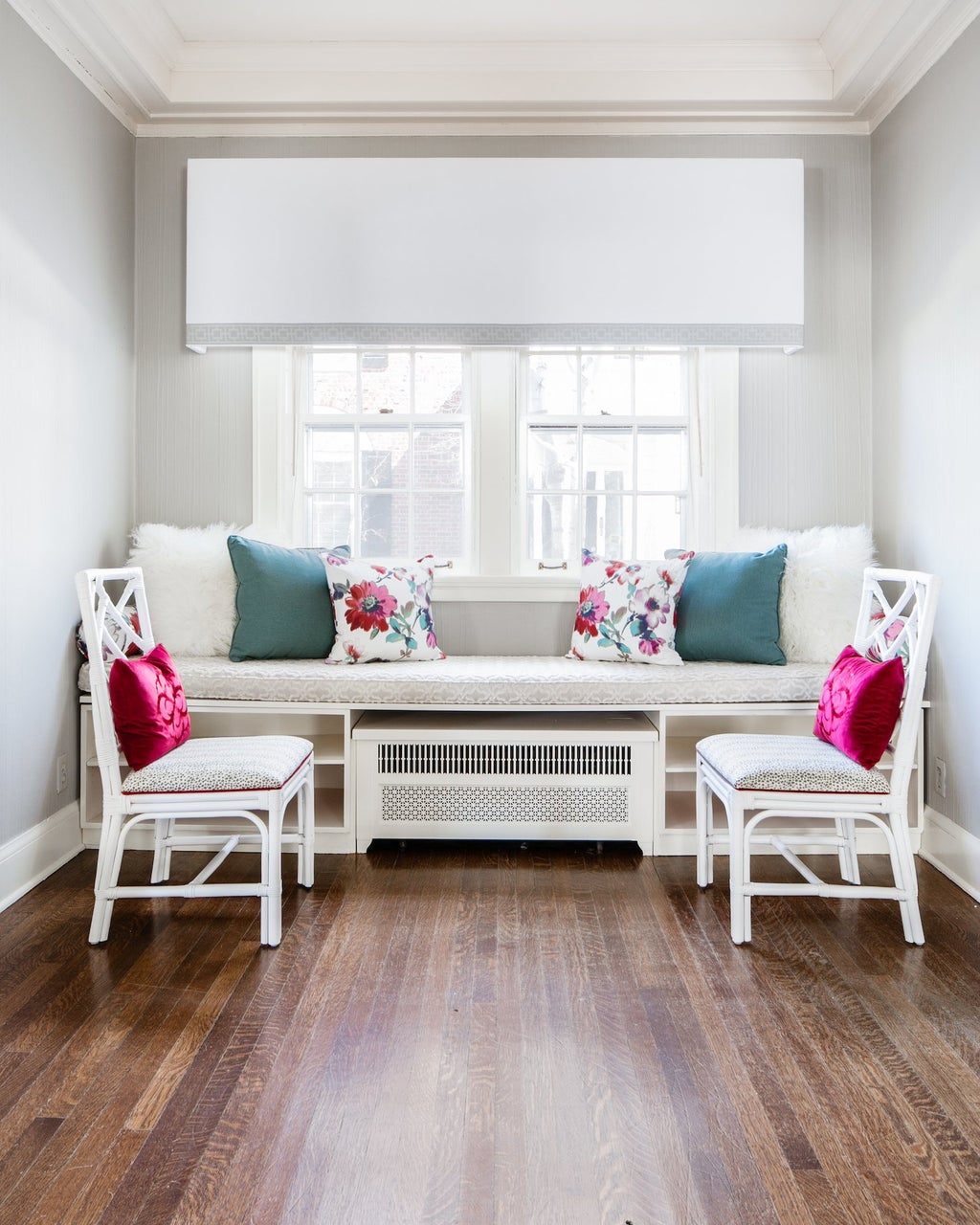 How long does it take to work on a project like this from start to finish? 
"Each chapter house varies in size and budget will have its own limitations based on the configuration of the house. The Zeta house is an older home and it was important to work with the existing structure and architectural details and make them part of the design. We started design development in the Fall and prepared for a Spring installation. The entire process took four months, so it was a quick turnaround for everyone. We installed all of the new furniture and accessories during their Spring Break, and I loved seeing the women's reaction to the updates once they came back from the break." 
The spaces that you create are incredibly beautiful. How do you create a happy medium between aesthetic and functionality?
"Function is always first. Once we create a plan that works for each chapter house to include the layout and needs of each chapter and have their blessing, its time to incorporate the design elements. Each chapter uses their house differently, so it is very important that we take the time to work with them on these details in order to create a space that works for them going forward. The color, pattern, and fun design elements are the next step in the design process. We take the chapter's wish list, budget, and regional location into account when selecting the furniture and fabrics."
Scroll on four a tour of Alpha Omicron Pi at University of Nebraska–Lincoln.