6 Beach Bag Essentials For All Your Summer Beach Trips
This is a sponsored feature. All opinions are 100% our own.
PSA: It's warm weather season, and we're beyond ready to take advantage of all that summer has to offer, especially beach trips. The only thing getting in the way of your tan is packing up your beach bag, obviously the most tedious process. There's nothing worse than getting to the beach and realizing you forgot something hugely important, like sunscreen or your beach towel – but it also kind of sucks to carry basically your entire life to the beach, only to realize you really needed a handful of things. To prevent this all-too-common summer mishap, we picked our top six beach bag essentials that'll last for every beach trip you'll take this summer.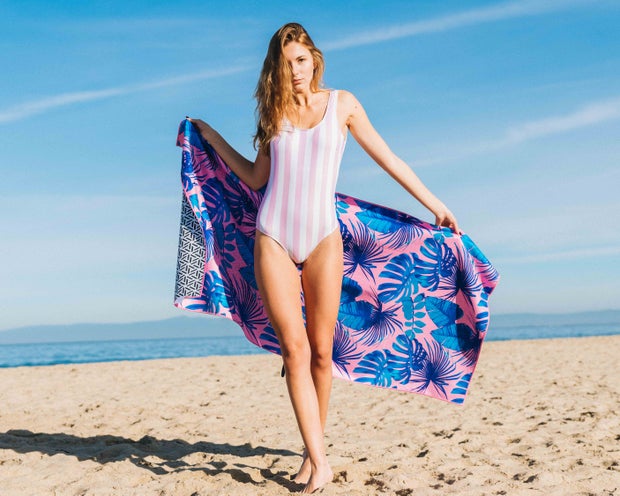 1. A trendy, functional towel like the GoBreezie
Comfort is key when sunning yourself at the beach and and an ultra-comfy, quick-drying GoBreezie towel is the perfect solution! The GoBreezie towel is SAND-FREE – how did we ever survive the beach without it? You'll no longer have to face the struggle of shaking your towel off and being that person who makes sand fly in someone's face. With a compactable fit, it won't take up your whole beach bag when packing, and there are endless patterns to choose from so your Instagram posts will have all the beachy vibes. We consider this a must! 
2. Sunscreen, sunscreen, and more sunscreen
Before you lounge on your GoBreezie towel and hang in the sun, make sure to apply tons of sunscreen. Don't ruin an amazing day by the water by suffering from a sunburn days later! Pack the SPF that works well for your skin type, and don't forget to apply a little extra on your face to prevent damage (psst drugstores have amazing face sunscreens like Neutrogena that are super easy to pick up on the go).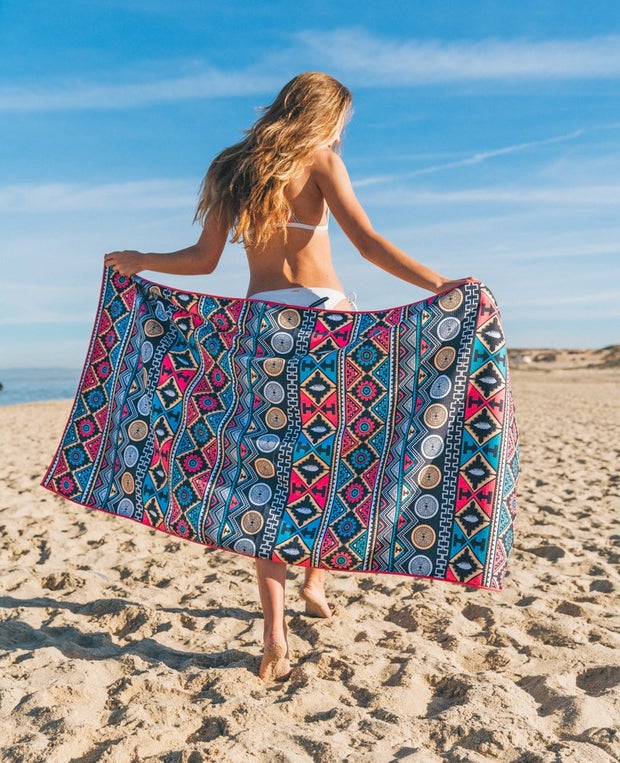 3. Your fave pair of sunnies
Sunglasses are a must at the beach, both for protection and style. Find a pair of sunglasses that guard against UV and durable enough to wear against the tear of sand and scratches. Wanna go for something edgy? Circle lenses and pops of bright color are very in this season!
4. A relaxed summer read
You can never go wrong with a good beach book. That's why there's a whole category of beach-ready reads that can be found at your nearest bookstore! If you want to escape from reality for a second, pick up a story that fits your mood. Whether that be romance, mystery, or suspense, a book on the beach is self-care at its finest.
5. A small waterproof speaker
We know you've been working on that perfect summer playlist for hours, and you need the best speaker to bump your sweet tunes and show it off. It is impossible to have a bad time at the beach when your favorite songs are playing and setting the summer mood.
6. A chic water bottle
It's easy to get dehydrated from lying in the sun for hours, so always make sure to pack a water bottle (preferably one that will keep your water ice cold all day). There are tons of Instagram-worthy water bottles with beach sayings on them that will go perfectly with your new GoBreezie beach towel. We love S'well bottles since they, like GoBreezie towels, come in so many patterns that it's easy to match with anything.
So cheers to low-stress beach days along with our fave essentials, from a sand-free beach towel (aka your new summer BFF) to a trendy water bottle for beach sippies.