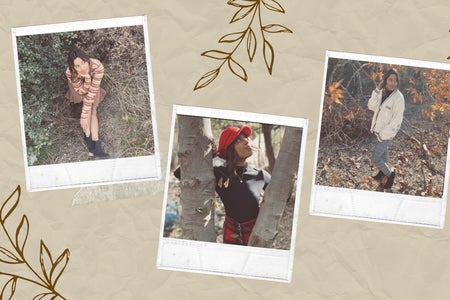 Photo by Tyler M. Thompson / Design by Ruby McAuliffe
10 Outfits that Will Make You Feel Like You're In a 'folklore' or 'evermore' Music Video
Go down to the lakes and throw all of your champagne problems away as you pretend to be in a folklore or evermore music video. Here are 10 outfits inspired by Taylor Swift's sister albums folklore and evermore to frolic around the forest in.
1.

The "you drew stars around my scars" cardigan

Photo by Tyler M. Thompson

When you are young, they assume you know nothing. But you know pairing Taylor's iconic star-stitched cardigan with a turtleneck, plaid pants and black boots makes for ultimate folklore/evermore vibes.

2.

The "sweet tea in the summer" plaid skirt and hat

Photo by Tyler M. Thompson

Cross your heart, won't tell no other. A red plaid skirt paired with a red baker boy hat creates the chicest forest ensemble.

3.

"The Lakes" babydoll dress

Photo by Tyler M. Thompson

To encapsulate the folklore and evermore aesthetic, you must watch wisteria grow right over your bare feet. Grab a neutral baby doll dress, kick off your shoes and picture yourself in the trees.

4.

The "one for the money, two for the show" velvet dress

Photo by Tyler M. Thompson

In this auburn velvet dress, you won't remember all of your "champagne problems." Layering it over a black turtleneck and adding some black booties makes this outfit ideal for cooler days.

5.

The "love you to the moon and to Saturn" yellow coat

Photo by Tyler M. Thompson

Please, picture me in the weeds with this folkloric mustard yellow coat. Pair it with gray plaid pants, a black turtleneck and black booties to embrace your full T-Swift potential.

6.

The "wreck my plans" long-sleeve and knit skirt

Photo by Tyler M. Thompson

The more you say, the less I know, but I do know that pairing a warm-toned striped long-sleeve with a dusty brown knit skirt is the way to go.

7.

The "skipping the prom" plaid flannel

Photo by Tyler M. Thompson

Hey, Dorothea, do you ever stop and think about me? No? Well, at least no one will ever stop thinking about how a plaid flannel is perfect to wander around the forest in. 

8.

The "eyes like sinking ships" gray coat

Photo by Tyler M. Thompson

I don't like a gold rush, but I love how a simple gray coat, black booties, a matching turtleneck and plaid grey pants look.

9.

The "faith forgotten land" neutral dress

Photo by Tyler M. Thompson

This neutral dress is putting roots in my dreamland. It pairs with the wispy trees almost as perfectly as folklore pairs with evermore.

10.

The "covered in you" oversized jacket

Photo by Tyler M. Thompson

My house of stone, your ivy grows. An oversized jacket and baggy black pants makes for the ultimate comfy and cozy look.
Hit play on your evermore and folklore albums, embrace your inner TS and start putting these outfits together. After all, 'tis the damn season.