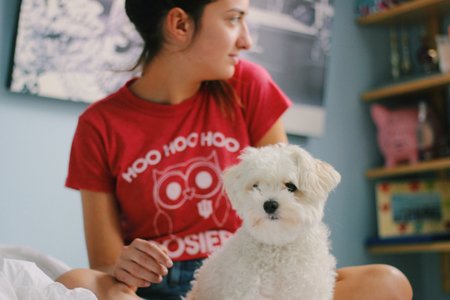 Anna Schultz / Her Campus
Parenting a Pet With Your SO Isn't As Hard As You Think
If you're in a serious relationship during college, you can occasionally feel like you're in a gray area. You may have been together for years and anticipate many more years to come, but you probably don't live together yet and can't fathom the idea of kids or marriage. Here's the perfect compromise: a shared pet. 
But, are you and your SO truly really ready for that next step? 
Adopting and sharing a pet — whether it's a puppy, a cat, or even a hamster — is a long-term commitment. The dynamics of your relationship are probably going to shift and open communication is key in making sure you, your partner and your new furry friend's wellbeing is being prioritized. Here's what college women had to say about co-parenting a pet with a significant other in college, as well as, some way to prepare for this time with your SO.
Be honest with each other
You probably know your partner well enough by now to determine how they would be as a pet owner. If you are the more caring and responsible one in the relationship, take that into account and mitigate your expectations for how involved they will be in the day-to-day responsibilities of taking care of your new pet. 
If you have any doubt that your SO has the time or ability to split the task of caring for a pet equally — and that equal split of responsibility is very important to you — reconsider whether adopting an animal is the right move for your relationship. If you are okay with potentially being the primary caretaker or feel confident that your partner will step up and be a fully involved co-parent, take the appropriate next steps.
However, you should never spontaneously adopt an animal, no matter how cute that puppy is or how much that one kitten is staring at you through the glass. Even if you know a pet would make you both incredibly happy and your relationship is solid enough to take the leap, assess how much time and energy you both can devote to caring for your pet. If it doesn't seem realistic, and spontaneity is the only way you can justify the adoption, that situation probably won't be fair to the animal you're signing up to care for.
Have the hard conversations first
Even if you feel like your relationship is perfect at the moment, it's important that you and your SO are willing to have difficult discussions before you jump into adopting a pet. The biggest question that can lead to a lot less heartbreak down the road: How will you handle co-parenting if you split? If that's a conversation you aren't willing to have upfront, then you probably aren't ready to share a pet.
Julie Gareton, a recent graduate of North Carolina State University, co-parented a dog with her boyfriend in college. Julie says the most helpful thing for their transition — they ultimately broke up after graduation — was that they established who would take the dog before they even finalized the adoption. 
"That was also something we were incredibly realistic about the day we signed the paperwork for our dog. We had the 'worst-case scenario' conversation that really simplified things when we split," Julie says.
Julie says that while she doesn't regret adopting her dog at all, she does acknowledge it was difficult on her pup after the split because he got attached to her ex-boyfriend, who is no longer in either of their lives. She also says sharing a dog with her ex showed her what kind of parent he would be to their children in her future, something she is relieved she found out before they took that step.
"The best thing to come out of that eight-year relationship was Ferdinand, the pitbull, and for that, I will always be grateful to my ex," Julie says.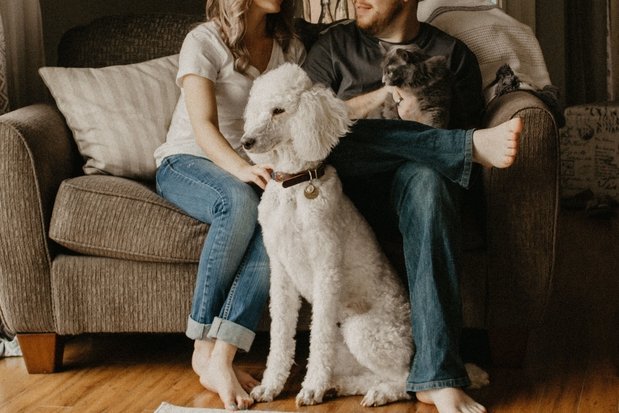 Expect your relationship to change
Adding a pet into your relationship is going to change the dynamics. Co-parenting an animal will probably bring you closer, as it is a tangible and concrete symbol of your plans to start a future together. 
Having a pet, especially a high maintenance one like a dog that might require more attention, medical treatment, and supervision, will probably change your patterns too. Expect to spend more nights at home and know that prolonged periods of time together outside of the house aren't feasible anymore.
"Having a dog made us much more domestic," Julie explains. "We opted to stay in instead of going out with our friends. We tried to incorporate the dog into every aspect of our lives, which made our relationship take a back burner."
However, Alexis Nye, a University of North Carolina at Chapel Hill student, says sharing a dog with her boyfriend brought them closer together.
"I feel like we communicate our feelings a bit more," Alexis says. "I feel like it's been one of the best decisions we have made."
So, while there are plenty of people that make co-parenting a pet in college work, know that both you and your partner are going to have to shift your expectations of each other and your relationship to accommodate the new addition to your little family. 
But, if you have the time, means, and energy to devote to a pet, it might be a great decision to move your relationship forward.