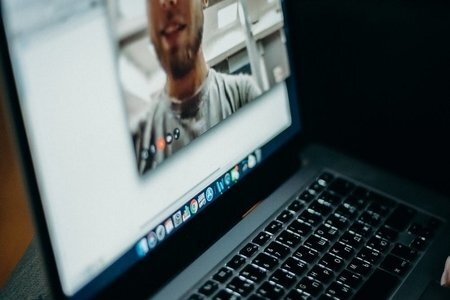 I Just Got Into a New Relationship, But Now We're Navigating Long-Distance Due to the Coronavirus
It seems as though every day there's a new aspect of my life that has been altered by COVID-19. Numerous universities have closed its doors, students are being asked to complete classes remotely, and it feels hard to remember what my daily routine even consisted of before now.
Without a doubt, this turn of events has had a huge impact on personal relationships. Students like myself have been forced to leave behind on-campus friendships, meaningful roommates, and even romantic partners. It honestly feels like all my friendships and social interactions have been put on pause, and now more than ever, I realize that dating and relationships are not immune to the affects of this current health crisis. While online dating is still an alternative option, people are rightfully social-distancing, and relationships may now be long distance.
So, my relationship is fresh. 
I just got into a new relationship. In fact, my relationship is so new that my partner and I didn't even fully commit to being in a relationship until I flew back to South Carolina last weekend to pick up a book on campus that I needed for (what I assumed) would be a mini hiatus. However, while we were together, we explored the possibility that classes may transfer online for the remainder of the semester.
I'm a student who relies on campus housing during the school year, and my boyfriend lives in his own apartment near campus. When we first started talking months ago, I never expected distance to be a potential issue. I only visit home for about three weeks out of the year, and I even live on campus during the summer. Now, however, the circumstances have changed: My university has removed on-campus housing, and I'm living with my parents with no clue as to when I'll be returning to South Carolina. My boyfriend and I are both well aware that these next few months will be difficult for us. This is especially hard because our relationship is so fresh, but we ultimately knew that this could be our reality when we decided to place those labels on our relationship this past weekend.
This is how we're dealing.
The first thing we agreed on is that this relationship needs to be completely mutual. We're both really determined to make this relationship work, and we both have to put in equal effort. We agreed that we would always make an effort to see each other; it should never be him going out of his way to see me, or vice versa. We're also going to attempt to only go two or three weeks between visits, hopefully avoiding airports by driving to meet in the middle somewhere. We both want to make the most out of what we have already developed.
The second thing we agreed on is that communication is more vital than ever. Calling via phone or FaceTime is essential, because both of us are trying our best to move the relationship forward despite the distance. Since our relationship is so new, we are still developing deep understandings of who we are to each other. However, we can't have deep conversations together in his apartment or my dorm all night (and honestly, it feels like my parents can hear our phone conversations). Now is the time for us to get comfortable having open and honest conversations via FaceTime, and developing our communication skills that way. It's not ideal and it's weird, but it has to happen.
Finally, we've made it clear that being completely transparent is important. He let me know that he wouldn't be angry if I wanted to end things when my university announced it was closing, but if I wanted to give it a shot, we would make it work. I told him I was worried about not being able to see him, that I was stressed about being home for this long, and also that I didn't want to stop him from seeking a relationship with someone who he could actually see. By explicitly stating my fears, I opened up a conversation for us to both be clear about our uncertain future together.
It's not ideal to have a new relationship be put to the test so soon, and it's definitely not great that we won't get to experience the "honeymoon" phase that most couples get. However, we both recognize how privileged we are to have the technology and support to try and make this work. This is a scary and uncomfortable time for everyone, and I am just so thankful for the relationship I have.
Just remember that being inside your home doesn't mean your relationships can't develop further, or that your life is actually on pause. It's just a new way to move forward.