Hej, Sverige! Your Travel Guide To Stockholm
Scandinavia is a unique little corner of the world, full of rich history and beautiful scenery, not to mention the hygge and lagom charm. If your travels ever take you to this remarkable place, you've got to check out Stockholm, Sweden. Stockholm is considered the symbolic capital city of Scandinavia with its old world charm and modern amenities, plus fascinating museums and thrilling new adventures to satisfy every kind of traveler.
Need some suggestions for what to do in Stockholm? Read below to learn more about what makes Stockholm such a compelling place to visit! These tips just scratch the surface of what you can do in this special city.
Take Public Transportation
Like the rest of Europe, Sweden has a great public transportation system that can get you pretty much anywhere you need to go! Hop on a tram, bus, subway, or regional train to explore all that Stockholm has to offer. A pre-loaded SL pass will be your best travel buddy for quickly hopping on and off the extensive Swedish transportation system.
Check Out Museums
Sweden has a rich cultural history, so it's no wonder that Stockholm is home to many fascinating museums. Check out the Vasa Museum to learn about a 17th-century warship that didn't make it out of the harbor. Alternatively, you can learn more about Swedish pop culture when you sing your way through the ABBA Museum. Immerse yourself in Scandinavian culture and nature when you visit Skansen, a living history museum and zoological park. Most major museums are located on the same island, Djurgården, so you'll have easy access to all kinds of intellectual adventure.
Experience the Natural Landscape
Sweden's land mass is 70% covered by forest, so there are plenty of ways to escape city life and explore the natural world. Visit a National Park, like Tyresta, located 16 miles from the city, Or go on a boat tour through the Stockholm archipelago to take in some beautiful views of the Baltic Sea. The city itself also has lots of parks to enjoy!
Party like a Swede
The Swedes love a good party, especially when the frigid darkness of winter arrives. Stockholm has lots of vibrant nightlife to satisfy your inner party animal. Check out underground bars in Södermalm or glitzy clubs in Östermalm. Wherever you go, get ready for a good time!
Eat Food, Food, and More Food
Lots of traditional and modern eateries await you throughout Stockholm. Enjoy fika, a Swedish tradition of afternoon coffee and a pastry, at wonderful cafes on every corner (you definitely have to get a cinnamon roll!). Stockholm also has lots of great vegetarian and vegan restaurants as part of its culture of sustainability. Whether you're looking for Swedish meatballs or food truck falafel, you'll satisfy every craving in Stockholm.
Shop 'til You Drop
Stockholm has a bustling shopping district where you can find everything from H&M and Zara to Gucci and Prada. In Bibliotekstan, you can roam pedestrian-friendly streets and shop for hours in multiple malls and department stores. Check out the historic NK department store to experience a bit of 1920's era shopping luxury.
Travel Beyond the City
Stockholm Centralstation is your pathway to discovering the rest of Sweden! Hop on regional SJ trains to quickly travel to nearby cities like Uppsala and Gothenburg, where you can experience even more of the uniqueness of Swedish life. SJ trains often have youth fares, so moving about the country can be relatively inexpensive. Sweden's train system lets your love of Stockholm carry you to new places!
Walk Your Little Legs Off
It's easy to take in the city sights just by using your feet! Join one of many walking tours to learn more about Sweden's historic past and navigating the city. You can also participate in great bike tours (like a true Swede!). However you get around, Stockholm is sure to charm its way into your heart.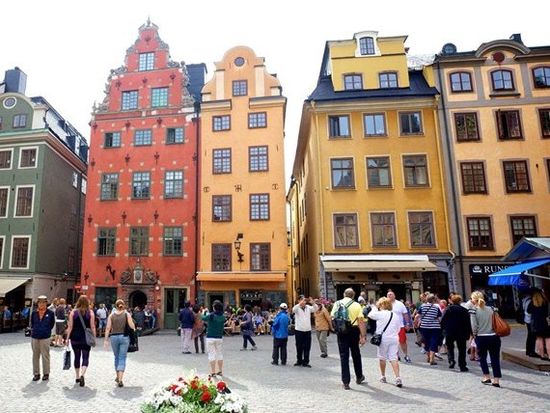 As always, tack så mycket for reading Her Campus Xavier!