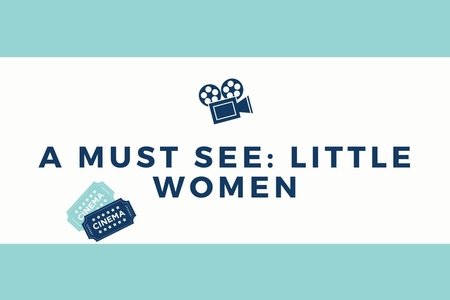 A Must See: Greta Gerwig's "Little Women"
Nominated for two Oscars and a Golden Globe, "Little Women" follows the story of four sisters in the years after the Civil War. It is based on the book by Louisa May Alcott and brought to life by director Greta Gerwig. 
In the movie, the girls are leaving childhood behind and deciding what sort of women they want to be. Viewers are taken along for the ride, passengers to the fast moving vehicles of these four extraordinary women. The audience is a witness to the magic as the women make mistakes and shape their lives while bearing hardships. Like sailors in a storm, these women stood steadfast to strong values.
Here are some reasons I loved the movie "Little Women" and you should too: 
(Warning: Spoilers!)
1. Josephine. Josephine. Josephine!
From the moment she walked onto the screen she challenged standards. You could just tell this girl could move tables. The move her own furniture type. 
While the others were neatly dancing inside, she was wildly moving to her own music. She literally dances to her own beat. Her will was unmatched with a steely reserve.
My favorite line: 
"Well, it's god's will."
"God hasn't met my will."
2. How the Movie Discusses Marriage
The movie takes place at a time when marriage for a woman was the same as a business transaction, and these women were not afraid to voice their opinions on it.
Probably the most infamous scene is Amy with Laurie: 
"I'm just a woman. And as a woman, I have no way to make money, not enough to earn a living and support my family. Even if I had my own money, which I don't, it would belong to my husband the minute we were married. If we had children, they would belong to him, not me. They would be his property. So, don't sit there and tell me that marriage isn't an economic proposition, because it is." —Amy March
3. The Possibility of Alternate Endings 
Gerwig's "Little Women" layered different timelines and even other endings in the narrative; this idea can be seen clearly with Josephine. 
In the movie, Josephine is at the publishing house negotiating for higher royalties over her book. The publisher refuses to print her book if the heroine remains unmarried. He insists no one will buy the book if the heroine remains unmarried. Jo shrugs. "I suppose marriage has always primarily been an economic proposition. Even in fiction," she agrees, echoing Amy's words to Laurie. "If I'm going to sell my heroine into marriage for money, I might as well get some of it," she says. 
Jo's book "Little Women" follows after her own life, and she was shown in the movie vowing several times to never marry. This leaves Jo's hasty marriage and kiss at the train station to Bhaer at the end unclear. However, what is absolutely clear is that ending "Little Women" with a marriage is an economic choice. 
In many ways, Gerwig is trying to deliver two finales at once, the original conventional ending of the book and a different happy ending.
"The hat trick I wanted to pull off was, what if you felt when she gets her book the way you generally feel about a girl getting kissed?" Gerwig explains. "So it's not girl gets boy, it's girl gets book." Gerwig said. 
Gerwig's fragmented, poetic take on "Little Women" leaves the ending up to interpretation and is true artistic genius that can be enjoyed by new and longtime fans of Louisa May Alcott's "Little Women."
--
Edited By: Cheyenne Oakes