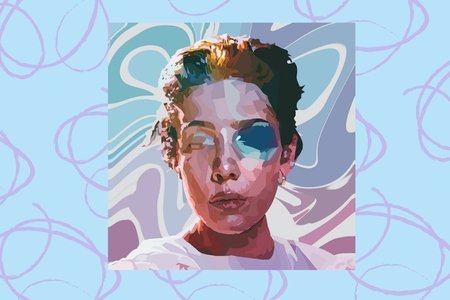 Design by Lani Beaudette / Canva / Capitol Records
A Manic State Of Mind: A Deeper Look At Halsey's Most Unfiltered Album
Alternative electro-pop singer Halsey released her third studio album "Manic" on Jan. 17, 2020. Her rise to fame began in 2014 when she released her first EP "Room 93."  More recently, Halsey has become more powerful by using her voice as her true identity: Ashley Frangipane. "Manic" has caught the attention of her fans and even critics.  Noticeably different from her other albums, "Manic" gives insight to the singer's heartbreak, mental health and self-growth. It's Halsey singing not only as an artist but as a person. She shares her struggles for the whole world to listen to, and each track tells a different story. The most influential part of "Manic" is that it's honest, unfiltered and she holds nothing back.
Persistence is the Key to Success
Halsey has always been an advocate for mental health and women's rights, as well as being a member of the LGBTQ+ community. Around age 17, the artist was diagnosed with bipolar Ⅰ disorder following a suicide attempt, and she has been open about it since one of her very first interviews. In an interview with Mikalah Gordon, the topic of mental health came up. Halsey said, "One of the things I like to remind myself is that your experience with mental health is a journey, not a destination." She has never been shy when it comes to speaking about her mental illness, and one of her core purposes in life is to normalize talking about it.
In an interview with Rolling Stone Magazine, she opened up about writing "Manic" during a manic episode— hence the title of the album. In case you are unfamiliar with bipolar disorders, bipolar Ⅰ disorder involves periods of severe mood episodes from mania to depression or vice versa. She admitted that this was the first of her albums that was written in a manic state rather than a depressive state.
Halsey's purpose of writing the album was to become intimate with her audience. In the preface of her album, she wrote, "Here's this album that I had to cut myself open to make, and will continue to cut myself open to tour, promote, and explain, but I don't know how many more of these you're going to get." She talks about the process of writing the album in an interview she did with Zane Lowe. Halsey is giving her audience an open door into her mind, her most troubled thoughts and genuine feelings.
Inside the Artist's Mind 
My favorite song on the album is track two, titled "clementine." In summary, Halsey uses complex ideas to describe her ideal life, then proceeds to explain that despite her wishes of being in a better place mentally, she is not okay. It's about how all she really wants is to be loved despite these personal issues that she deals with. The mere name of the song is symbolic. "clementine" means "the gentle one." She also chose to keep the title of the song uncapitalized, and typically, artists do this to show their vulnerability. The opening line is, "I'd like to tell you that my sky is not blue, it's violent rain." It seems that as much as Halsey wants to be optimistic and hopeful, she struggles with viewing the light amid the darkness. In the chorus, she continually says "I don't need anyone, I just need everyone and then some," which shows that she is capable of taking care of herself, but she does need help sometimes. During the bridge she sings, "my face is full of spiderwebs, all tender, yellow, blue." This metaphor means that if a spider's web is destroyed, they must weave a new one. Halsey is continuously growing from the scars of her past.  She continues that line by saying, "and still with one eye open, well, all I see is you." Although she has these scars and pain, she will continue to put her lover first. This song is so much more than it seems, and I think it is one we can all relate to. Despite us seeming strong, we can all be vulnerable sometimes— a "clementine."
Halsey's fourteenth track on the album is "More." This song is especially heartfelt because of its audience— her unborn children. This song is about Halsey's struggle with doctor visits, endometriosis, three miscarriages, being told she may not have children and how this made her want a child more. In the beginning of the song, Halsey sings, "A couple years of waiting rooms, finding God, and lose Him too." This is showing that she was hopeful despite her circumstances. She continued in the next set of lyrics, "They told me it's useless, there's no hope in store, but somehow I still want you more." Halsey was told by her doctors that she could not have children, so she wanted them more. The next important set of lyrics is set to a lullaby sound during the bridge of the song. "And when you decide it's your time to arrive, I've loved you for all of my life," she sings. Halsey's song "More" is vulnerable and mature, and it is the first of her songs that discuss her maternal desire. 
Still Learning 
Halsey's soul-stirring album "Manic" is her most powerful work of art. She is only 25 years old and has shared the most disastrous, beautiful parts of herself with her fans.  I love Halsey's music because I know every lyric is meant to be analyzed and holds a deeper meaning. This album was one where I felt connected with Halsey on such a profound level. This album is so underrated because of how different it is from her other albums, but I personally find it to be the best.
Something to note about "Manic" is that every track is different. None of the tracks are even remotely similar, which is what makes this album so "manic." Some of my other favorite tracks that I would recommend are "Ashley," "Finally // beautiful stranger," and "929."
I highly recommend listening to "Manic" if you haven't already, especially if you have listened to her other albums. It has been an amazing journey to witness Halsey grow as a musician as well as a person. She never shies away from improving herself for everyone to see.