History Repeats Itself: Y2K Fashion
Remember those Juicy Couture tracksuits? You may want to pull them out from your attic and relive your middle school years— but less awkward this time.
Blasts from the past make their way into the current trends of the fashion industry constantly. Take mom jeans and chokers, for example. You may be familiar with the "20-Year-Rule." Trends are cyclical, and every 20-ish years, past trends tend to resurface. More recently, you may have heard the term "Y2K fashion" on social media… but what exactly is it? 
Y2K, an abbreviation for the Year 2000, dates back to the late '90s and 2000. With a new century approaching and brand new technological advancements, fashion shifted into a more futuristic and utopian vibe. Clothing became a reflection of what was going on in the world— the internet, CDs and other advancements that were never seen before. Iridescent clothing, chunky shoes, designer logos and the Bratz Dolls aesthetic all became the latest trend. Think Juicy Couture, Baby Phat and those iconic velour tracksuits. Movies like "Clueless," "Legally Blonde" and "Mean Girls" all incorporate the Y2K style— hues of pink and purple and lots of bling. 
The idea of Y2K affected more than just the fashion industry. The new evolution of technology changed every aspect of life— from interior design to art to the way people viewed themselves and their lives. Back then, the new century meant a fresh start, a new era, but for some, it felt like the end of the world. There was a split opinion between technology solving everything and a panic for the future. What we are comfortable with now was not always the case; some people were downright scared of the rapid technological advancements. 
Fashion designers began incorporating the advancements in technology and drawing inspiration from the public's fear (or excitement) into new collections. In Christian Dior's Fall 1999 couture show, black vinyl was featured and head designer John Galliano said he was heavily inspired by "The Matrix." Givenchy's Fall 1999 show featured jumpsuits decorated with circuit board patterns and tops with LED lights.
We are now seeing the influence of Y2K fashion making its way back into our current trends— mini shoulder bags, tiny sunglasses, track suits, pleated skirts— you name it. With the sustainable fashion movement stronger than ever, there is a major push for buying secondhand, and lucky for you, a thrift store (or online thrift stores like Depop or Poshmark) is the perfect place to make all of your Y2K dreams come true.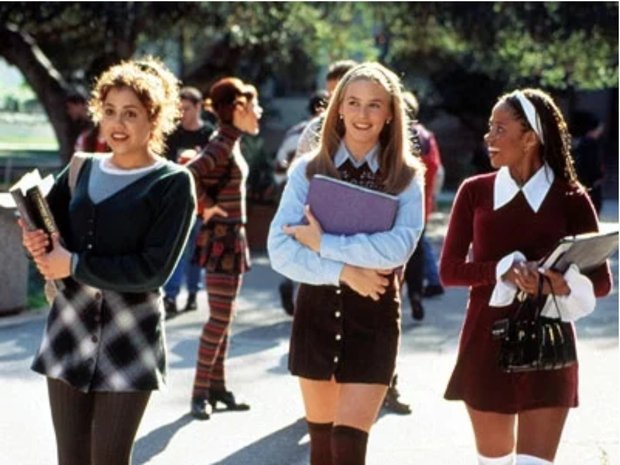 Paramount Pictures
Maybe as we have entered a new, scary time period and are relying heavily on technology to get us through quarantine, we are evoking some of the same uncertainty from the late 90s and early 2000s, causing Y2K fashion to resurface. Nostalgia is a powerful feeling, and we are naturally drawn to things that remind us of simpler times. You know what they say: history repeats itself. 
--
Edited by Zoë Skvarka